DIY Chair Makeover
How to reupholster a chair seat? You can do-it-yourself with a low cost upholstery makeover by using fabric to show off your style. Easy upholstery project for beginners!
I got a great deal on a pair of mid-century modern chairs with a unique backrest pattern. Love at first sight! The dreadful floral pattern kind of hurt my eyes but I could see the beauty within. Time to repurpose the chairs!
Disclosure:  If you make a purchase from some links in this post, I may earn a referral fee at no cost to you.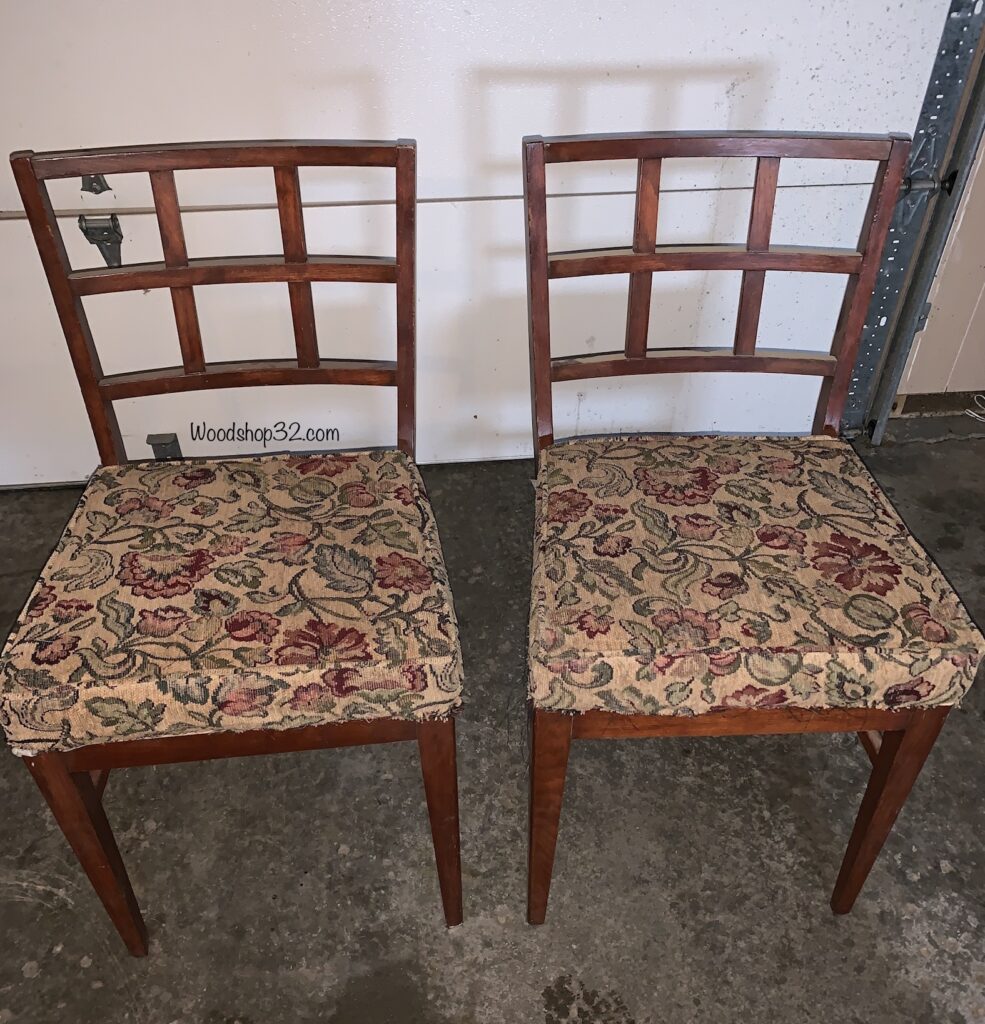 1. Remove Chair Seat
After taking the seats off, the chair frames are washed with mild soap and water. (Keep the original seat screws.) The stain color really looks nice now that it is clean. I don't have to do anything else with the frames. Easy!
Follow Woodshop32.com on Pinterest!
2. Remove Old Upholstery Fabric
I usually pull off the old fabric and most of the staples come off with it. You can use a flat head screwdriver or pliers to remove the rest of the staples. To my surprise, the seat foam cushions underneath are also in great condition with no stains or smell. I don't have to buy new ones! Yes! It just gets better and better – gotta love an easy chair upholstery makeover!
Tip: You can wash old seat foam cushions by hand in a sink or bathtub using laundry soap or dish soap. Rinse and squeeze out the water and let drip dry.
3. Attaching New Upholstery Seat Fabric
I was able to find a tan/black cow faux fur fabric that matched the chair frame stain color perfectly. My DIY chair upholstery makeover is working out great!
Want to save this post for later?  Make sure to Pin It!
The upholstery fabric is cut bigger than the seat to accommodate the seat board and cushion thickness. The seat fabric is placed face down and the cushion with seat board is centered on it. I used my electric stapler to attach the new fabric while wrapping it over. You need to pull the upholstery fabric tight and continue stapling onto the seat back.
Looking for more DIY Makeovers?  Click on my other DIY projects: Rocking Chair Upholstery, Chair & Ottoman DIY, Vintage Display Cabinet
4. Attach Chair Seat to Frame
The seat board is screwed back onto the frame using the original chair screws. Super easy chair reupholster makeover!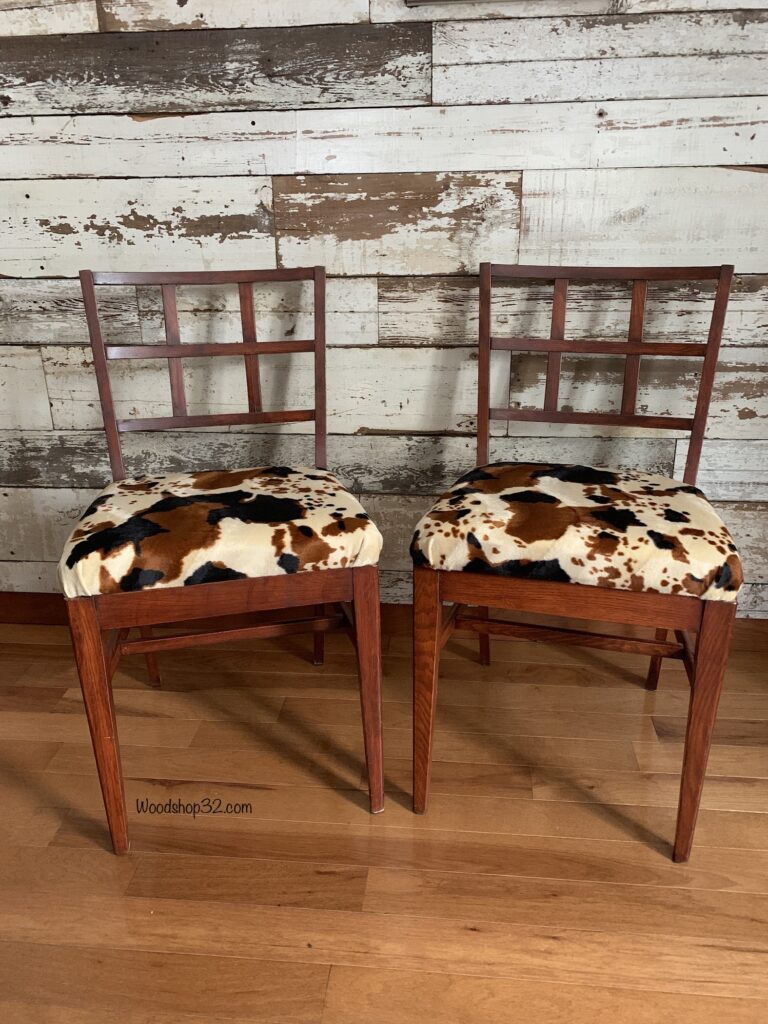 The DIY chair upholstery makeover project turned out great! Love the fabric design! Yeehaw!
Thank you for visiting the Woodshop32.com blog!