Fireplace Wine Rack
Are you looking for a wine rack display ideas? You can repurpose an old fireplace into a wine rack. A DIY makeover for a fireplace cabinet in a unique way.
My parents inquired if I could transform their faux fireplace cover into a wine rack. After inspection of the cabinet, I discovered it was built from pressed board and particle board. I usually avoid fake furniture but in this case I was intrigued with the design challenge.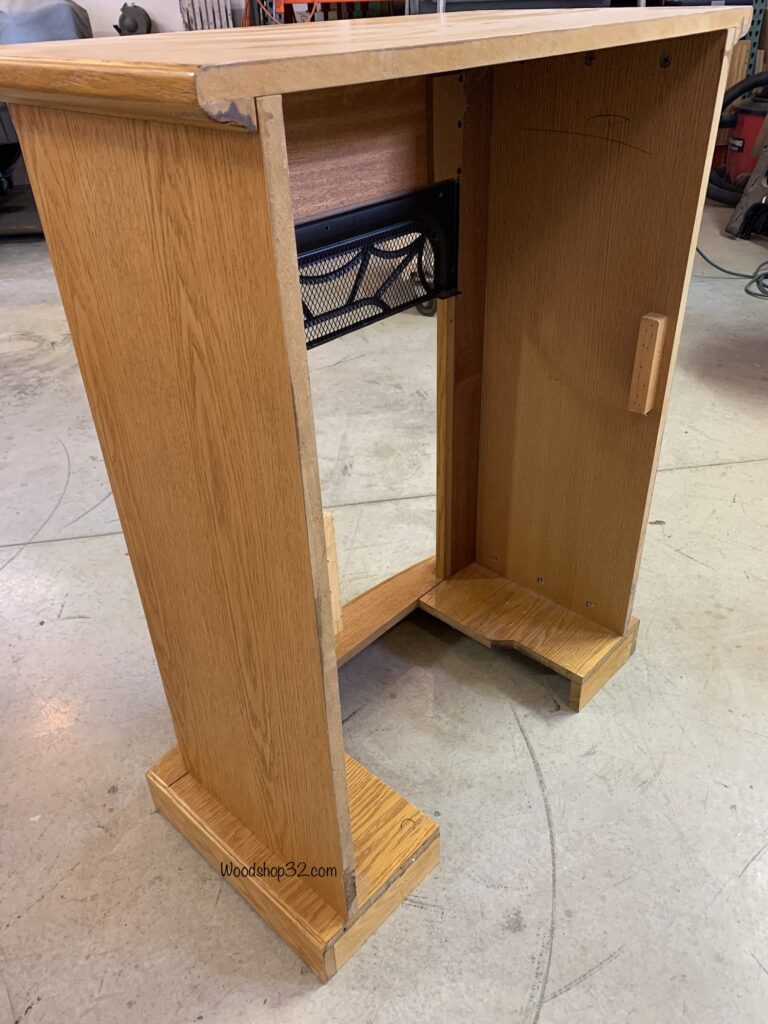 1. Sanding Fireplace Cabinet
By using a putty knife and hammer, the thin strips of plastic are taken off and it shows the pressed board underneath. Yes, that's just paper pressed together. Argh! The black grill is removed and saved for later.
Disclosure:  If you make a purchase from some links in this post, I may earn a referral fee at no cost to you.
The fireplace was sanded down with 100 grit using my palm sander to roughen up the surface. I had to be careful not to break through to the particle board or pressed board underneath.
Since it will be distressed, the damaged areas added to the look I was going for anyway. It's a win for this fireplace DIY makeover!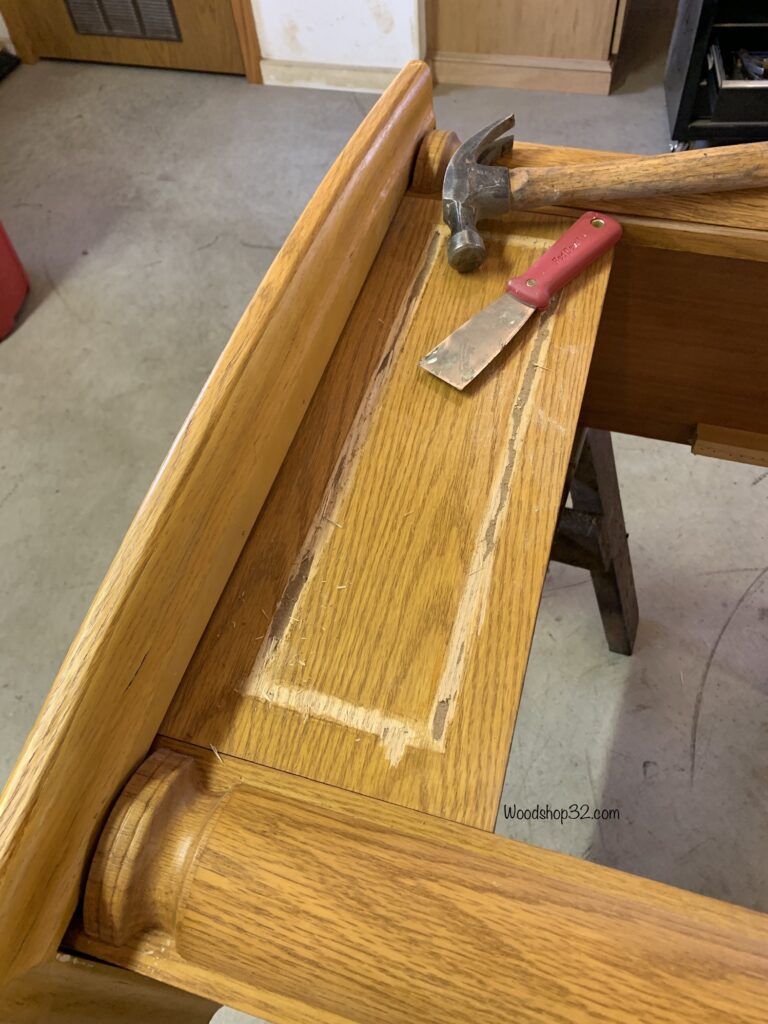 2. Painting Fireplace Cabinet Base Coat
After wiping the sanding dust off the fireplace cabinet, it was ready for paint. I already had some leftover black paint from a previous project to use for the base coat. The inside is not painted because it will be hidden by the wine rack insert.
Follow Woodshop32.com on Pinterest!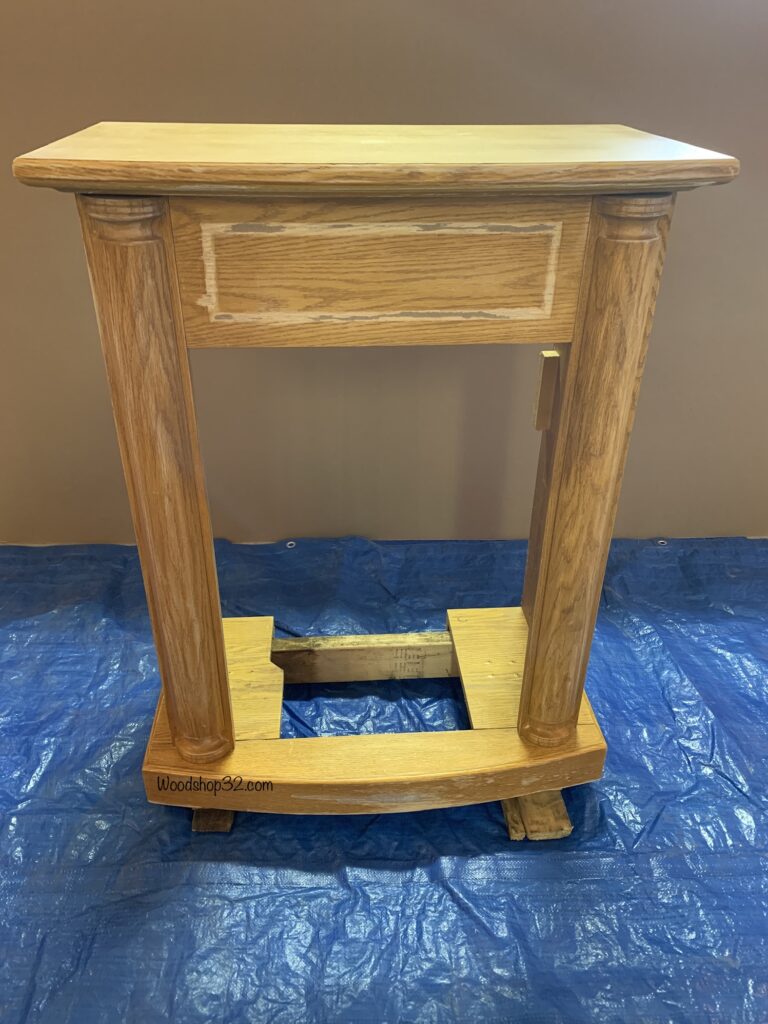 3. Building a Wine Rack Cabinet Insert
The wine insert cubby box is 23 5/8″ height by 18 1/2″ width and 11″ for depth. Each wine bottle compartment was 4″x4″. We had leftover veneer plywood in the woodshop to build the insert. The table saw is used to cut dado grooves into the box pieces so they would slide together for a tight fit.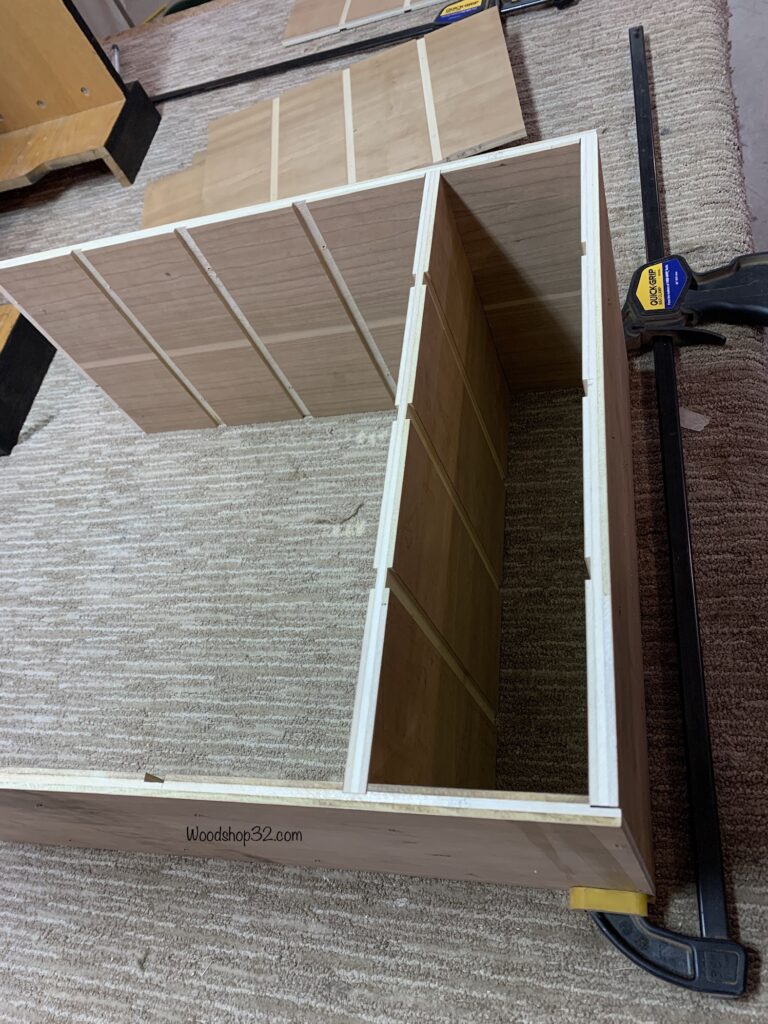 My husband did a great job constructing the wine cubbies! Thanks honey! A scrap piece of wood is attached by pocket screws to the bottom front to hide the gap under the box and look more uniform. The wine rack display fits perfectly in the fireplace cabinet.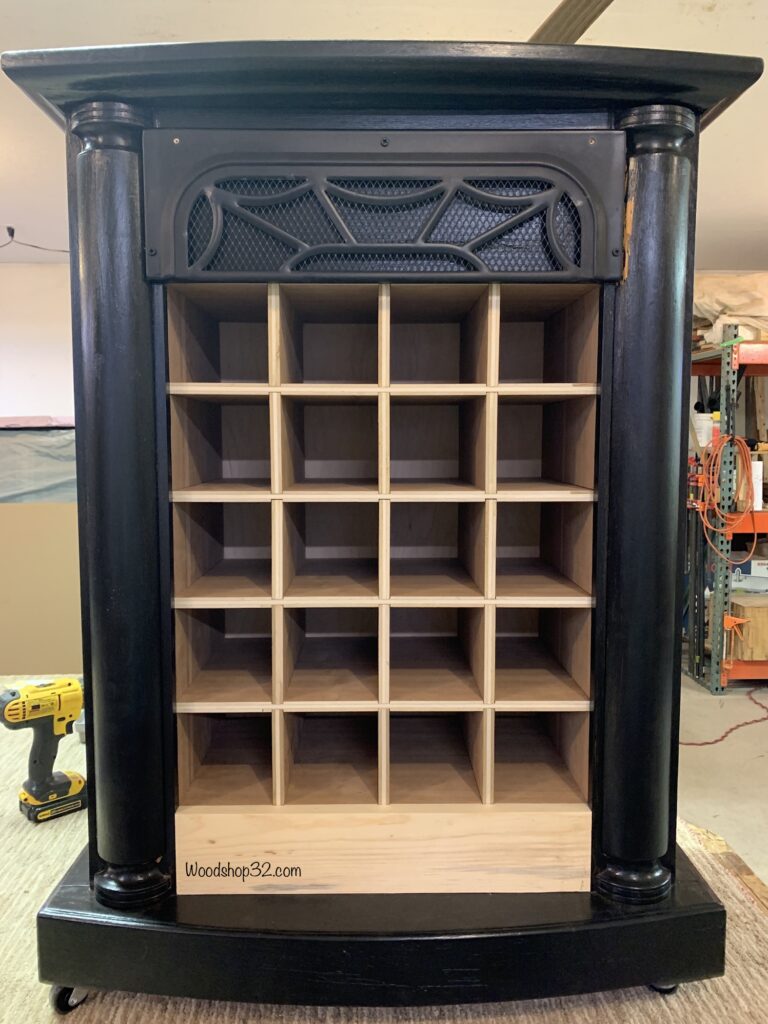 4. Painting Wine Rack Insert
The wine box cabinet insert was taken apart and each piece was spray painted with black paint.
5. Painting Fireplace Top Coat
I also had leftover satin grey paint to use up and there was just enough for this project. Yes!
Want to save this post for later?  Make sure to Pin It!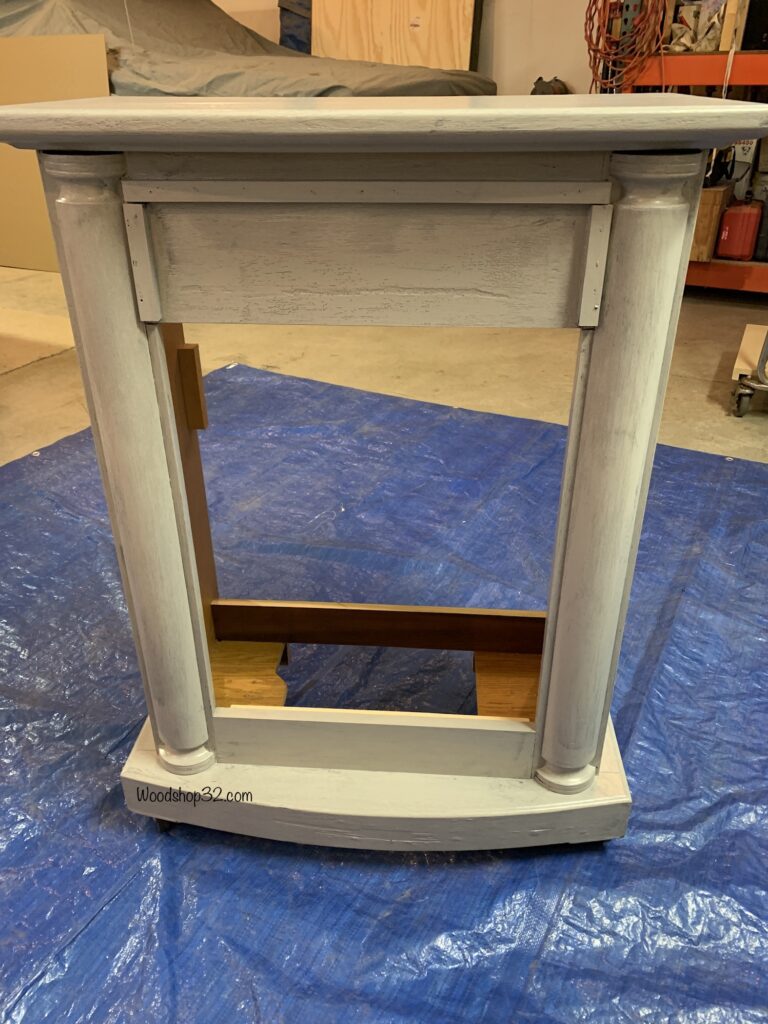 6. Sanding Paint for Distressed Look
Once the paint was dry, I took my palm sander with 100 grit and sanded down to reveal the black paint underneath for a distressed, vintage design.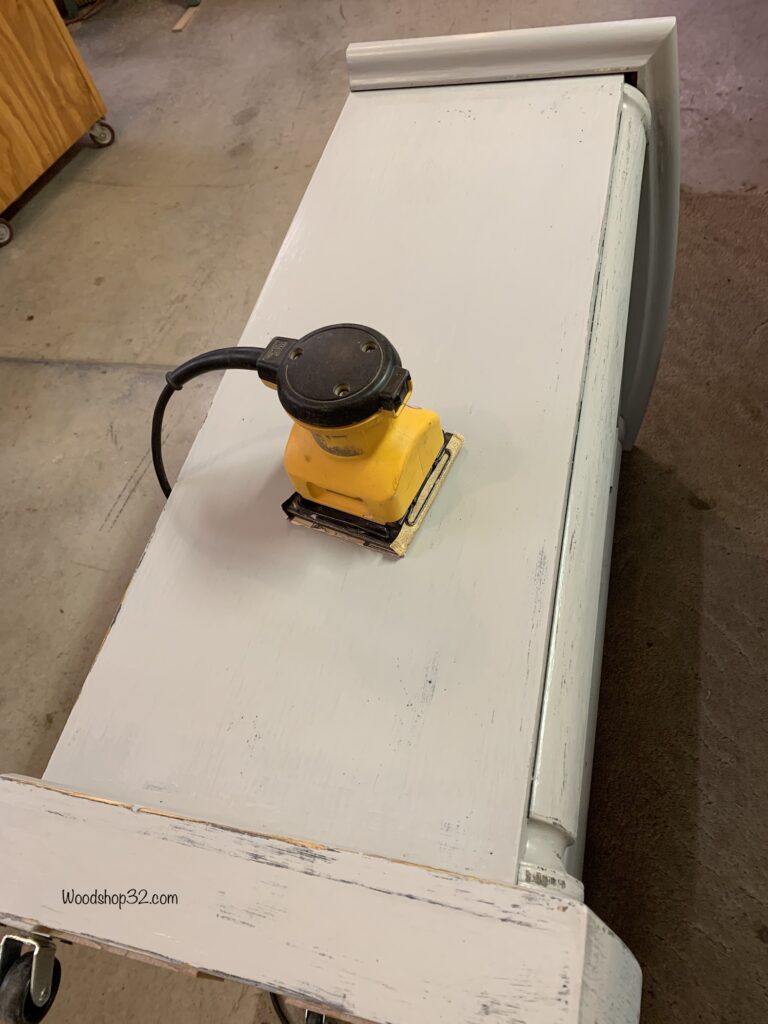 Looking for more DIY Makeovers?  Click on my other DIY projects: Sewing Machine Table DIY, Dresser Makeover Idea, DIY Farmhouse Mirror
7. Attach Fireplace Grill, Back Panel, & Caster Wheels
The black metal grill was moved up to show a more realistic fireplace look. Caster wheels are added to the bottom of the wine rack cabinet for easier moving. A panel of 1/4″ MDF was also added to the backside of the cabinet to give it a completed look and to hide the insert cubby box.
A vintage fireplace design is the DIY makeover idea I wanted as the final result. I am very happy with this furniture flip!
Tip: Use caster wheels on furniture projects, it makes moving items a lot easier!
The challenge to upcycle a faux fireplace into a wine rack display is pretty cool!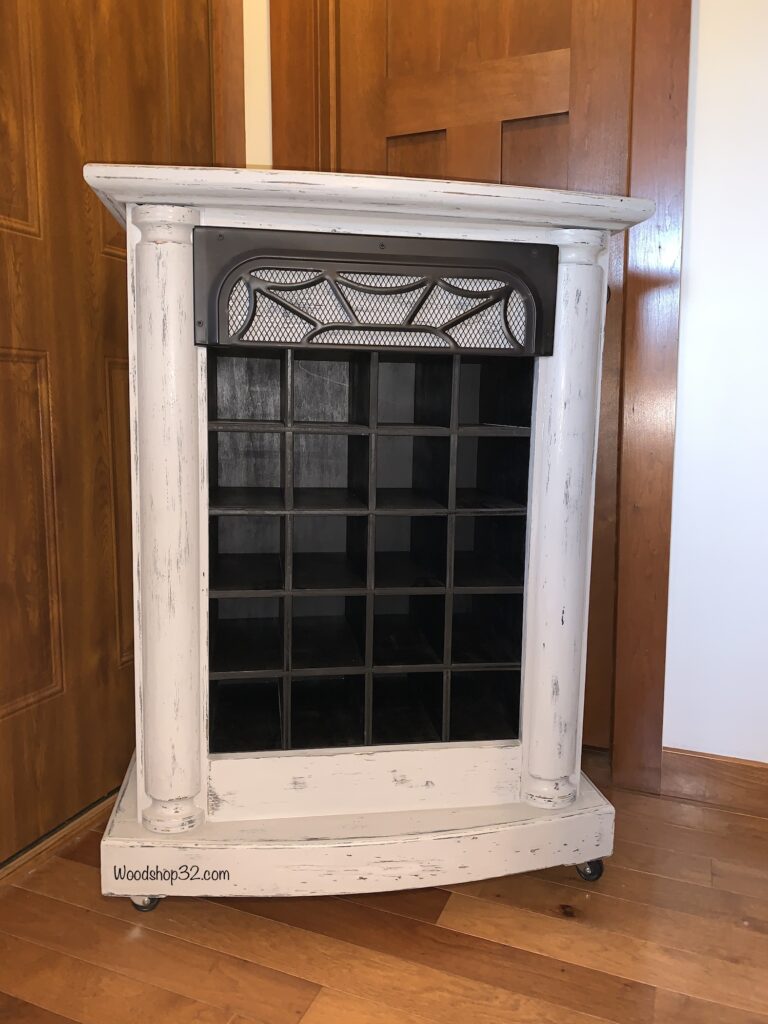 The fireplace wine rack is now settled in it's new location at my parent's house. I'm really glad we put the caster wheels on. The wine cabinet is easier to move without taking the bottles out.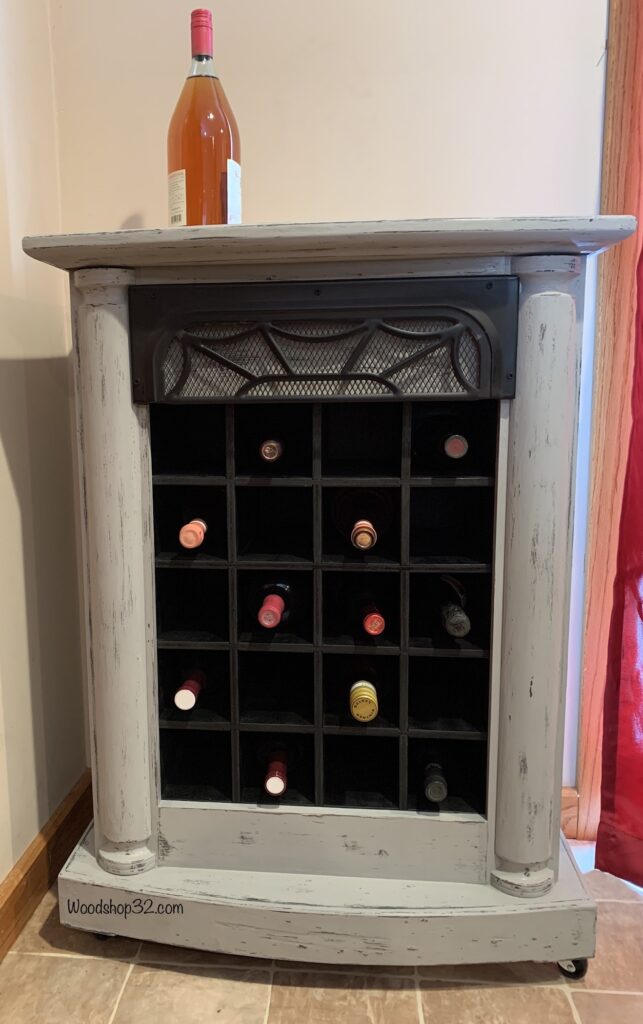 Tell me about your unusual furniture upcycled project in the comment section. How did it turn out?
Thank you for visiting the Woodshop32.com blog!