Easy Chair Upholstery
Is there a cheap alternative to reupholster a chair seat cushion?
Yes, there is!
It is something you already have in your house! Take a guess!
Believe or not, a PILLOW! Really? Yes!
I discovered this when working on my chair project.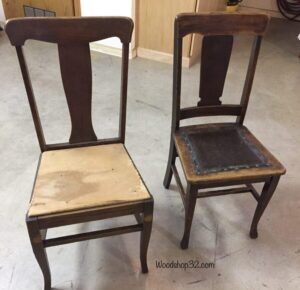 I wasn't able to find matching chairs for the ones sitting in my woodshop. They were taking up floor space. I got creative and decided to make them match for my DIY furniture flip. After going through my upholstery supplies, I didn't have any extra seat cushion foam.
What to substitute it with?
Then the idea hit! I had a clean spare pillow that was never used. After measuring the seat widths, my large pillow would fit on both chairs. I just need to cut the pillow in half!
Easy!
Grab the sewing scissors and start cutting!
The yellow and white chevron fabric was a clearance rack special. Super cheap!
The wood seats are removed and cleaned with mild soap and water. The upholstery fabric is cut larger to accommodate the pillow fluffiness and to wrap around the underside of the wood seats.
The vintage chair frames are lightly sanded with 100 grit sandpaper. After wiping off the sanding dust, they are spray painted a simple white color. I gently sanded again for a slight distressed look.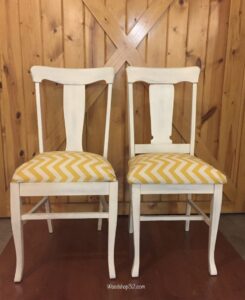 The pillow and fabric is stapled onto the wood seats and reattached back onto the frame!
This is a simple, easy weekend project for a do-it-yourself beginner on a tight budget.
Happy Repurposing!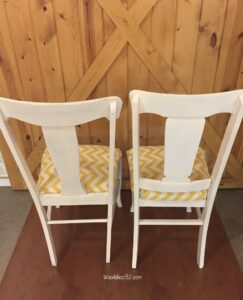 Thank you for visiting the Woodshop32.com blog!
Follow us on Pinterest!