DIY Farmhouse Chair
Do you want a do-it-yourself farmhouse chair? Yes!
Are you on a tight budget? Yes!
Only 5 easy steps for beginners to create a DIY farmhouse chair makeover!
Disclosure:  If you make a purchase from some links in this post, I may earn a referral fee at no cost to you.
List of supplies to get you started on your chair DIY makeover:
floor covering to paint on (see tip below)
wooden chair – (you can buy a cheap thrift store chair or find a free one)
My thrift store find was an old chair with a curved back. It's definitely the makeover design idea I needed for the farmhouse look. Plus, it was light weight, sturdy, and perfect! I love finding quick, easy furniture flip projects!
Let the farmhouse chair makeover begin!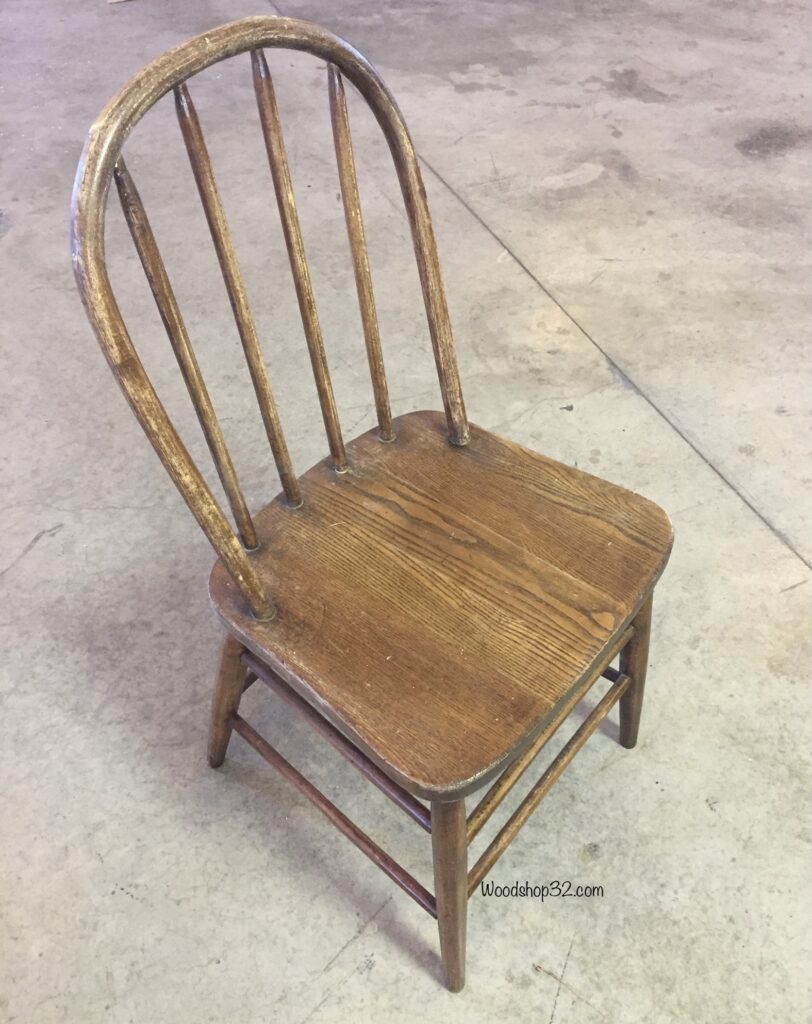 1. Chair Sanding
Before starting, I placed a small tarp on the floor then put the chair in the middle of it to start the makeover project. The whole chair is sanded by hand using 100 grit sandpaper to roughen up the wood surface. I normally use my palm sander but this chair doesn't have a flat surface.
Sanding removes any dirt or grime that may be on it. It also roughens up the wood surface for the paint to attach properly to the chair.
2. Chair Prep
The wood chair is wiped down with a damp cloth to remove sanding dust to prep the surface for paint. (Allow the chair to dry before painting.)
Follow Woodshop32.com on Pinterest!
3. Painting Wood Chair
Before painting, make sure your floor is protected from any paint overspray.
I used white spray paint to cover the farmhouse chair. Using my handle attachment, I applied two thin coats of paint for even coverage.
4. Distress the Paint
Once dry, I reused the same sandpaper to sand down the white paint in areas where I wanted the distressed look to show.
The distressing can be more or less depending on the farmhouse style you want.
Looking for more DIY Makeovers?  Click on the menu to see my other DIY projects.
5. Remove Paint Dust
The chair is wiped down again with a damp cloth to remove paint dust.
You did it! Congrats!
Only five easy steps for beginners to repurpose a wood chair into a farmhouse design.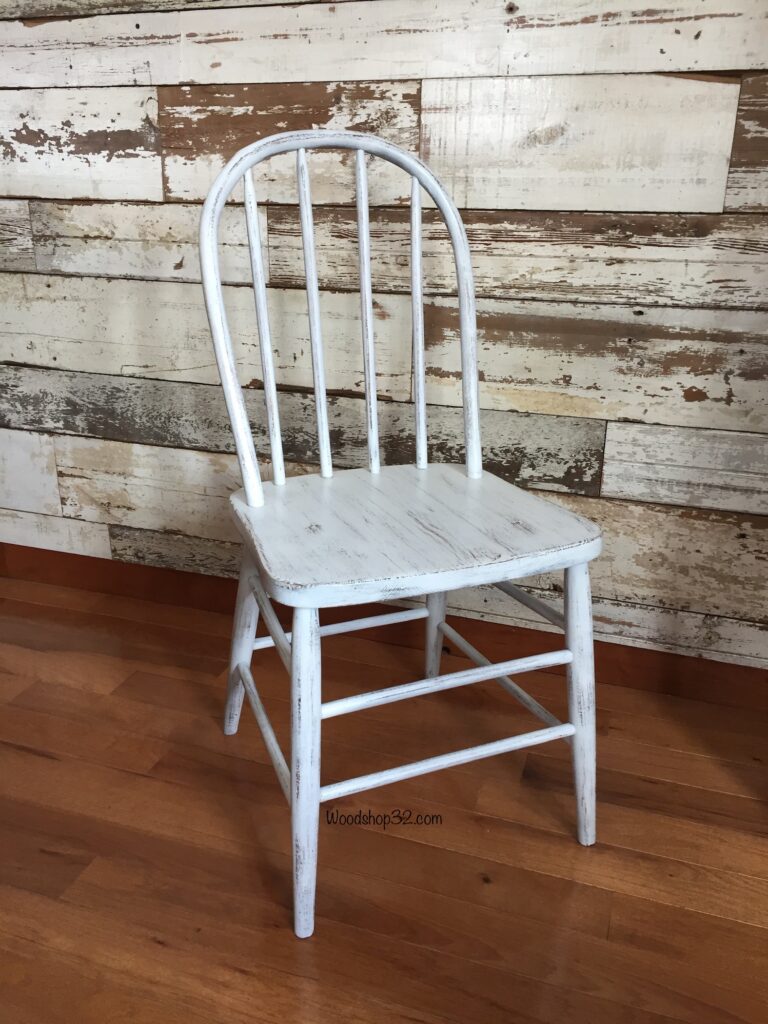 This DIY chair makeover was quick, low cost, and did I mention – EASY! A cute rustic farmhouse chair is the end result.
Want to save this post for later?  Make sure to Pin It!
Tip: Before spray painting, protect the floor and surrounding area from paint by using cardboard, tarp, newspaper, etc.
Thank you for visiting the Woodshop32.com blog!