End Table Makeover
Are you looking for an end table makeover design? Here's an easy furniture flip idea you can try for a painted end table!
I picked up this old end table at a thrift store and it's perfect for a DIY makeover. The top stain color is somewhat worn off and has water rings otherwise it's in great shape. The end table is solid wood and the drawers are in great condition.
Big win for a low cost furniture flip!
Disclosure: If you make a purchase from some links in this post, I may earn a referral fee at no cost to you.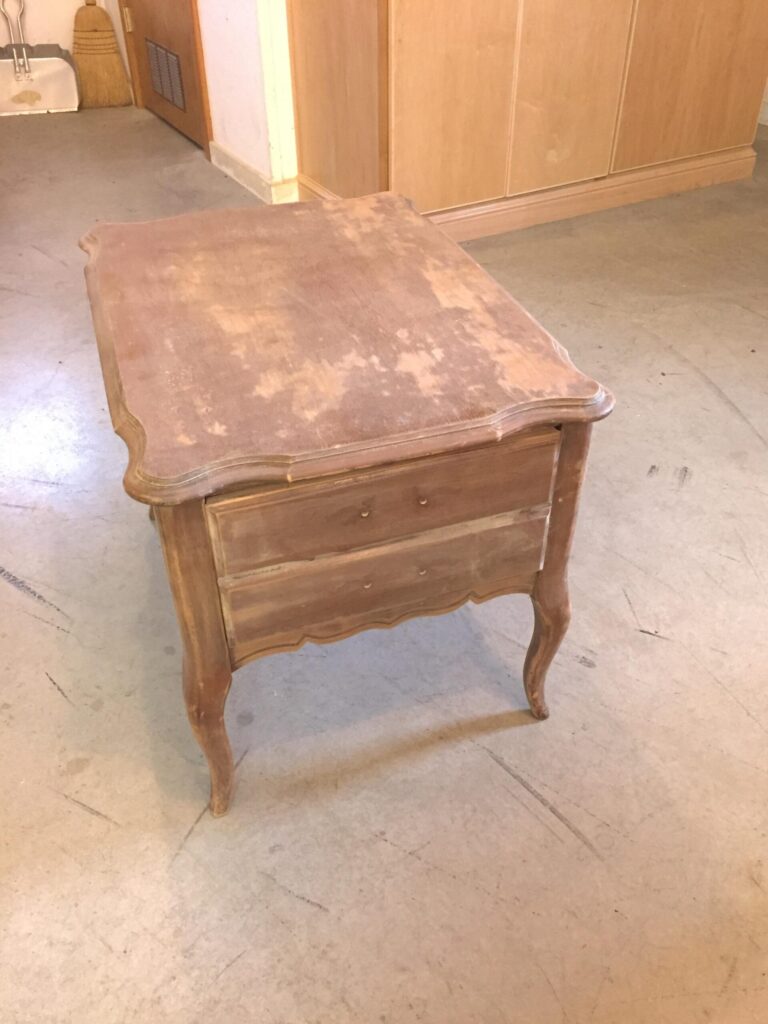 Since I want this to be a quick furniture flip. Where can I save time in design? Easy, don't stain the wood top curved edges. They are detailed and would take a lot of time hand sanding. The idea sounded good so I went for it.
Follow Woodshop32.com on Pinterest!
The drawer boxes are in good condition. Since I don't have to refinish the drawers, it cut my repurposing labor time in half. Thank goodness – more time saved! My painted end table makeover idea is coming together!
Sanding End Table
The end table top is sanded with a palm sander using 100 grit sandpaper to remove the existing stain color. I switched to 120 grit and final sanding at 150 grit for a smoother surface.
The end table base is sanded with 100 grit only to remove any old lacquer. The entire end table is wiped down with a damp cloth to remove sanding dust.
Looking for more DIY Makeovers? Click on my other DIY projects: Garden Statue Shelter, Fireplace Wine Rack, Bamboo Home Decor DIY
Staining & Finishing End Table Top
Painters tape is applied to the curved trim. Wood stain is brushed on top and wiped off. Once dry, a layer of lacquer is applied to the top. Nice and shiny finish! After removing the painters tape, I let the top dry overnight.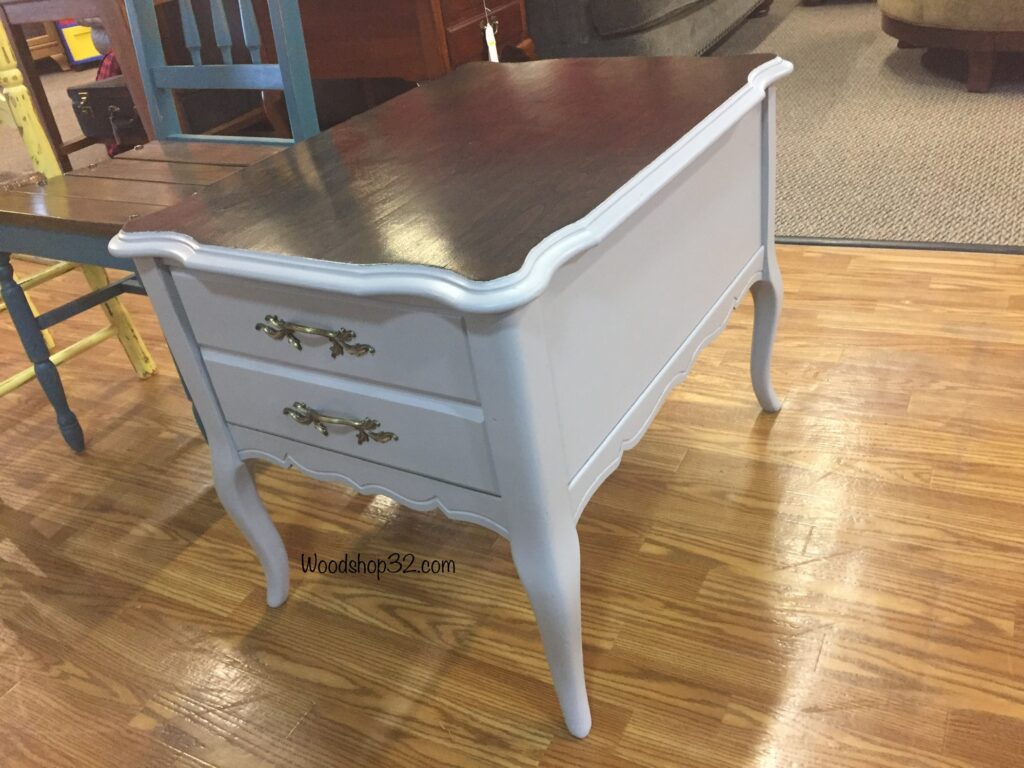 Want to save this post for later? Make sure to Pin It!
Painting End Table Base
The stained top is covered up with old newspaper and taped down to protect it from the paint. The rest of the end table is spray painted with two coats of a soft grey color. Once the paint was dry, the top was uncovered. The original handles are cleaned and reused to save money on my DIY end table makeover.
I wasn't sure how the painted end table would turn out but I'm happy with the results. It definitely has a unique look for a living room design!
Have fun with your end table makeover project! Happy Repurposing!
Thank you for visiting the Woodshop32.com blog!