DIY Farmhouse Mirror
Do-it-yourself thrift store mirror makeover project.
An old bedroom mirror is repurposed into modern farmhouse wall decor. It is an easy design project for beginners!
Disclosure: If you make a purchase from some links in this post, I may earn a referral fee at no cost to you.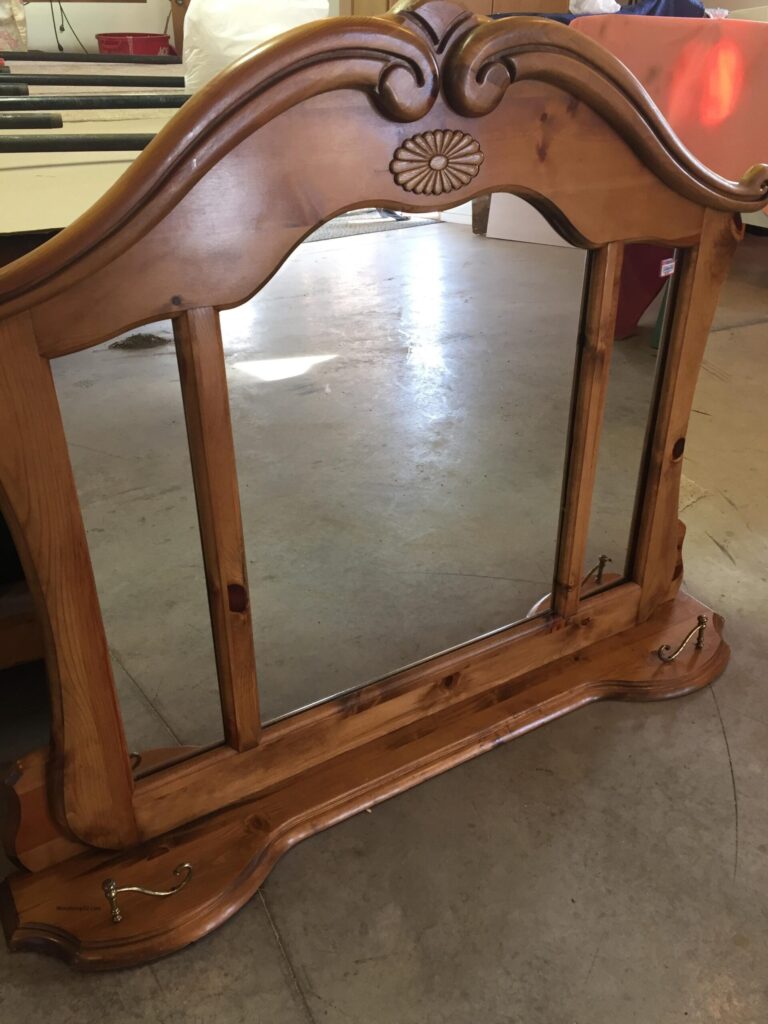 STEP 1 – Reduce Mirror Weight
Ok, this thrift store mirror is heavy! It is designed to sit on top of a bedroom dresser. It is way too heavy to hang on a wall. It has the possibility to fall off the wall due to the size and weight. To lighten the weight, the bottom wood base is removed and the two side mirrors. The bedroom mirror is so much lighter now and easier to carry! Yes!
STEP 2 – Attaching Poultry Fence
Poultry fence is the perfect solution to replace the side mirrors. By using wire cutters, the fence was snipped to the size needed and attached on the back using an electric stapler. Before stapling, the poultry fence sections are checked to make sure they match to achieve a symmetrical look. The repurposed mirror project is looking like a farmhouse design now!
Follow Woodshop32.com on Pinterest!
STEP 3 – Sanding Mirror Frame
The wood mirror frame is sanded with 100 grit sandpaper using my palm sander. The decorative areas are sanded by hand.
Looking for more DIY bedroom furniture ideas? Check out my dresser makeovers: Dresser Makeover Idea, Repurposed Vanity Dresser, and DIY Dresser Makeover
STEP 4 – Painting Mirror Frame
The mirror is covered up with newspaper to protect it.
For this DIY project, I decided to spray paint with chalk paint in a soft linen color. The wood frame and poultry fence are painted but not the backside. It will not be seen, so why waste paint!
After the paint is dried, the frame was distressed in several areas by sanding down to the wood.
Don't forget to Pin this DIY project!
STEP 5 – Attaching Wire
The DIY farmhouse mirror is weighed to determine what size of picture hanging wire is needed. I made sure the wire did not exceed the top of the mirror frame when attaching to the back.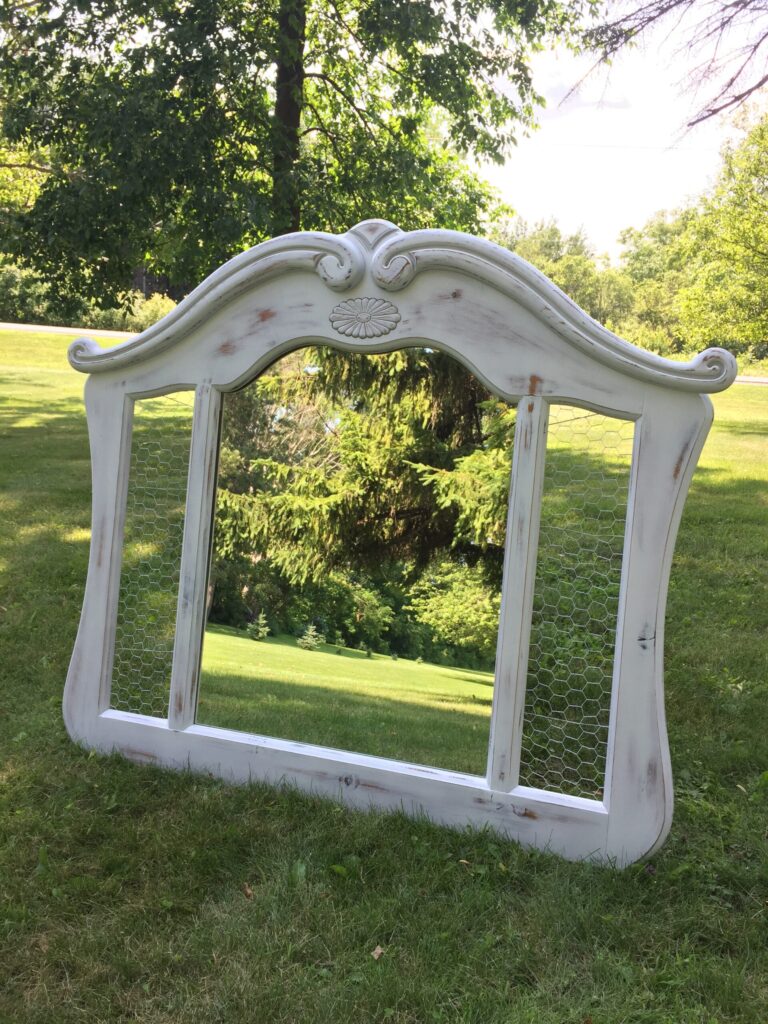 Easy farmhouse design for a beginner to do for a mirror makeover!
A simple farmhouse wall decor idea with amazing results!
Tip: Picture hanging wire is based on the weight of the item you want to hang on the wall. Incorrect wire size will cause the item to fall to the floor from the wire being too weak.
Thank you for visiting Woodshop32.com blog!