Pallet Fence to Hide Septic Tank Covers
Anyone enjoying looking at their septic tank covers? Nope! Me neither! Unfortunately, most homeowners have this unsightly lawn feature. I really didn't want to look at our septic on a daily basis and plus it needed to be protected from our driveway traffic. What can I use to build a low cost fence? Free pallets was the answer! My DIY pallet fence design is a simple and decorative idea.
Disclosure: If you make a purchase from some links in this post, I may earn a referral fee at no cost to you.
Since I don't have a pallet wrecker bar, the boards on the back are cut off using my Bosch jig saw. The cut off boards will be reattached again in the design plan. (I did acquire a pallet wrecking bar after the project was done.)
All of the free pallets were thinned down and restacked.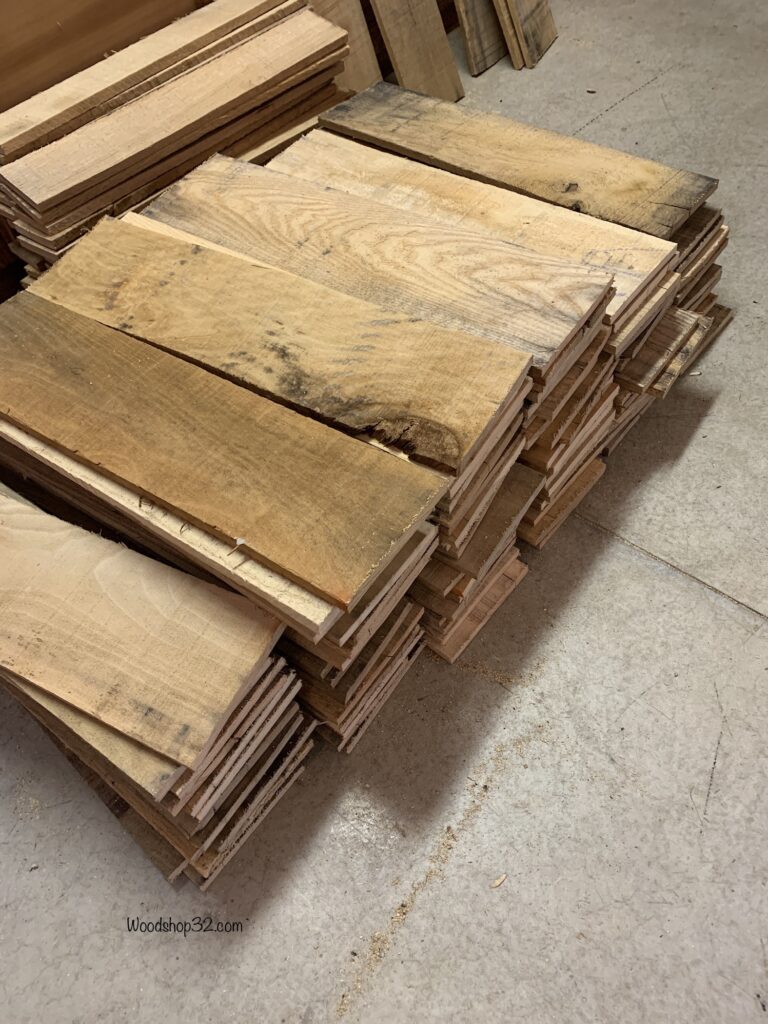 Since the cut off boards are shorter, scrap wood strips are attached to the stringers.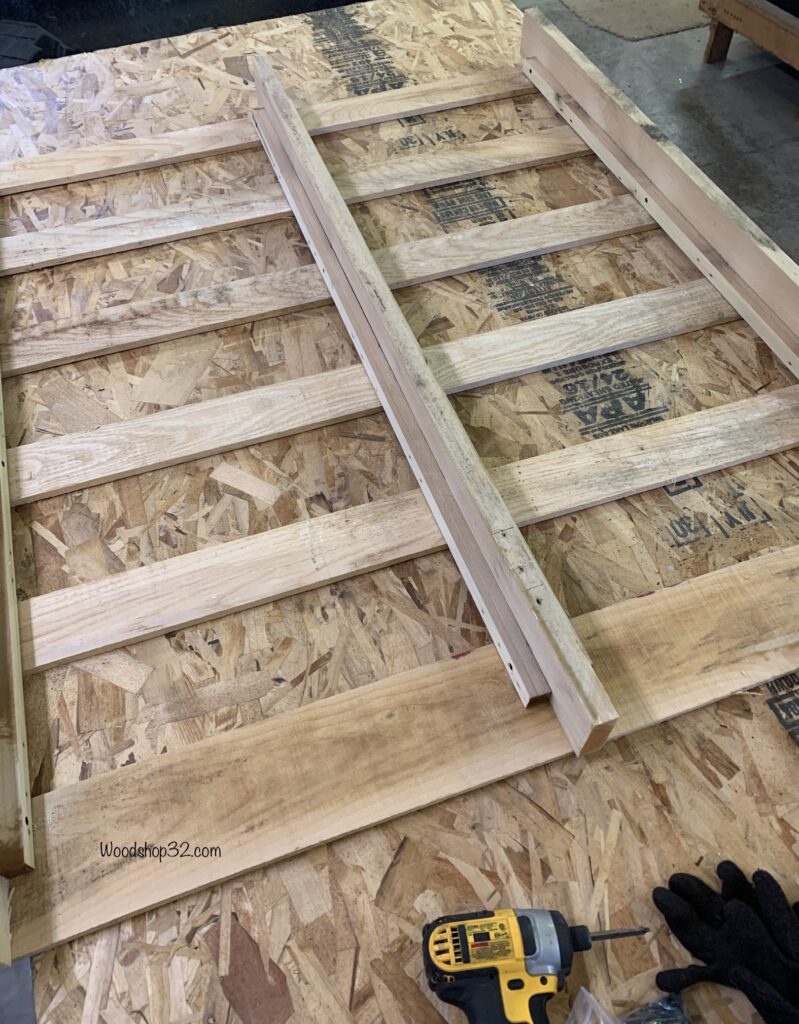 The cut off boards are reattached using a Dewalt cordless impact driver to fill in the gaps of the pallets. Now it's starting to look like a fence! I had plenty of miscellaneous screws leftover from other projects to use up. Another costs savings!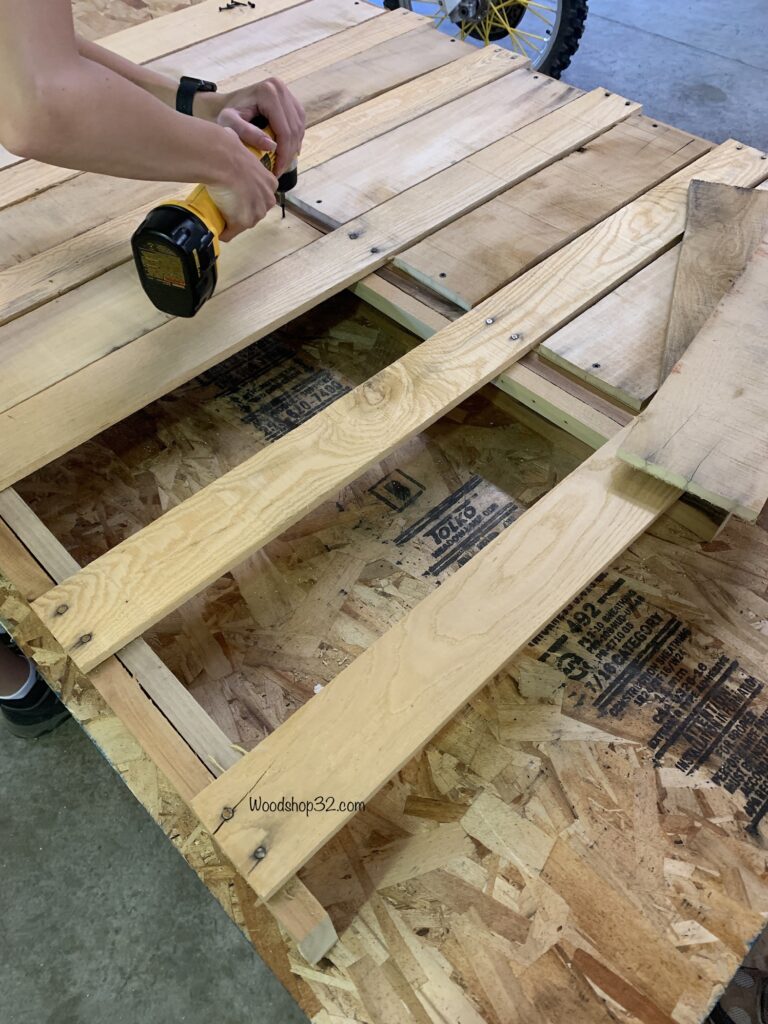 Follow Woodshop32.com on Pinterest!
My how to build a pallet fence idea is an easy project to build.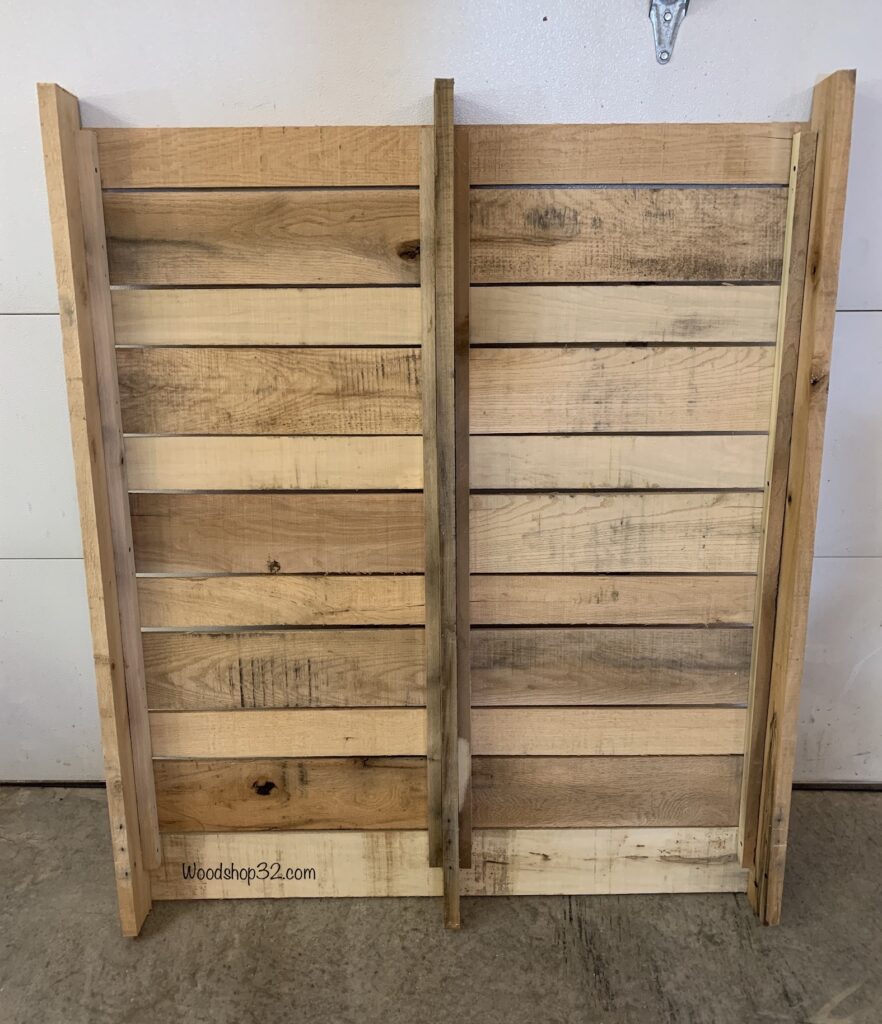 When building the pallet fence, the treated lumber was not always available. I decided go with Plan B and use regular studs as fence posts instead.
I used deck stain to coat the studs and wrapped the bottom two feet with wax paper to keep the dirt from directly touching the wood. My DIY method worked really well!
Want to save this post for later? Make sure to Pin It!
I decided to shrink down the size. The extra pallet fence panels will be used for another area of the yard as a privacy screen.
At the bottom of each panel, I attached a pallet stringer board that was coated with deck stain. The panels are screwed together and attached to the studs with deck screws.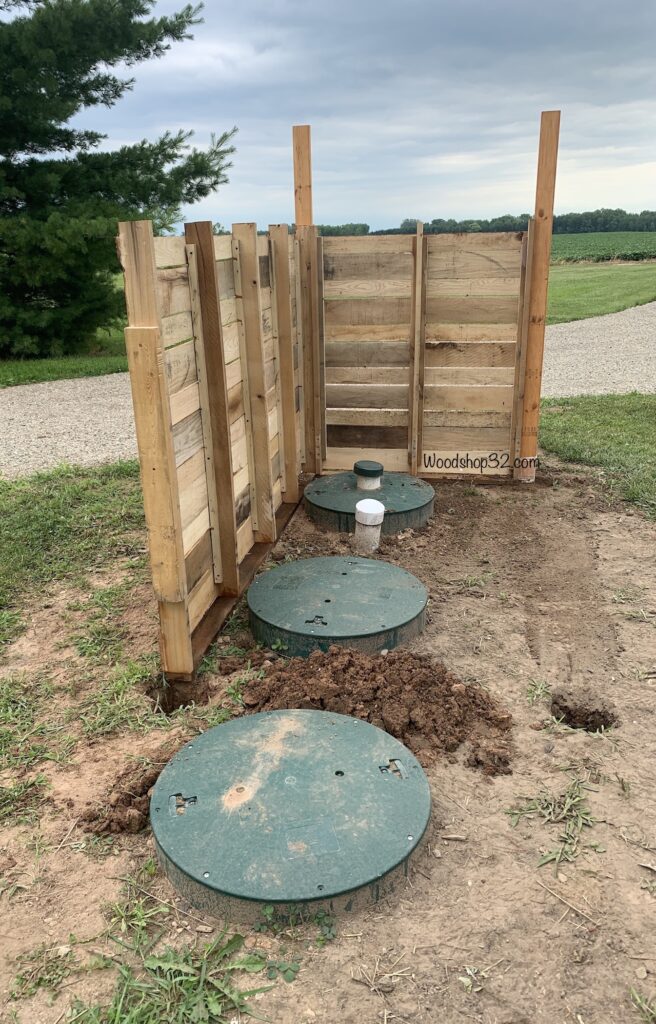 The entrance side is made from two pallets cut in half to allow for a door. I had old hinges to use so no extra cost! The top was finished off with 1×6 standard pine boards and deck stain applied.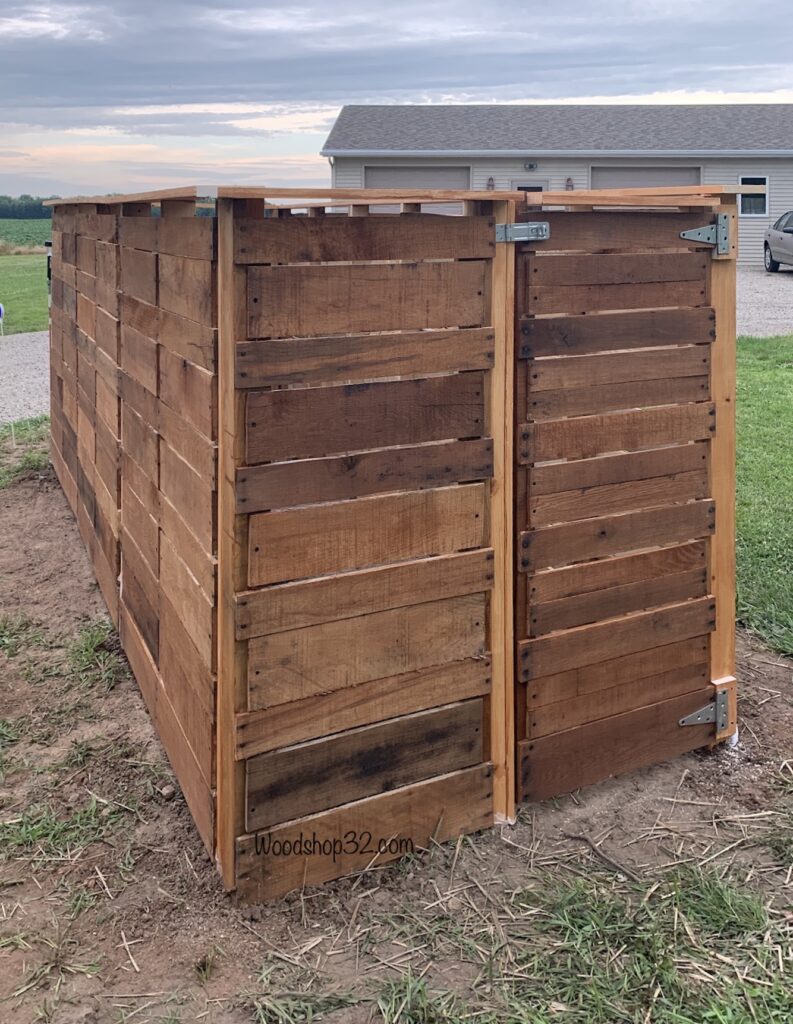 I only had to buy wood studs, pine boards, gate latch, deck stain, and solar lights. Estimated total cost was around $70. Without staining the inside of fence, I saved more money!.
Looking for more DIY Makeovers?  Click on my other DIY projects:  Pallet Wood Planters, DIY Pallet Christmas Trees, Repurposed Vanity Dresser
After adding mulch (from our old tree) and solar lights on top, the project is complete. The septic tank covers are protected from the driveway, hidden from view, and accessible. The DIY pallet fence design is not permanent, it can be easily removed if necessary.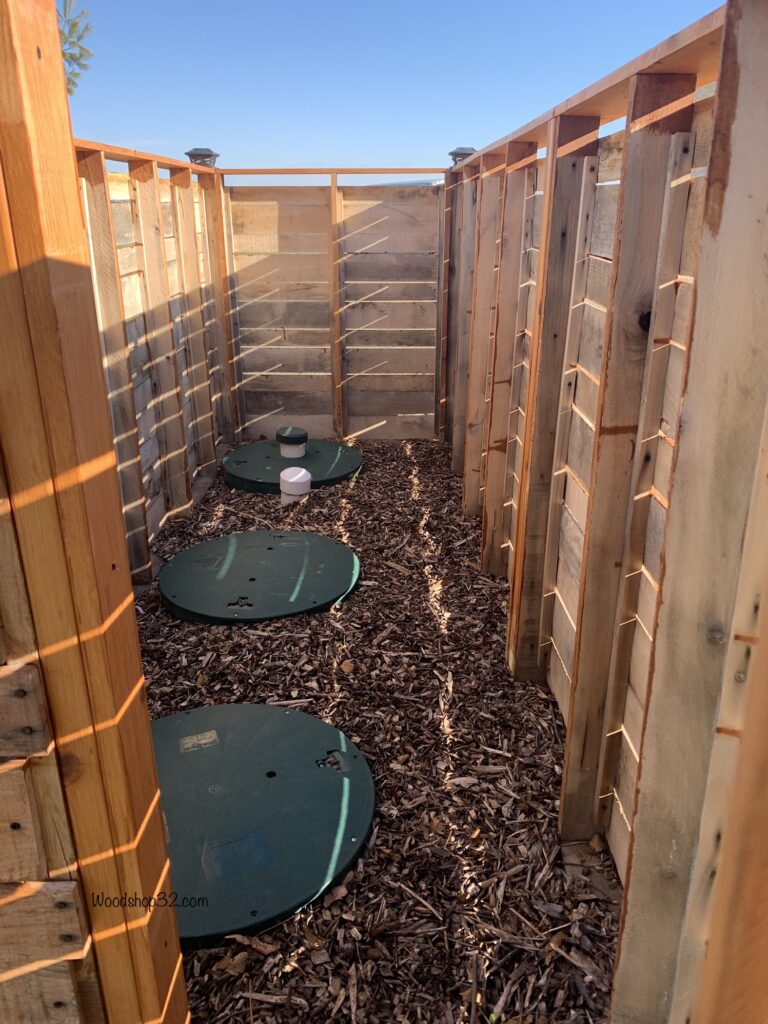 Warning: Do not attempt to dig around a septic until you talk to a septic system professional first! Contact the company that installed your septic system – they will advise you. Failure to do so can cause serious damage to the underground buried septic system or cause personal harm.
Thank you for visiting the Woodshop32.com blog!
#repurpose, #diy, #palletwood