DIY Pallet Christmas Trees with Lights
Want a cheap outdoor Christmas decoration idea? Look no further. Grab some FREE pallets first! Let's get started on how to make DIY pallet Christmas trees for the holiday season!
Disclosure: If you make a purchase from some links in this post, I may earn a referral fee at no cost to you.
Cut Pallets First
I used a junk board as a straight edge to draw a line before sawing. My Bosch jig saw is used to cut out the shape. The bottom boards are not cut because it will be the base of the pallet Christmas tree.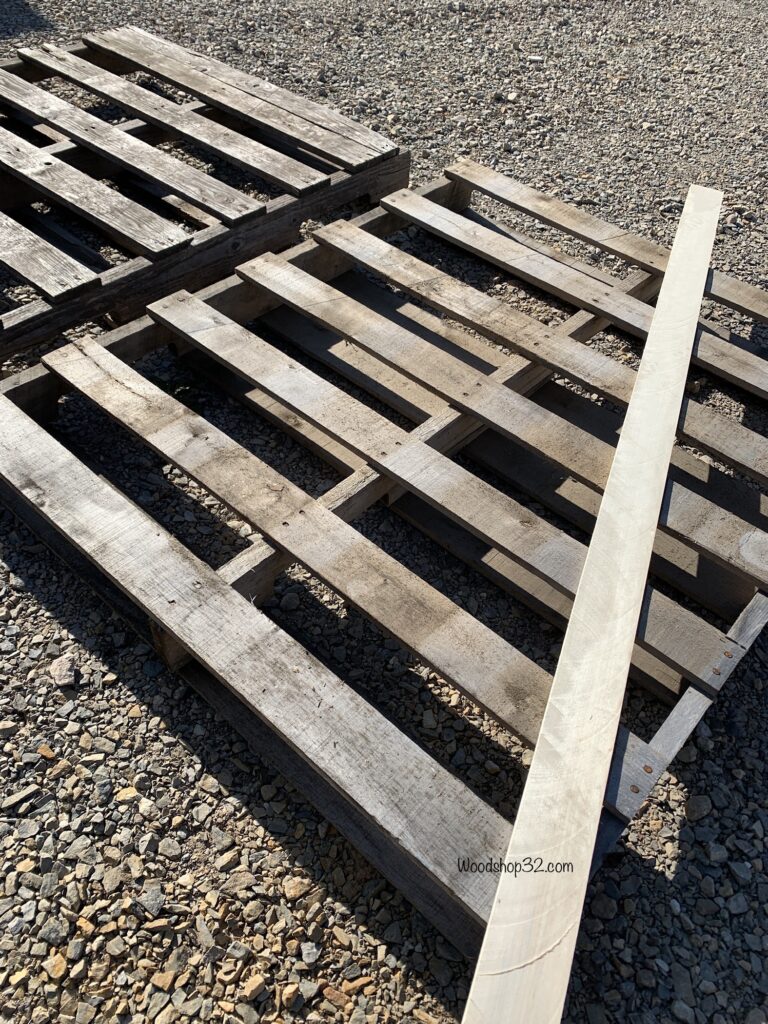 I added pallet boards using wood screws to fill in the gaps on only two of the Christmas pallet trees. I also added wood to the top of each tree to give it a better peak.
Follow Woodshop32.com on Pinterest!
Drilling Holes for Lights
Dig in your holiday storage boxes to see what you have first. This will determine how you plan out where the lights go.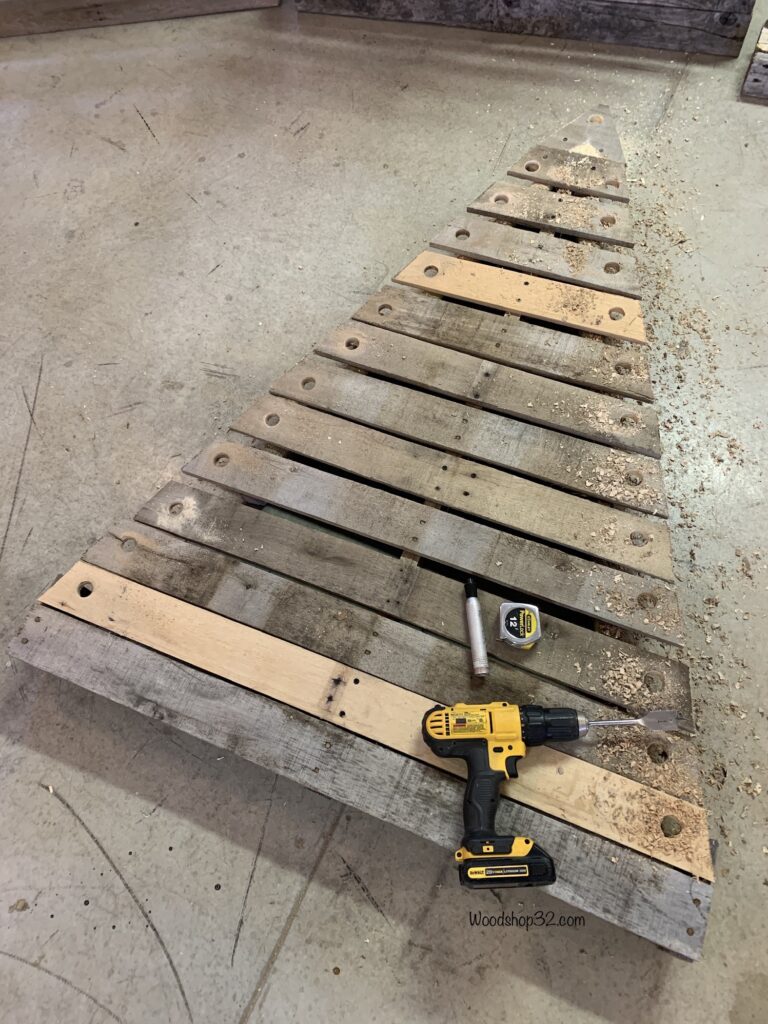 Tip: Save money and use your existing outdoor string of Christmas lights.
Want to save this post for later? Make sure to Pin It!
I have the C9 glass bulb Christmas lights in which there are 25 lights per string. Using my Dewault cordless drill, I used a one inch Milwaukee spade bit to drill 25 holes about 1 1/2 inches from the edges. I put junk boards under the pallet tree limbs for support before drilling holes. I don't want to break a tree limb or damage my spade bit by hitting the concrete floor.
Making Stars for Pallet Christmas Tree Tops
My DIY Christmas pallet trees need a star to complete the design. I had some junk wood material to use up and a 7 inch star just fit on the board. I use my Bosch jig saw to cut out the star pattern. Each star was also drilled out for a bulb and screwed onto the pallet tree peak.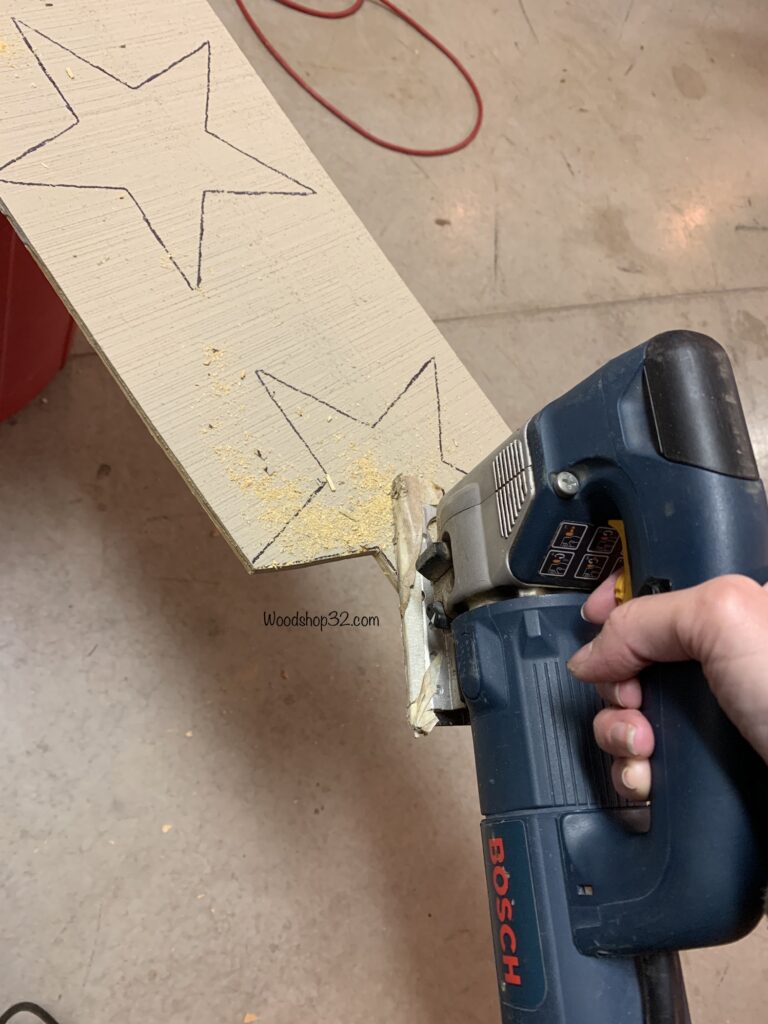 Adding Boards for Tree Base
I had a pile of junk pallet boards that worked great to screw onto the pallet Christmas tree bases. Since the pallet trees will be outside in the winter weather, I didn't want the wind to knock them over.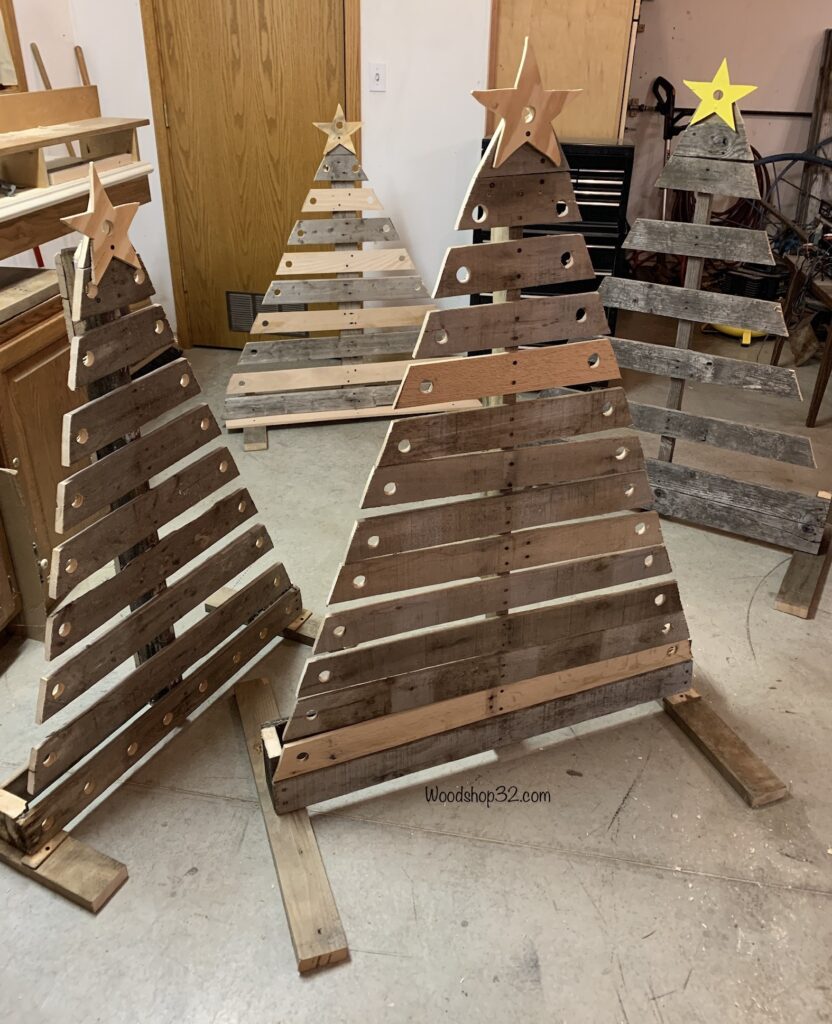 Old pallets are not perfect. If you notice, I added a small block of wood or board on some so they would stand up straighter. The snow will eventually hide the support boards.
Looking for more DIY Makeovers?  Click on my other DIY projects: Pallet Wood Planters, Pallet Fence for Septic Covers, Sliding Closet Doors Makeover
Painting the Pallet Trees
I dug out my old craft paint and luckily found two green colors and a yellow. The pallet wood was so dry that I added some water to the paint so it would spread better. I'm loving how these trees are turning out. My mini forest!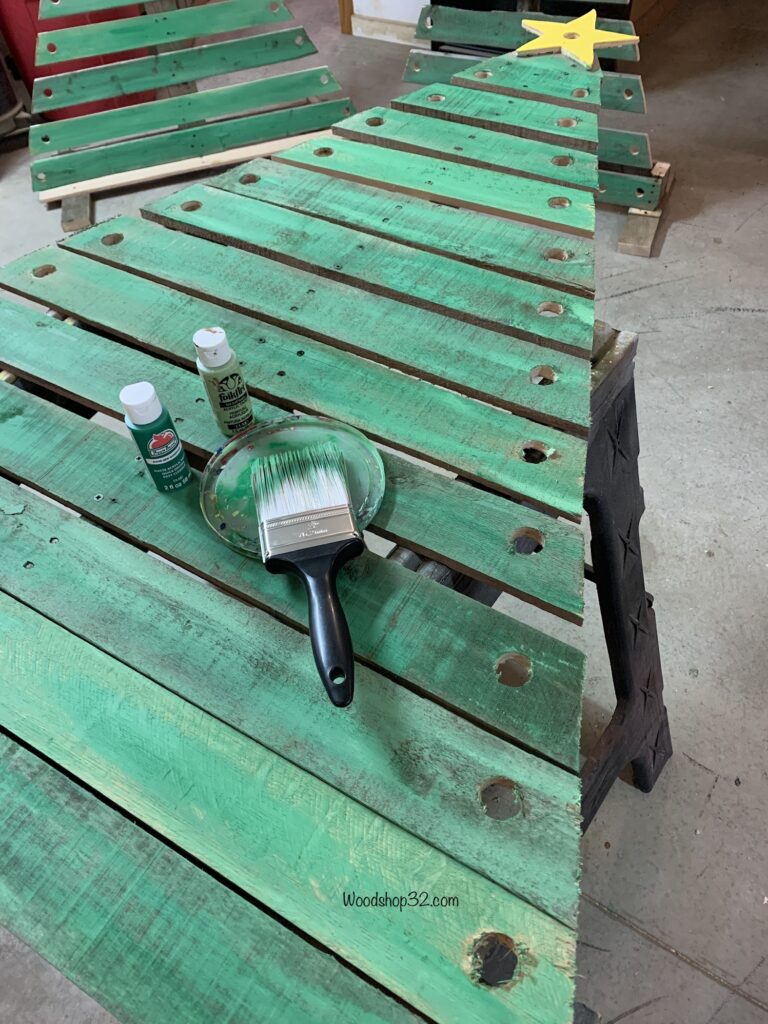 Tip: Save money and use up your old craft paint.
Christmas lights are next! Super excited!
Adding the Christmas Lights
The backside of the pallet hides the Christmas light wiring. All you have to do is unscrew the light bulb, put the socket in the hole and screw light bulb back on. Easy!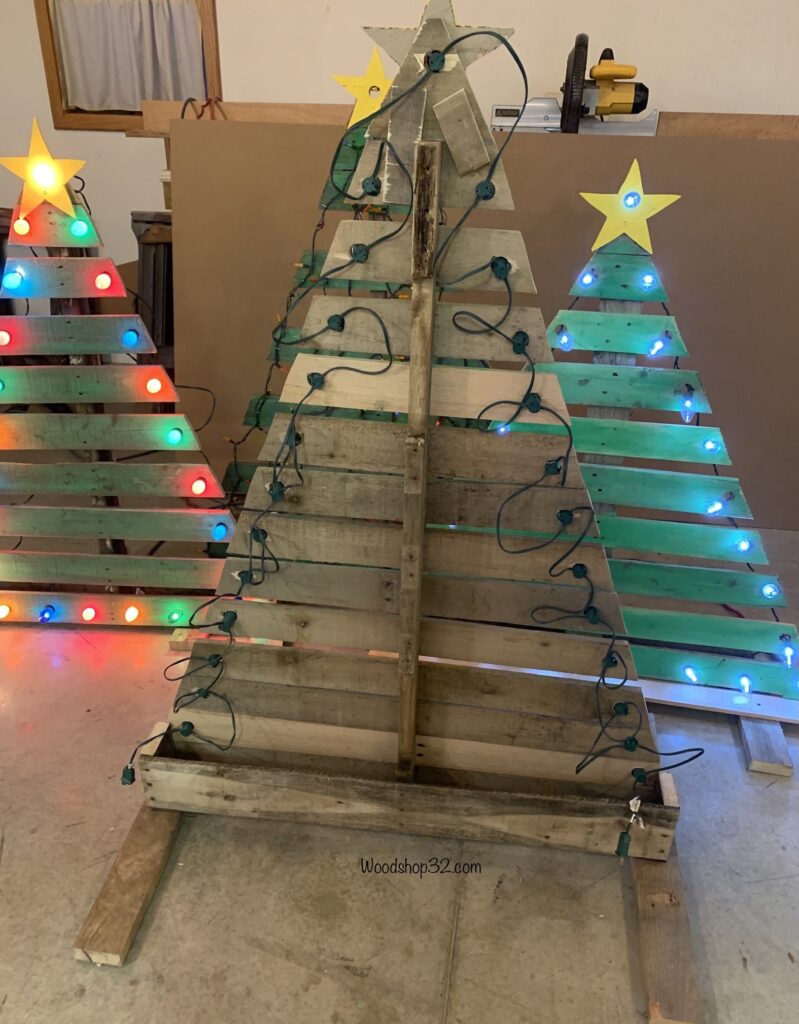 Each one of my pallets are a different height, size, and style. Love it! Notice the tree with the smaller lights, I stapled them on the front of the pallet Christmas tree using my electric stapler. Super easy!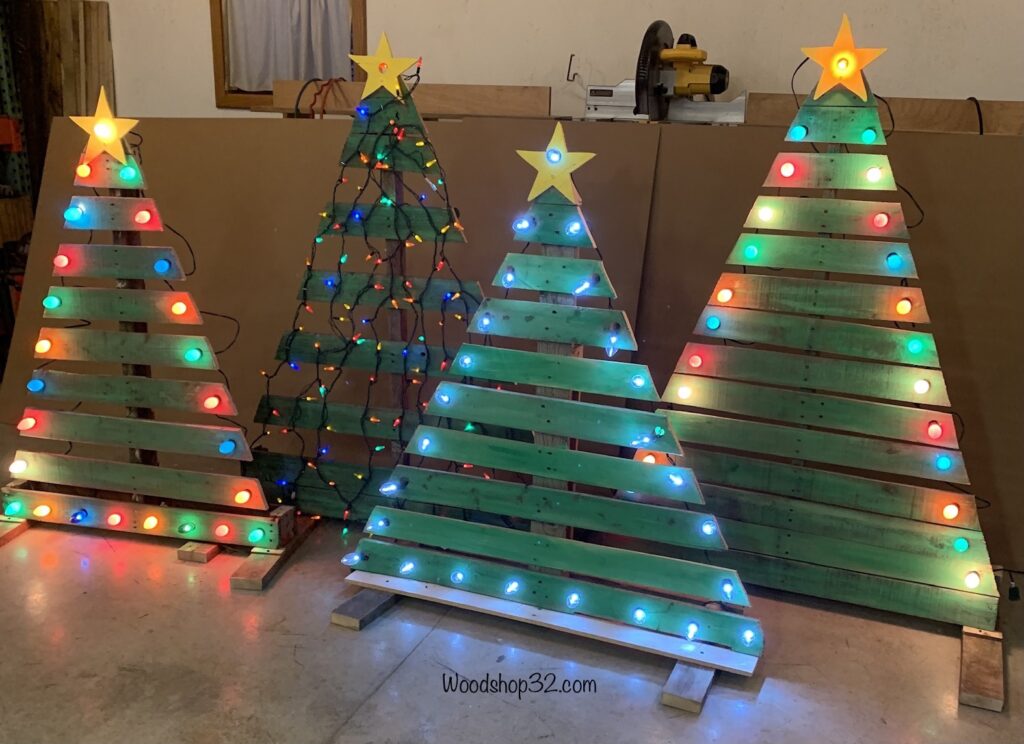 Total project expense: ZERO. Since I already had the supplies, it cost me nothing to make. What a great deal for my holiday budget! #thrifty, #cheap, #repurpose
I can't wait to get my DIY Pallet Christmas Tree display outside for the holiday season. Merry Christmas!!
Thank you for visiting the Woodshop32.com blog!