Sewing Machine Table DIY
What to do with an old sewing machine table? A do-it-yourself furniture makeover design to create a modern side table. Only 5 easy steps! Repurposing sewing machines tables are great for small spaces!
My thrift store find is this beauty with the water stains on the top. The table is sturdy, good condition, and contained no sewing machine. I love the flip down front drawer! Definitely a bonus feature!
Disclosure:  If you make a purchase from some links in this post, I may earn a referral fee at no cost to you.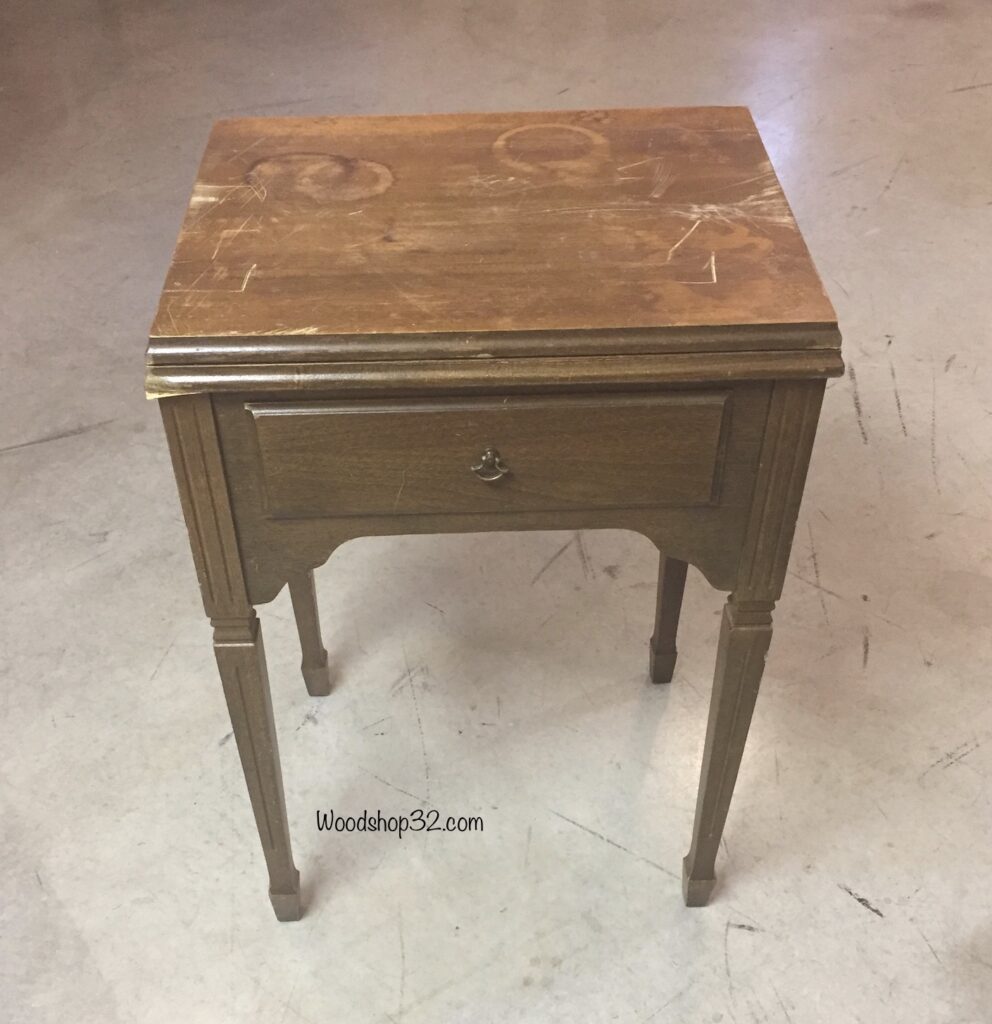 1. Remove Table Top
The flip top is removed from the hinges and will be reused as the permanent top. The board with the sewing machine cut out is removed from the frame and tossed in the trash.
Follow Woodshop32.com on Pinterest!
2. Sanding Sewing Machine Top and Frame
The table top is sanded with a palm sander using 100 grit first, switched to 120 grit, and finally 150 grit. Nice smooth surface! I hand sanded the top sides because they are not flat surfaces.
The underside of the table top is not sanded because you won't see it anyway. Time saved!
The sewing machine table frame is sanded using the same procedure. Hand sanding is used for the decorative areas.
All sanding dust is wiped off.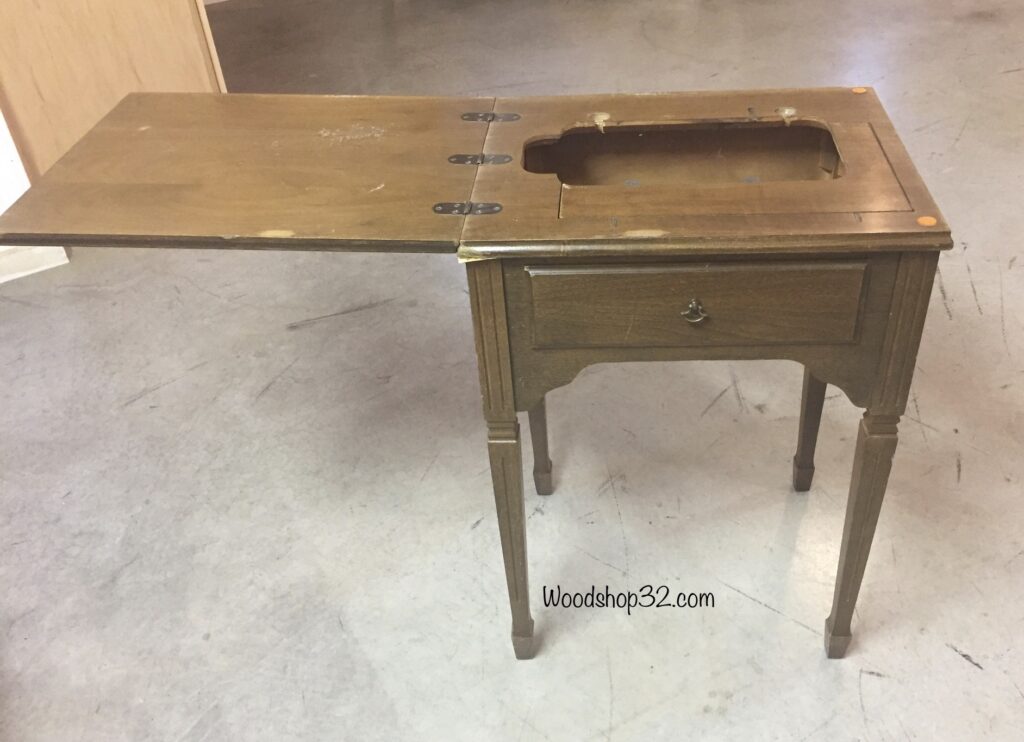 3. Wood Stain
While it is still detached, the top is wood stained and sealed with lacquer finish. You can add additional coats of lacquer for a more durable surface.
Want to save this post for later?  Make sure to Pin It!
4. Painting Sewing Machine Table
A classic navy blue spray paint is used for the DIY makeover. I always use a spray paint handle attachment to make painting easier. The table frame is sprayed with two coats of paint including the inside of the little drawer. The navy blue color really highlights the features of the table legs. Love those vertical lines!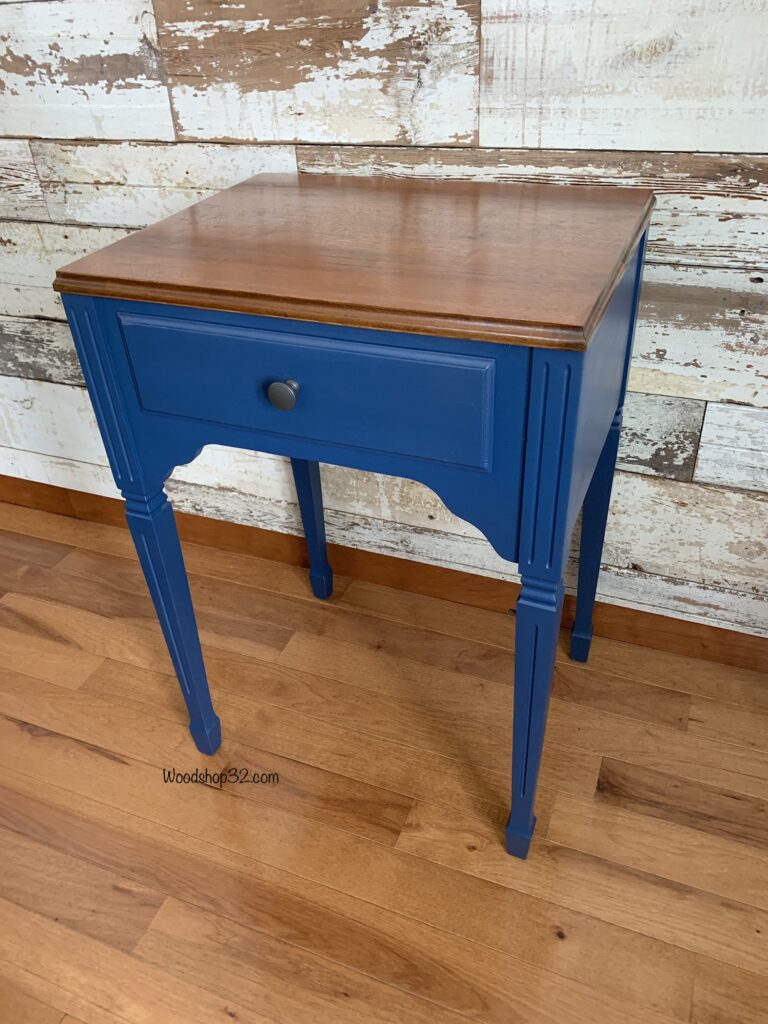 Looking for more DIY Makeovers?  Click on my other DIY projects: DIY Farmhouse Mirror, Rocking Chair Upholstery, DIY Dresser Makeover
5. Attach Wood Top
The sewing machine top is reattached using wood screws to secure from underneath. A modern pull knob is added to the little flip down drawer. I love the results of this furniture makeover!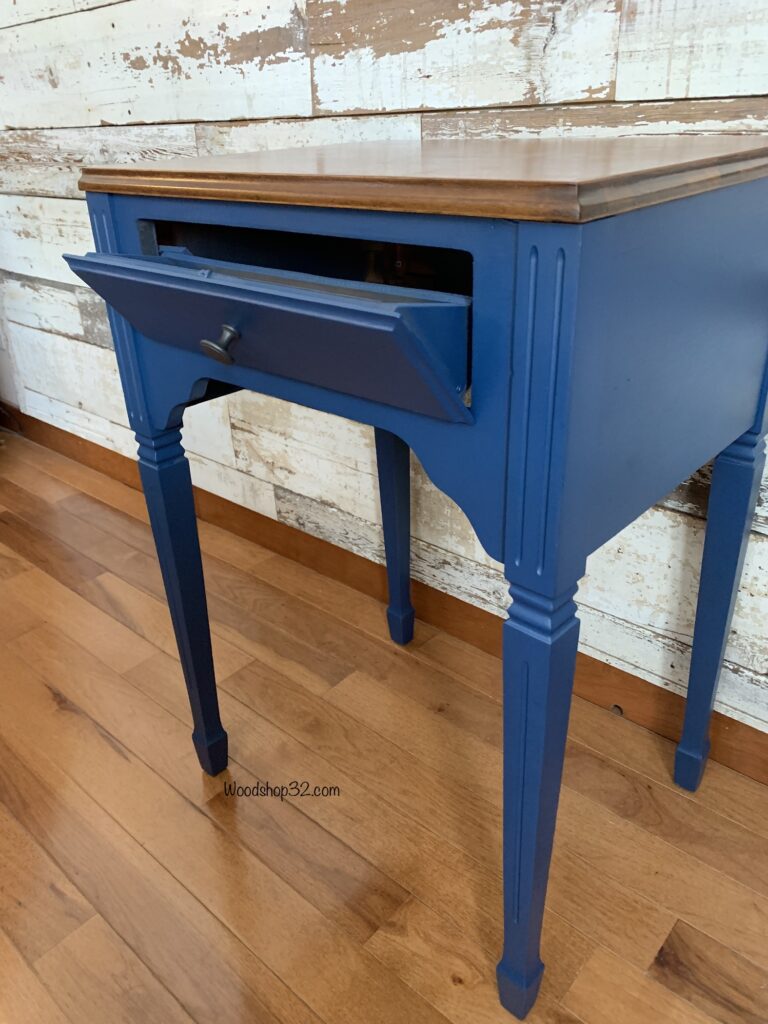 A vintage sewing machine table makeover into a modern side table gives it a well deserved upgrade. That little flip drawer is so cute!
Tell me about your repurposed DIY sewing machine table in the comment section!
Thanks for visiting the Woodshop32.com blog!
Tip: By removing the cut out layer of wood it helps lighten the weight of the table and makes it easier to carry or move it.
#repurpose #thrift #diy #furniture flip #sewing machine table