Hutch Makeover
A hutch makeover project showing before and after results for a complete new look. The china cabinet with glass doors is repurposed into a modern hutch cabinet.
A great DIY hutch project idea to inspire you.
This is one furniture makeover I agreed to do before seeing it. Whoa. It is the ugliest hutch I have ever seen. The hutch needs a lot of help but I'm ready for the challenge! I definitely have a makeover design idea for this piece of furniture. Time to get started!
Disclosure: If you make a purchase from some links in this post, I may earn a referral fee at no cost to you.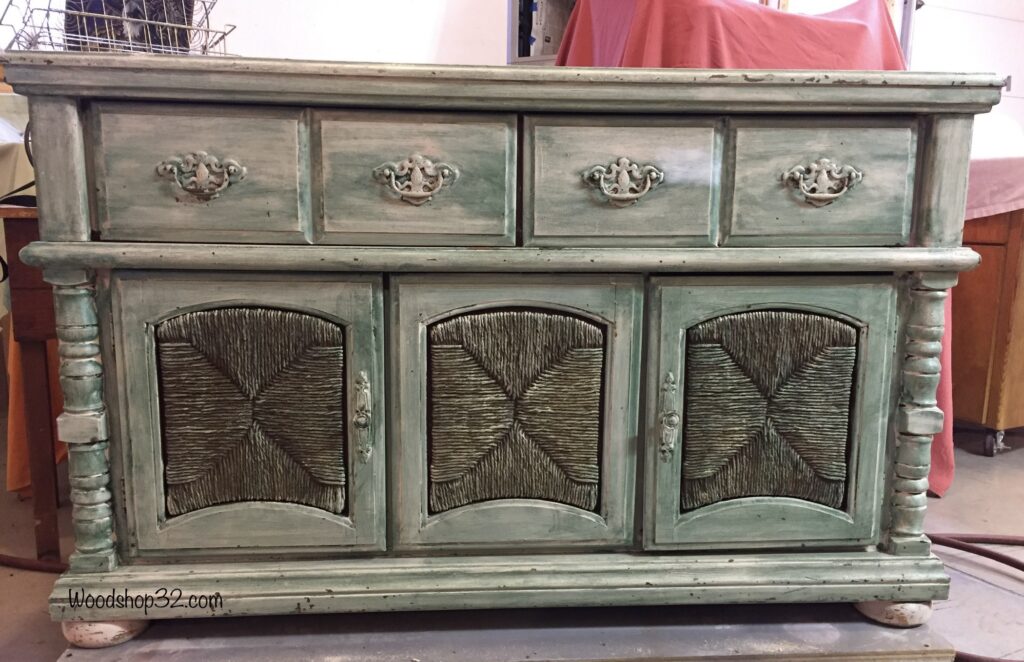 Remove Furniture Decorations & Hardware
The fake styrofoam wicker on the door fronts is pried off using a screwdriver and tossed in the trash.
The handles and hinges are taken off and placed in a pan of boiling water to loosen the paint. After scrubbing with a wire brush, gold cabinet hardware is revealed. I used mild soap and water to clean the gold hardware. They are shiny now!
The outdated plastic grids on the hutch glass doors are removed with a screwdriver. Into the trash they go! The glass panels look so much better without them.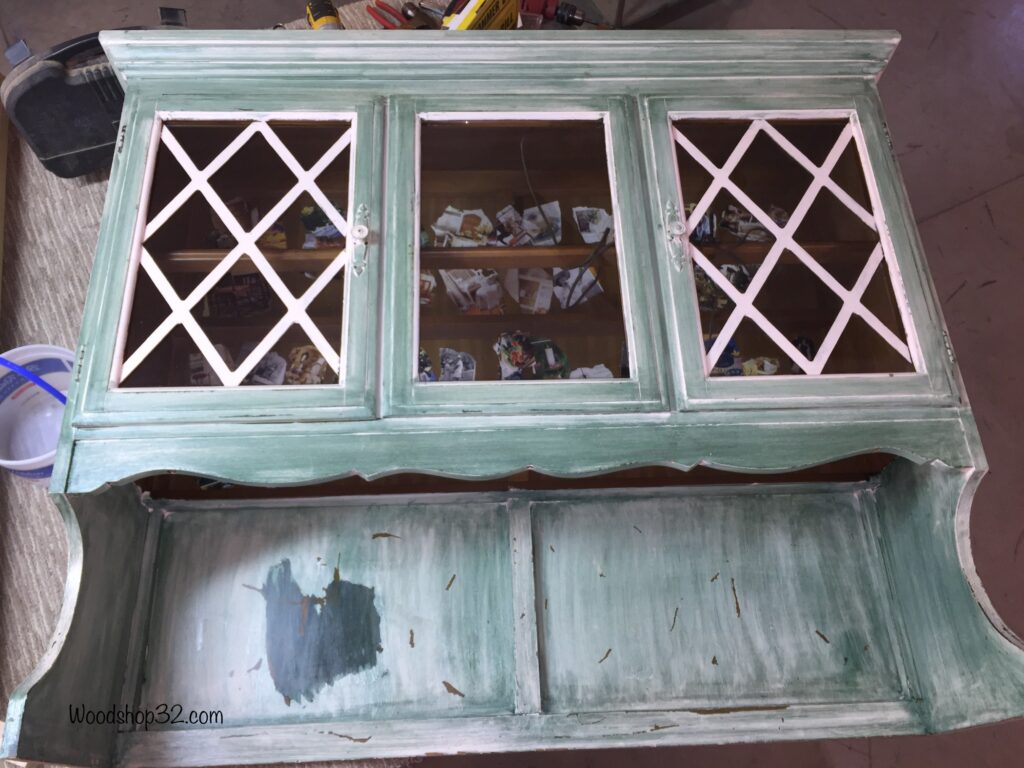 Sanding Hutch Cabinet
All of those stickers on the back panel. Yikes! I didn't have any replacement panel material so I had to reuse the existing one. Bummer! The stickers are removed by using a orbit sander which made the task easier.
Follow Woodshop32.com on Pinterest!
The hutch cabinet is mostly made of particle board (known as fake furniture). Plus, the previous paint job left deep brush marks everywhere on the hutch. The paint strokes will be challenging to get smooth because I don't want to sand down to the particle board. I took my time sanding with a palm sander to get the best results possible using 100 grit and 120 grit.
Looking for more DIY Makeovers?  Click on my other DIY projects: DIY Farmhouse Mirror, Behind Door Storage, Repurposed Hutch Cabinet
My DIY hutch makeover is definitely a repurposed project I won't forget.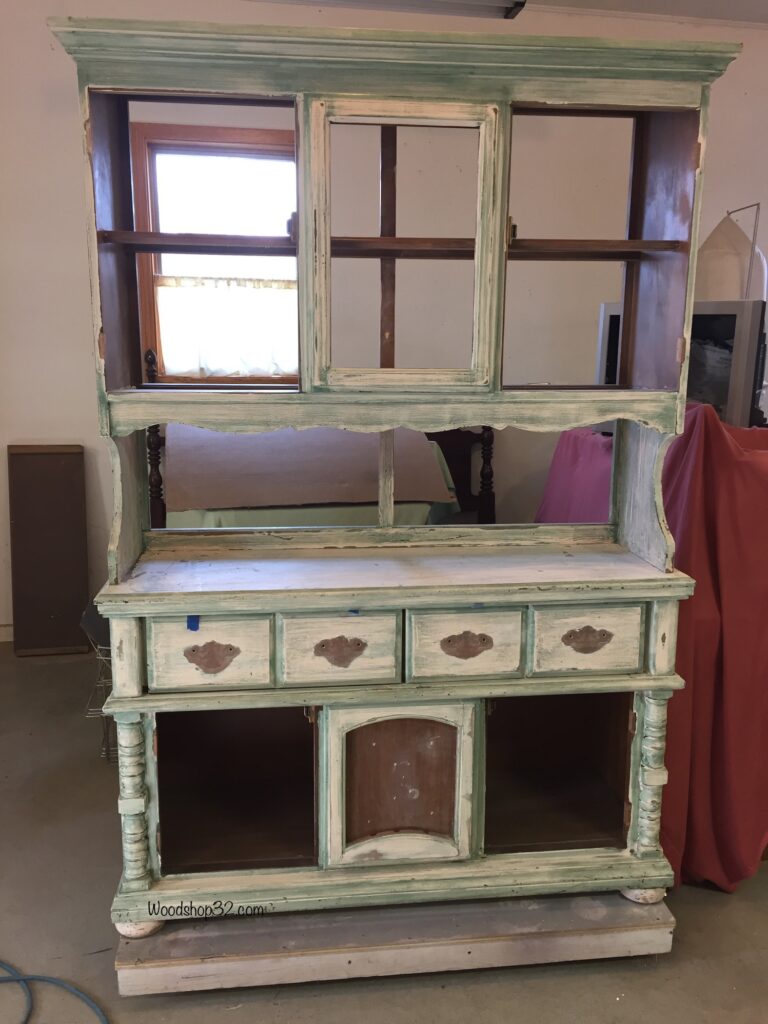 Hutch Cabinet Painting
I used the air compressor to blow air onto the hutch to remove all sanding dust. The china cabinet is painted with a soft grey color. I am very pleased with the results.
Want to save this post for later? Make sure to Pin It!
Attach Hardware & Cabinet Doors
The gold hardware is reattached to the hutch cabinet doors and drawers. After putting the doors back on, the glass panels and glass shelf are cleaned to sparkle. The hutch cabinet makeover is transformed into modern farmhouse furniture.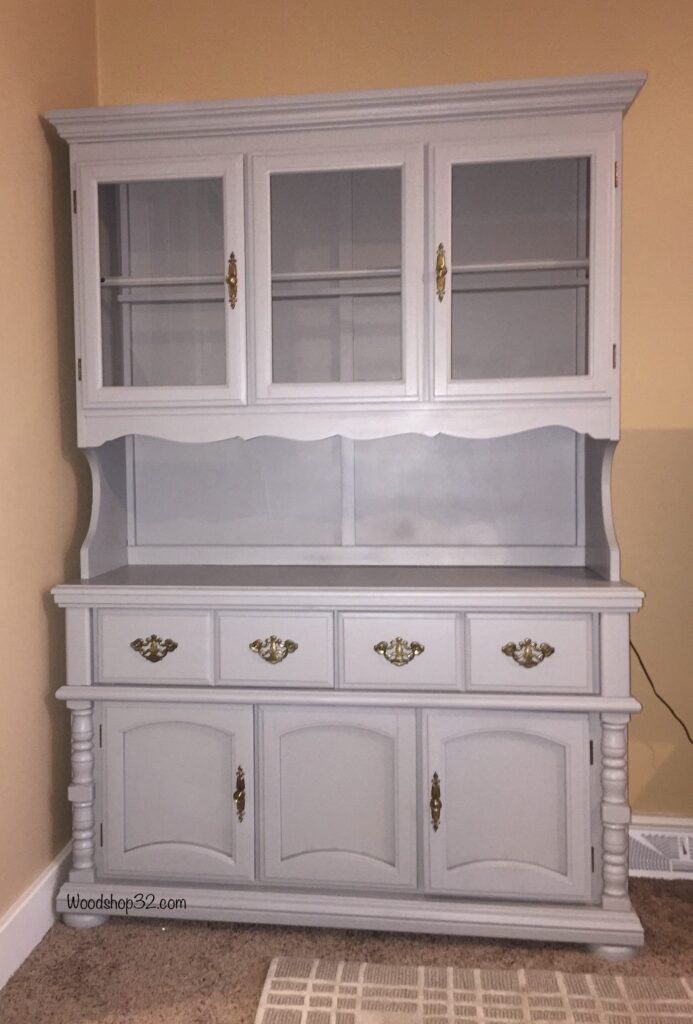 A challenging hutch makeover project but the end result is worth it!
Thank you for visiting the Woodshop32.com blog!