Repurposed Vanity Dresser
I am thrilled to help out again for a fundraiser auction with the Habitat for Humanity Restore. This is the second project that I will be volunteering my furniture flip skills. Click HERE to see the Vintage Display Cabinet I also did for the auction. It turned out pretty cool!
I picked out a vintage vanity dresser to repurpose for the auction. The designer in me is so excited to start this furniture flip project!
Let's get started on this waterfall dresser makeover!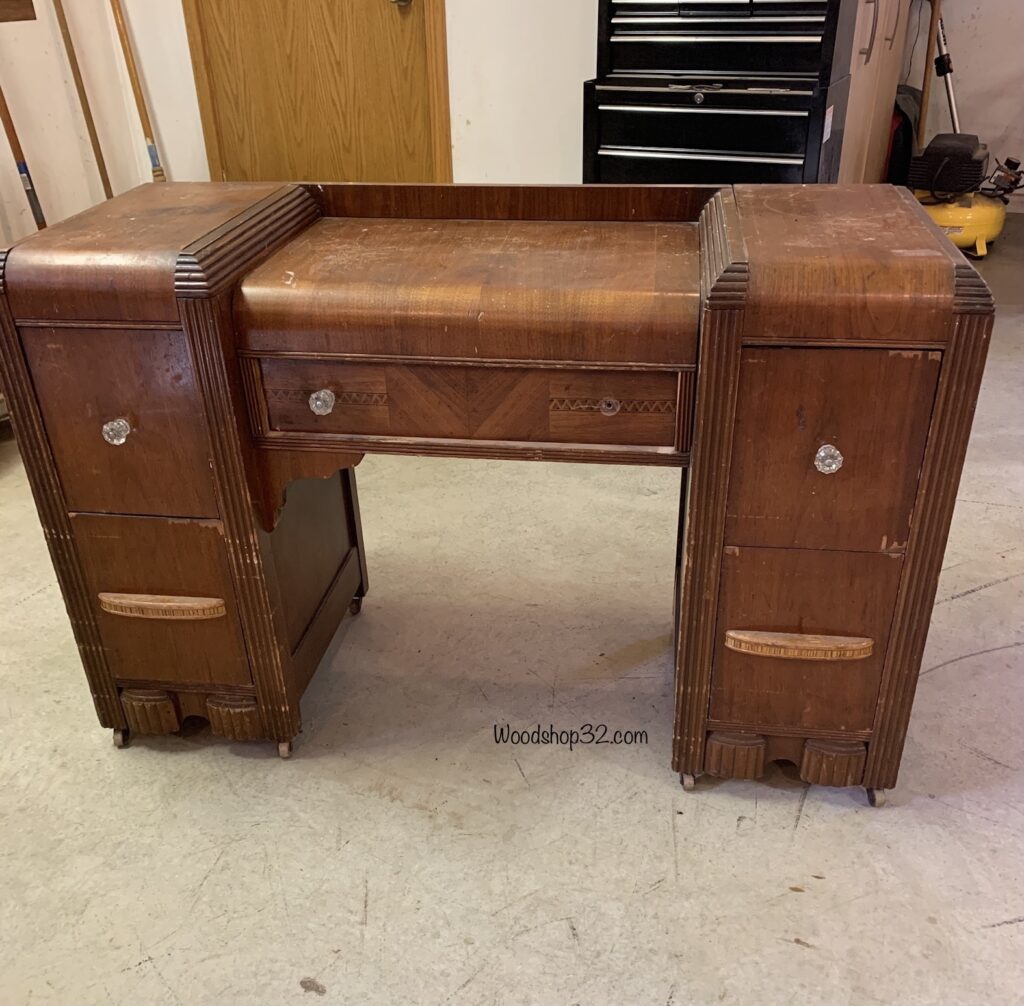 I was extremely happy to find the missing glass knob in the drawer! Plus, all of the original caster wheels work. Life is good!
Step 1: Demo
This is the fun part! The vanity dresser came apart fairly easy. I just needed a couple of hand tools to complete this part. Can you guess what I'm repurposing the dresser into?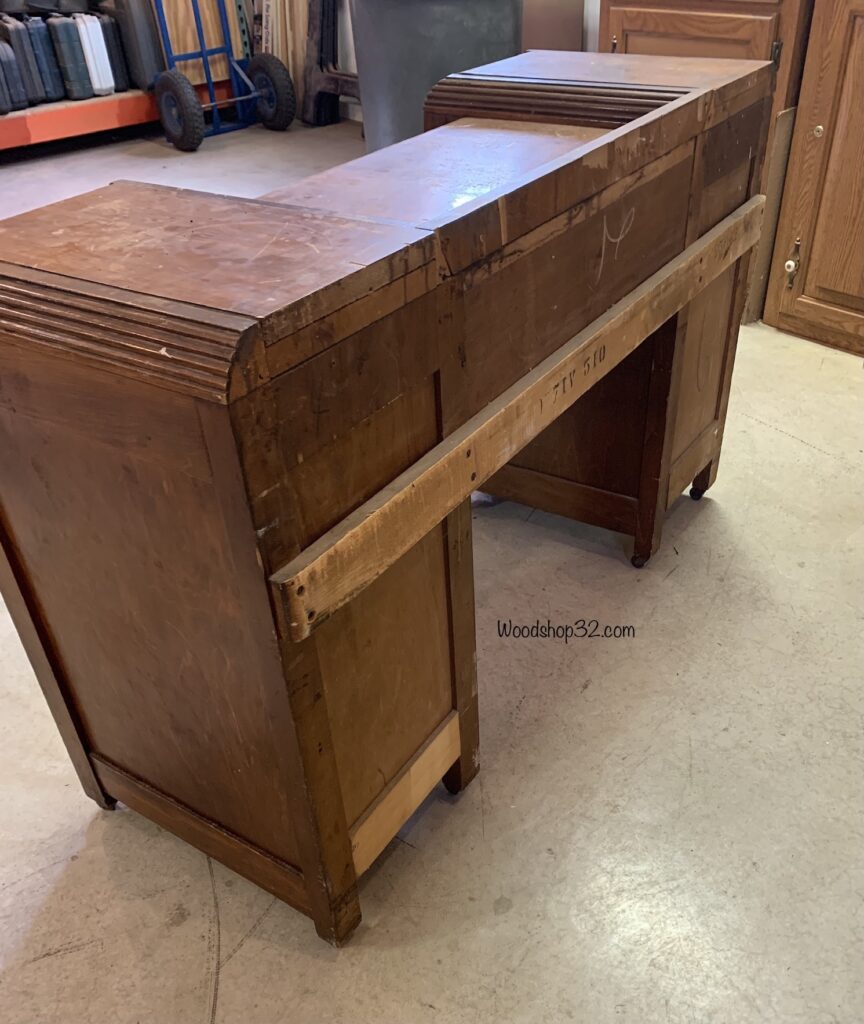 Step 2: Repair
I used my Bosch jigsaw to cope a curved shape from the original board that connected both of them together. The small pieces are put back in their same spot. Easy fix!
The middle drawer frame was tongue and grooved into the sides. I cut 1/4″ wood sticks on the table saw to fill in the grooves. The repair pieces are glued in place. Another easy fix! Titebond wood glue is the best!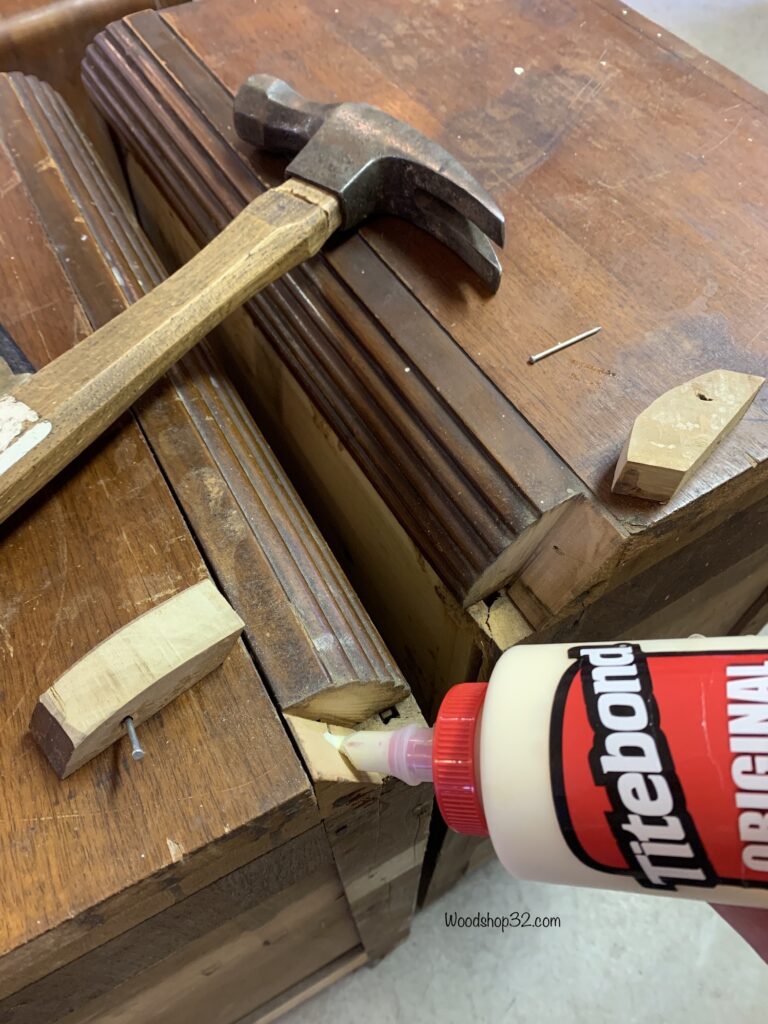 Wood glue is also applied to the bottom part of the frame where it was loose. I used automotive Bondo to fill cracks and dents using a putty knife. Since the Bondo cures quicker the wood glue, I waited 24 hours before proceeding to next step.
Follow Woodshop32.com on Pinterest!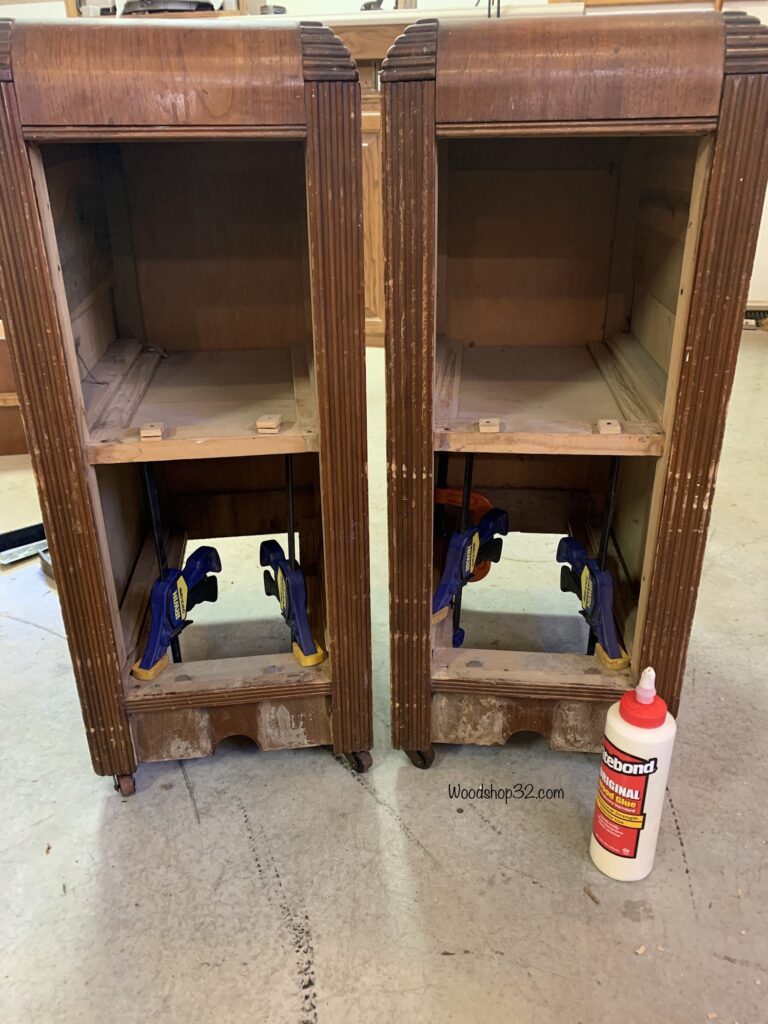 Step 3: Sanding and Staining
My trusty Dewalt palm sander is one of my favorite woodshop tools! Everything is sanded with 100 grit and 120 grit sandpaper. When done, I cleaned the bedroom vanity dresser with mild soap and water to remove all dust and grime. It was allowed to dry overnight.
The drawers are wood stained with Minwax Puritan Pine stain color. Once dry, I used Rustoleum lacquer spray over the stained areas only.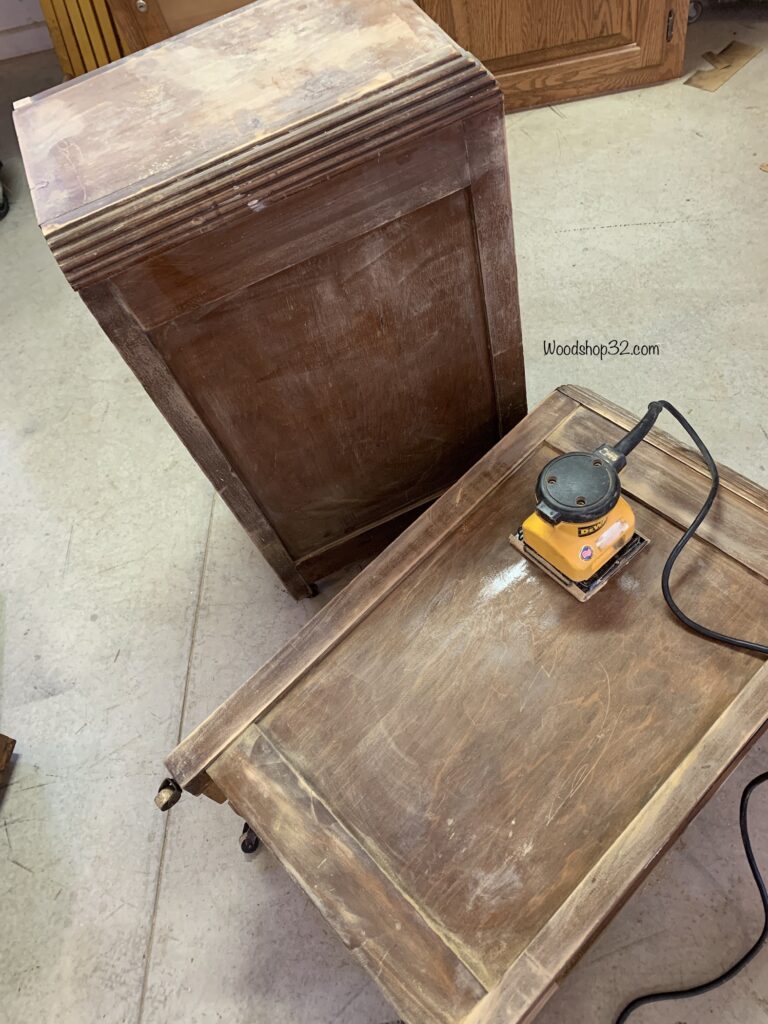 Did you figure out an answer for the question? If you guessed DIY night stands, you are correct! Give yourself a high-five!
Looking for more DIY dressers? Check out my dresser makeover projects: Dresser Makeover Idea and DIY Dresser Makeover
Step 4: Paint and Design
I used Rustoleum Ultra Matte paint and primer combo white spray paint. Notice how the paint highlights the decorative trim! Amazing!
Contact paper with a leaf pattern is applied to the drawer fronts and drawer bottoms for that extra special design touch. The vintage glass knobs really sparkle now!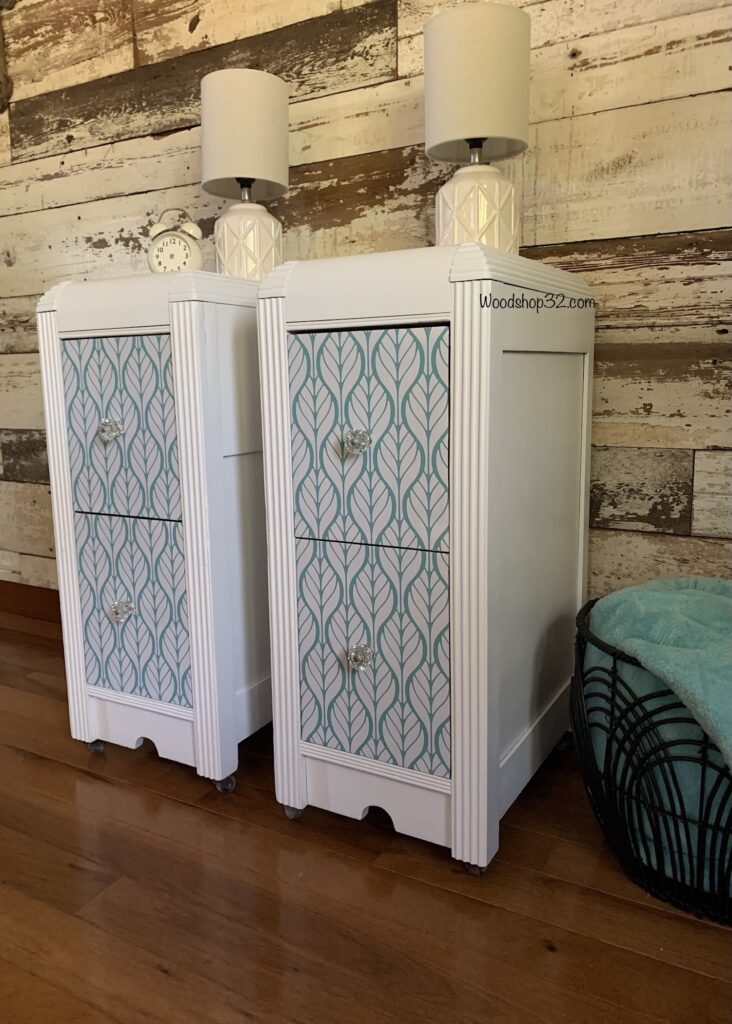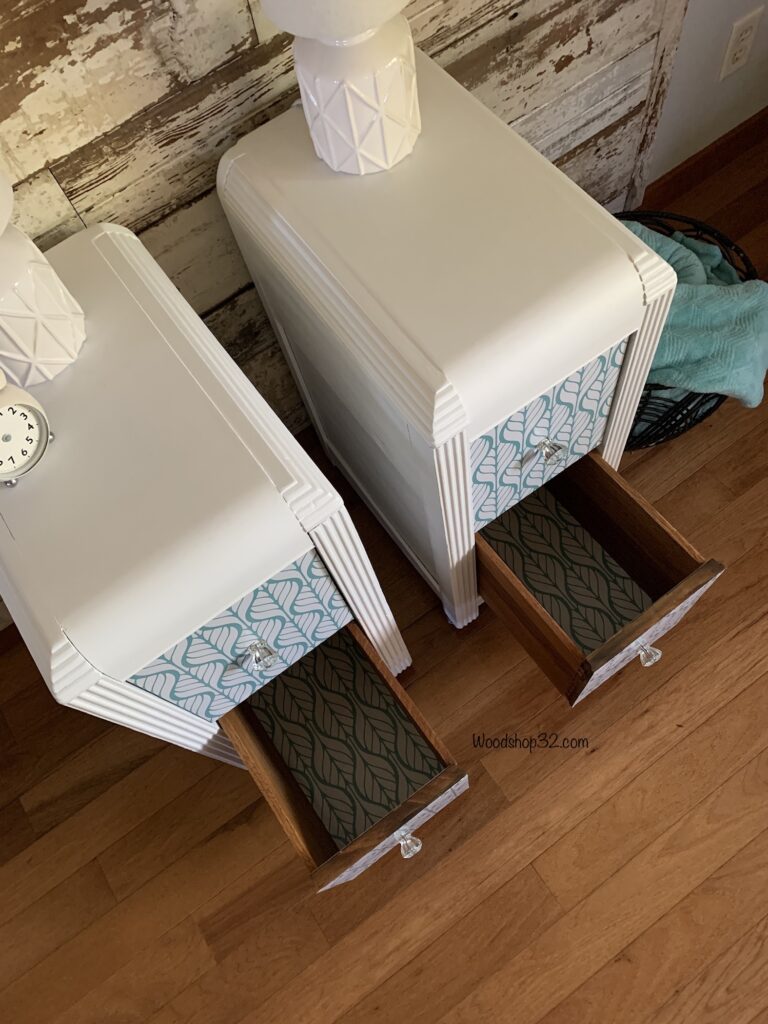 The vintage waterfall vanity dresser is completely repurposed into absolutely stunning night stands. This is a fun and easy night stand design idea! They are beautiful!
This furniture flip project is ready for the auction. I hope the bidders are generous! (The auction is called 'Repurpose for a Reason'. In order to participate, a DIY designer can choose a furniture item from the Restore to repurpose. When the furniture is completed, the item will be in their auction for the public to bid on. All proceeds go towards building an affordable home for a family in need.)
Have you conquered a DIY dresser makeover repurposed project? If so, I would love to hear about it in my comment section! Happy Repurposing!
Thank you for visiting the Woodshop32.com blog!