DIY Dresser Makeover
A bedroom dresser with a mirror has an incredible DIY makeover before and after you don't want to miss! Check out this vintage dresser restoration!
The tiger striped dresser top is water damaged, broken drawer front, and speckled mirror. Otherwise, it is in good condition! I was really excited to bring this vintage bedroom dresser back to life once again.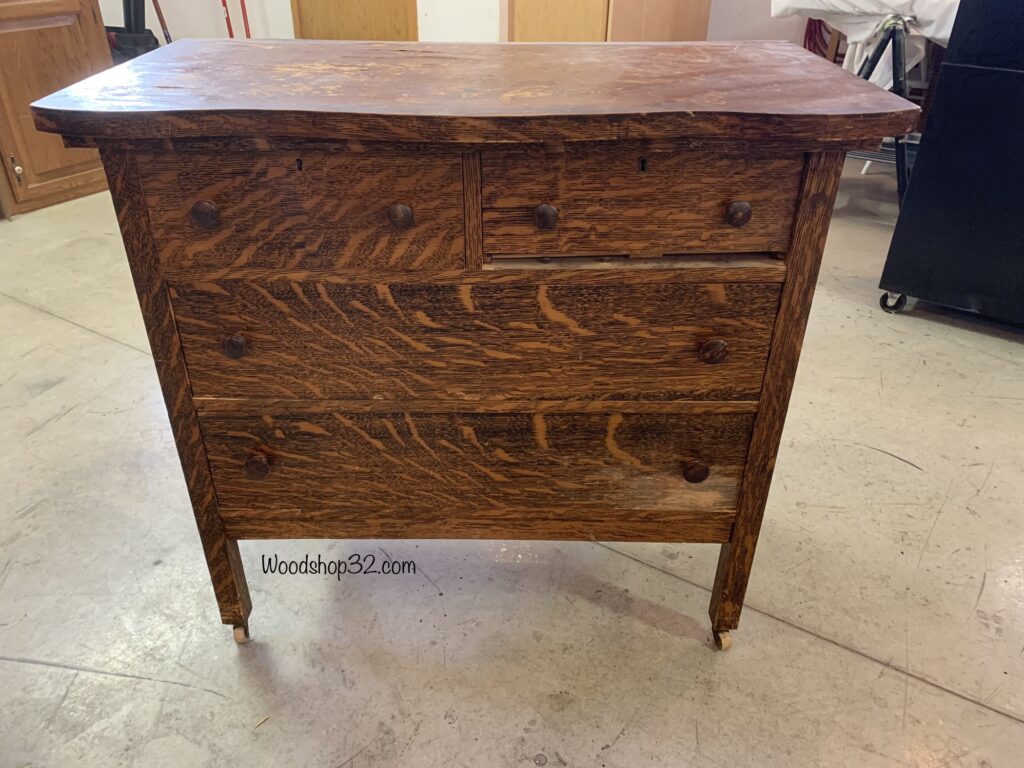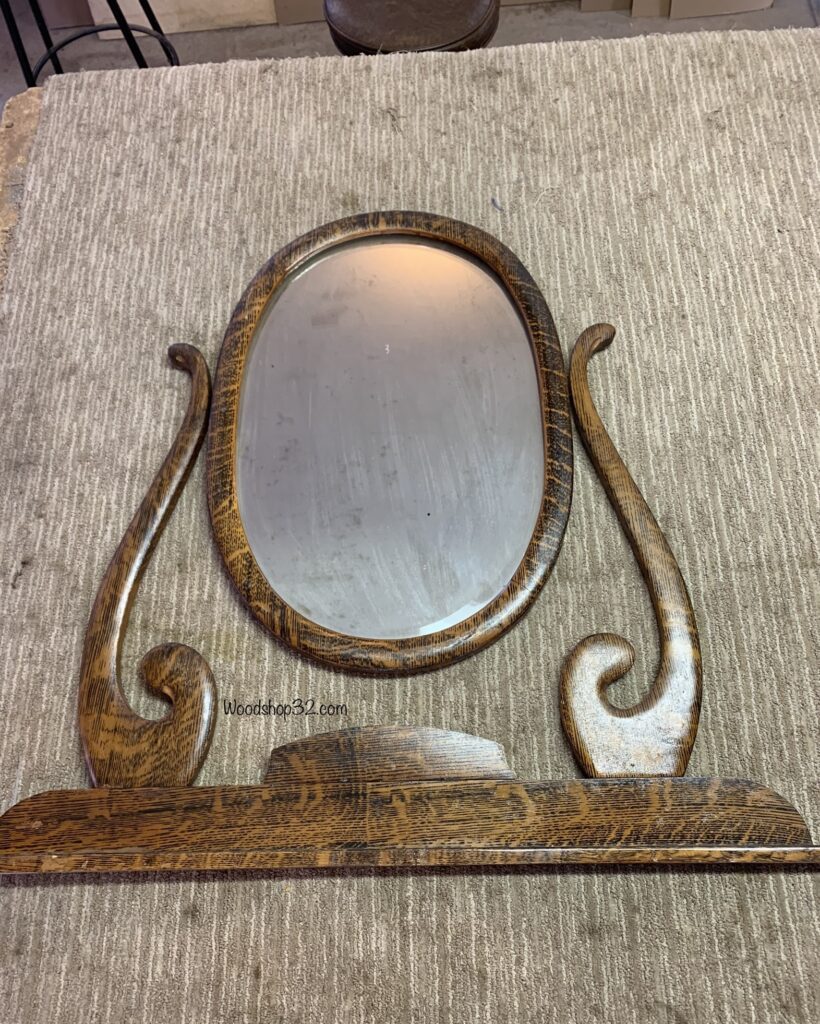 REMOVE DRESSER TOP VENEER
Since the top of the dresser was damaged, I decided to remove the wood veneer using a putty knife and hammer. It came off fairly easy. Beautiful solid maple wood is revealed! Yes!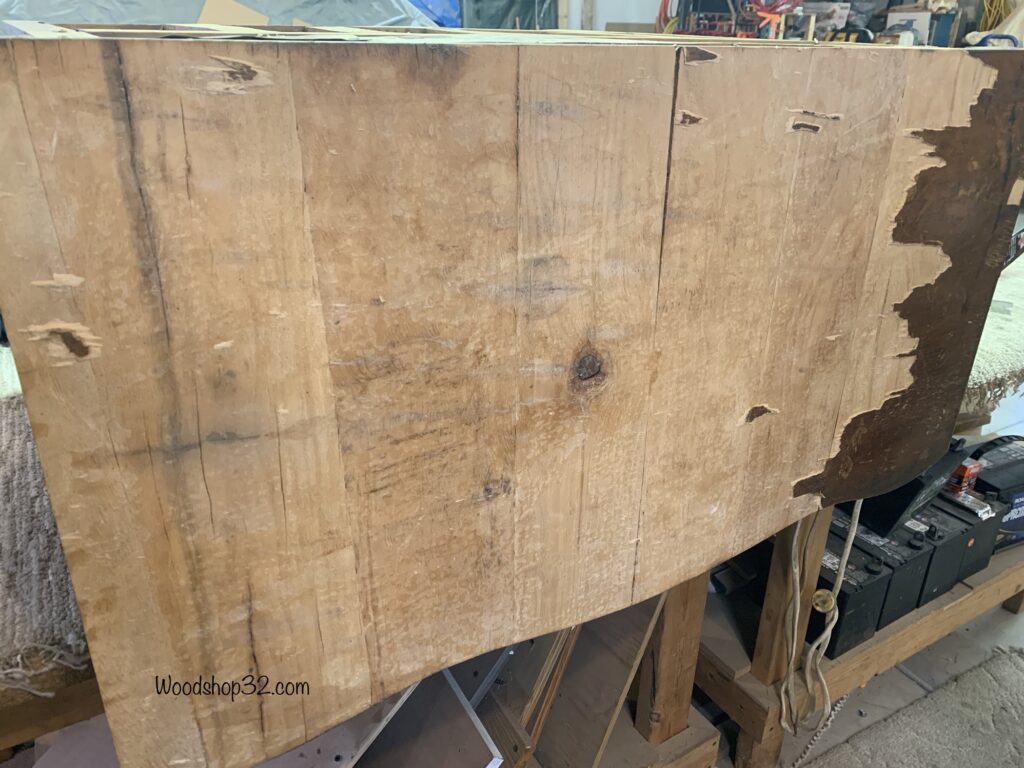 GLUE DRESSER
When to use wood glue? Simply, move or wiggly the dresser to see how it shifts. This makeover dresser has lot of loose joints so wood glue is used to help tighten those areas including the drawer dovetail joints. The bedroom dresser makeover is going to be amazing!
Follow Woodshop32.com on Pinterest!
SANDING DRESSER
The tiger stripe is sanded off. Don't cringe! I want my dresser design to have a soft natural look to showcase all of the imperfections on the maple wood. What a difference so far! A beautiful antique dresser is emerging!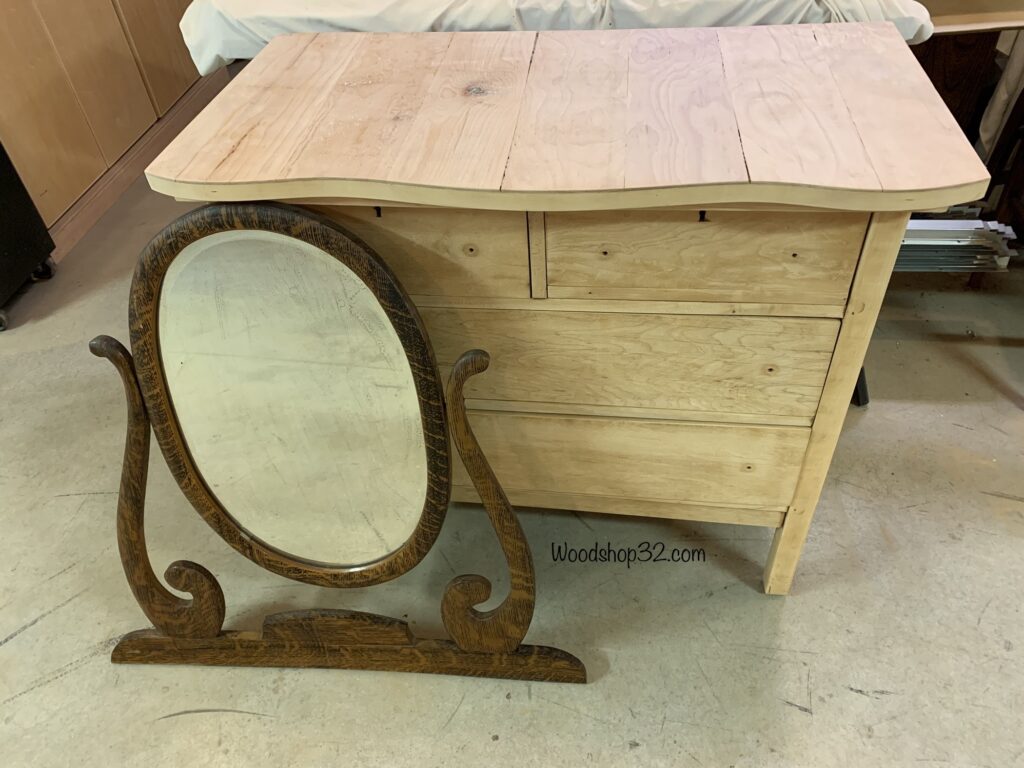 Using the orbit sander, I started with 60 grit sandpaper first because the tiger stripe coating was thicker in some areas to remove. I switched to 100 grit, 120 grit, and lastly 150 grit. The palm sander is also used to get into the corners.
WOODWORKING DRESSER REPAIR
My hubby fixed the drawer front using part of the original warped wood from the mirror base. It matches better than using new maple wood. He did a great job! You can see the repair but that's ok with me, besides it adds character to the piece!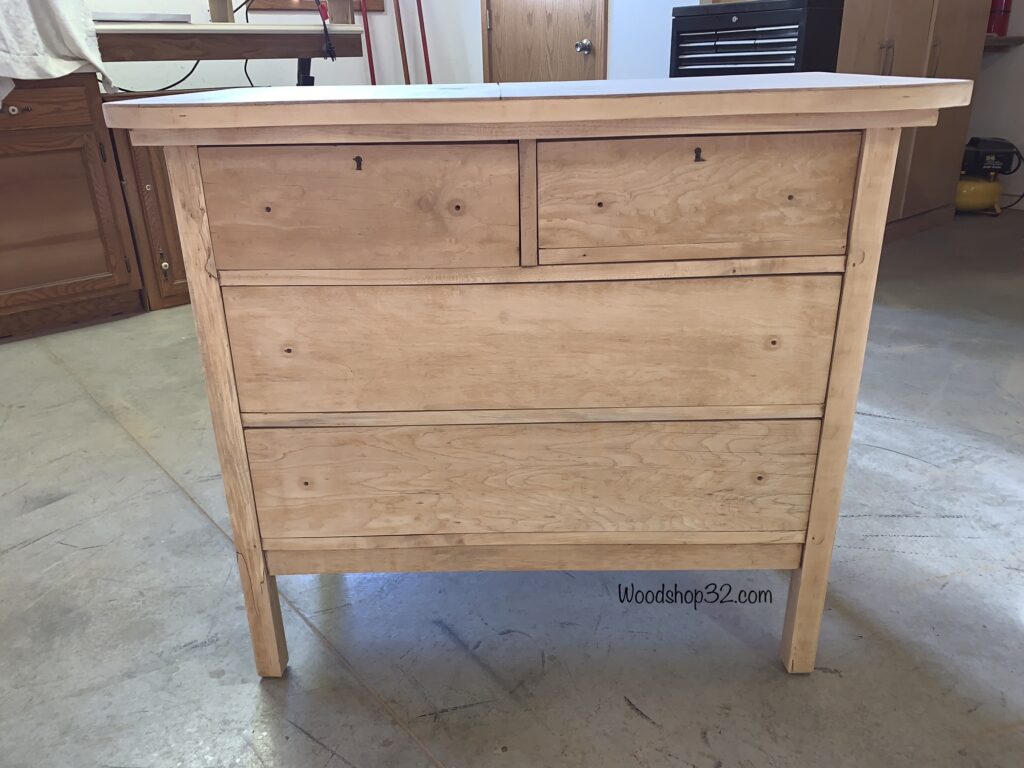 Since the antique dresser top is warped, my husband made a new maple mirror base by coping it to get a tighter fit. Thanks honey!
REPURPOSED DRESSER DESIGN
After staining and varnishing, the dresser turned out absolutely beautiful! It definitely was a labor of love on this DIY dresser makeover restoration.
The new drawer knobs and caster wheels have an old vintage look to match the furniture era. A new mirror completed the look.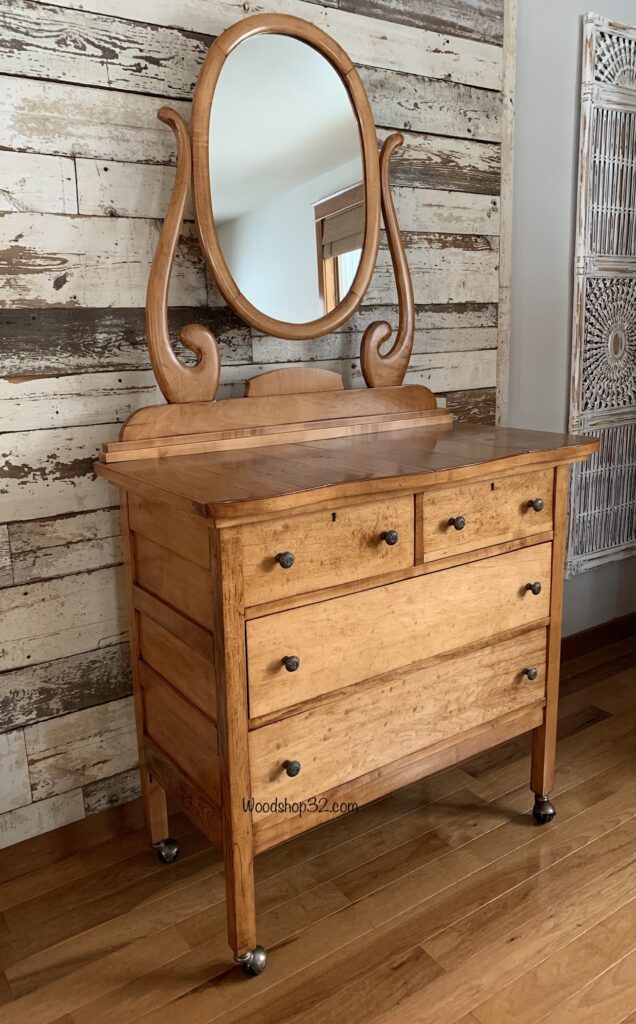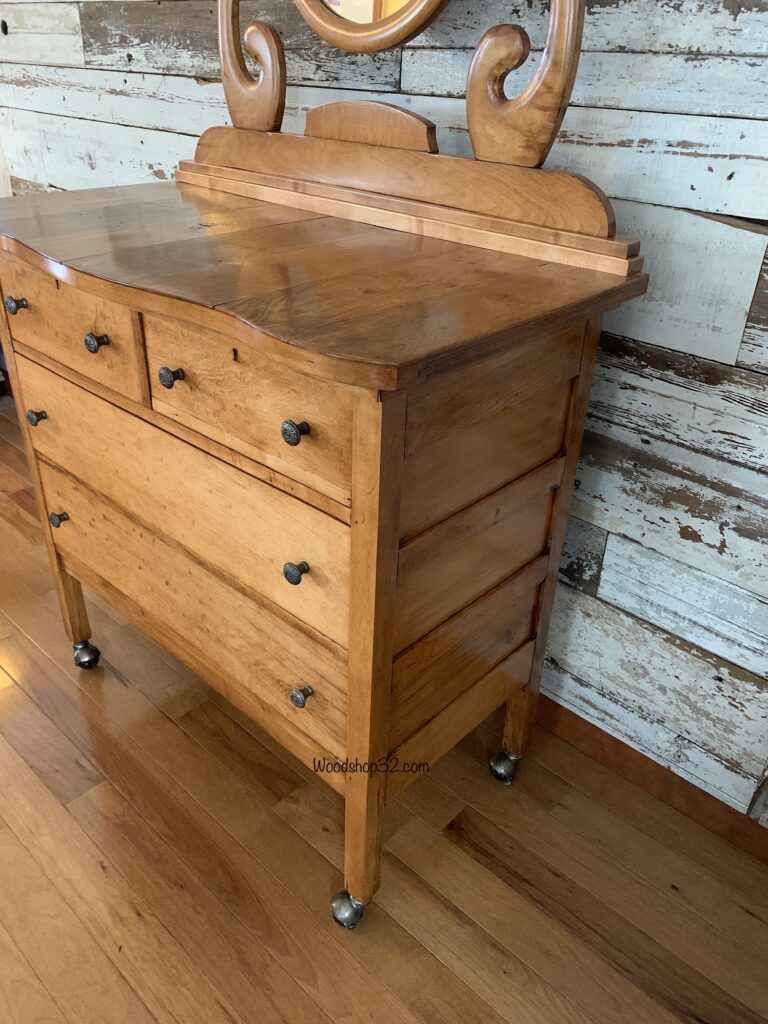 A new mirror backing was added for a nice touch. It's the small details that create fabulous furniture makeovers!
Looking for another dresser DIY? Check out my other projects: Dresser Makeover Idea and Repurposed Vanity Dresser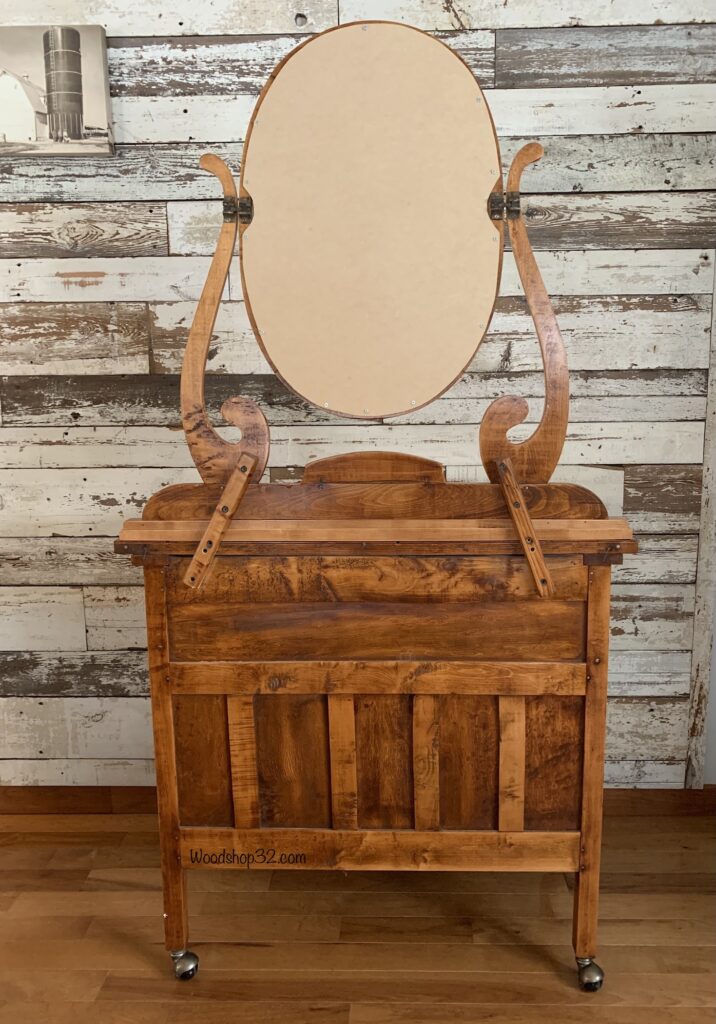 Get creative with your DIY dresser makeover ideas!
Thanks for visiting the Woodshop32.com blog!