Repurposed TV Armoire
Looking for a repurposed TV armoire idea? Here's my DIY furniture makeover:
When I bought the armoire, it looked to be the right size for what I needed. Of course, it was the one time I forgot to bring a tape measure! My entrance way desperately needed a closet and the TV armoire cabinet would solve the problem.
Follow Woodshop32.com on Pinterest!
After hauling it home, I quickly ran to measure the wall space in the entrance way. Please fit! It was two inches too wide. So close!
Oops! I also forgot to take a 'before' picture.
Disclosure:  If you make a purchase from some links in this post, I may earn a referral fee at no cost to you.
The cabinet was lightly sanded with 100 grit sandpaper using a palm sander. After wiping off the sanding dust, grey paint is applied to the armoire cabinet. I really love how the paint brings out the farmhouse stripes!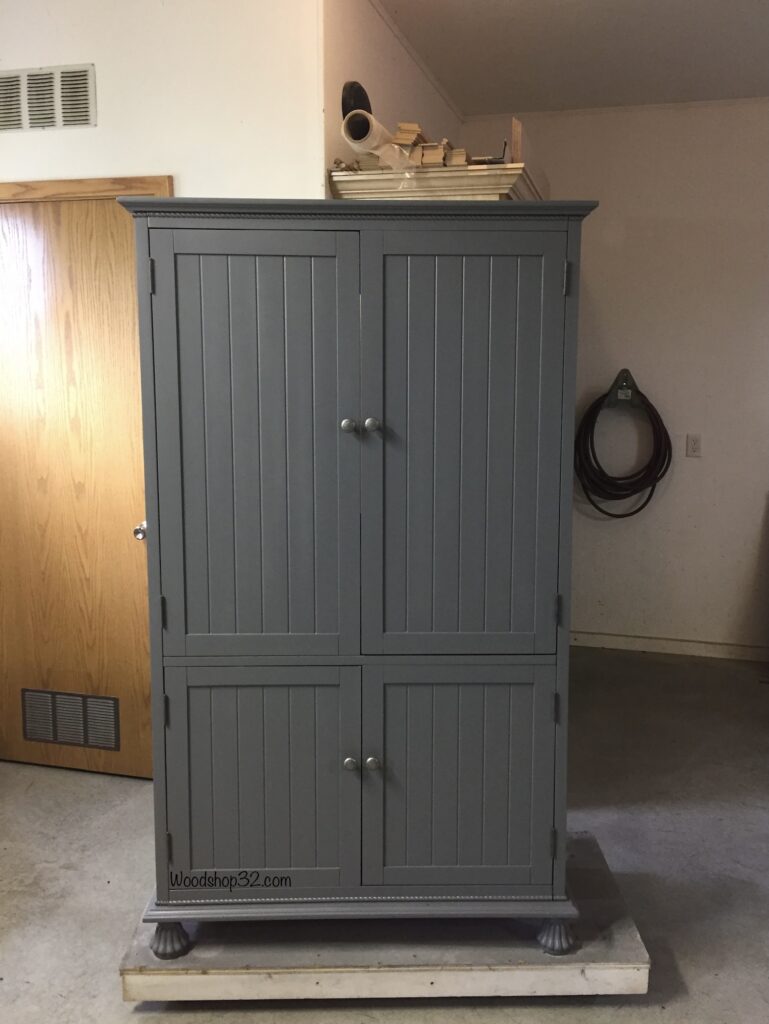 The backside of the TV armoire had a ventilation hole. To cover it up, a piece of 1/4″ MDF panel was used. To get the stripes, the panel was passed over a slightly raised table saw blade to cut in grooves to match the door panels.
Want to save this post for later?  Make sure to Pin It!
To copy the door design, MDF strips are cut and glued onto the outer edges. The armoire panel is painted and attached using a bolt in each corner. It can be easily removed if needed. Easy fix to cover up the back opening!
The interior wood stain color is what the exterior of the cabinet originally looked like. I decided not to paint the interior to save on paint cost. New sliver pull knobs are attached to the doors.
Looking for more DIY Makeovers?  Click on my other DIY projects: DIY Dresser Makeover, Farmhouse Bench DIY, Repurposed Vanity Dresser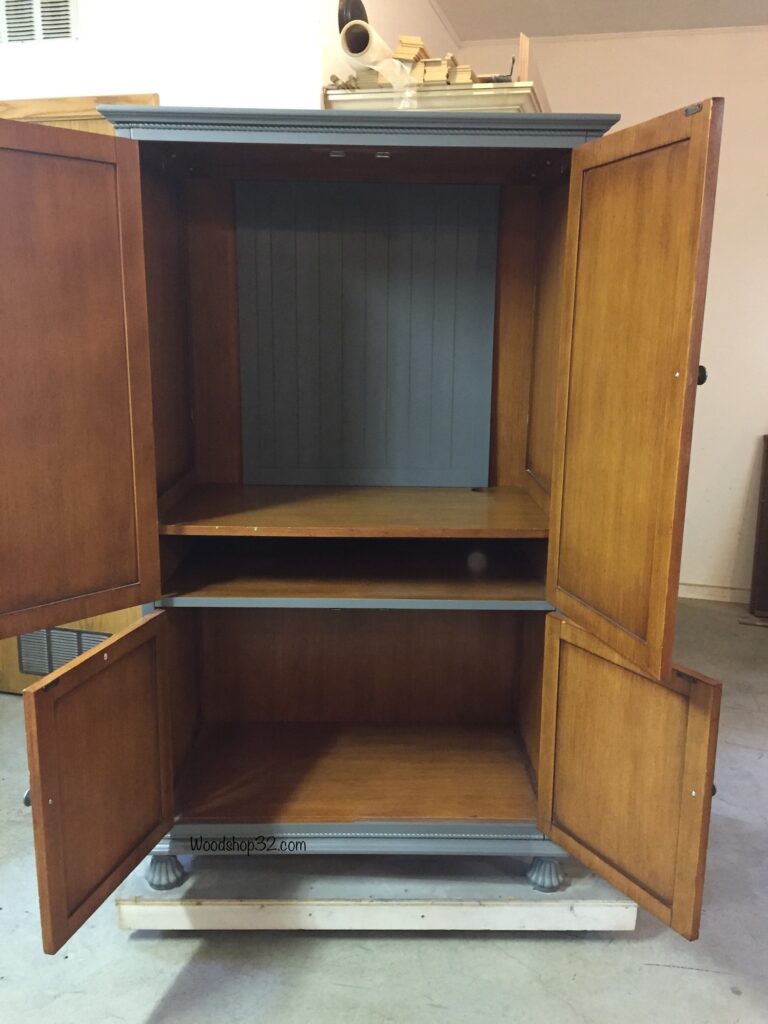 The repurposed TV armoire cabinet can be used as a closet, pantry, storage, crafting, or any other purpose. You can add a closet rod, baskets, containers, etc. to personalize your own project.
The armoire cabinet makeover is a simple DIY idea for additional storage for a room.
Thanks for visiting the Woodshop32.com blog!