Chair Makeover Idea
I've got another easy makeover idea you can try to refresh your old wooden chair. Got leftover paint to use up? This is a great DIY chair makeover project for beginners.
I found this little wooden chair at a thrift shop. Love at first sight! The plank boards used for the seat is definitely a farmhouse style. As a rule, I always sit on a chair before buying. Try before you buy! It's comfortable and sturdy. This is gonna be a simple and easy furniture flip!
Disclosure:  If you make a purchase from some links in this post, I may earn a referral fee at no cost to you.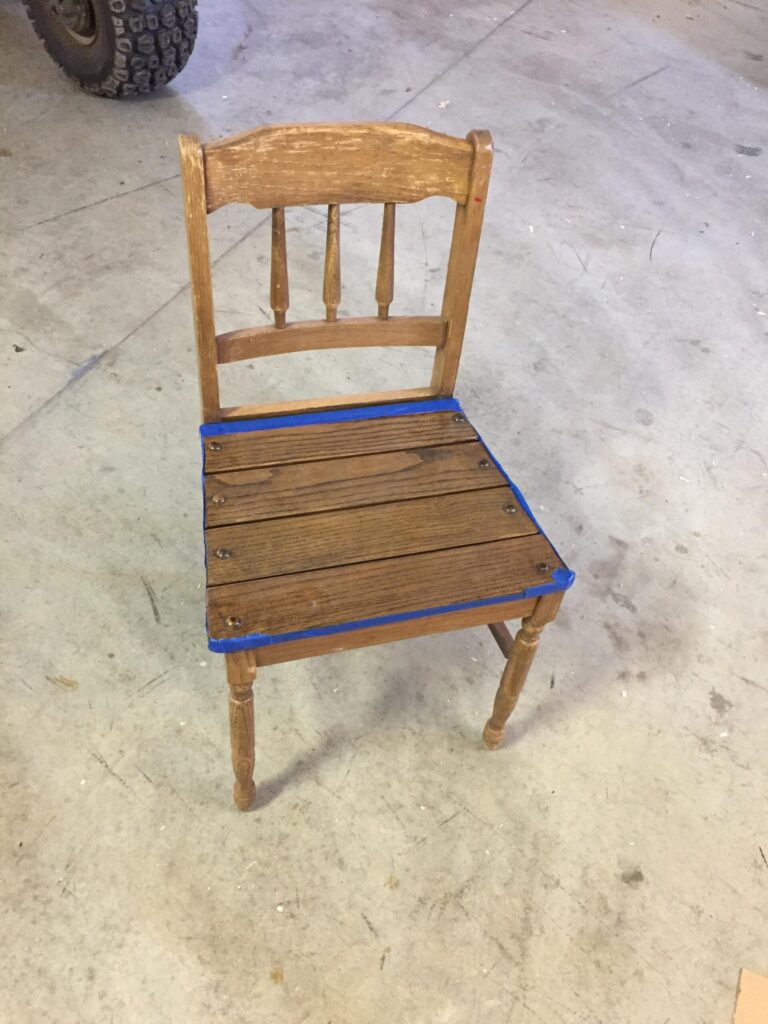 Step One: Sand Chair
The whole chair is sanded with 100 grit sandpaper to remove the original lacquer finish only. I used a palm sander for the flat surfaces and hand sanding is done on the curved areas. The wooden seat planks are sanded again with 120 grit for a smoother surface. (You can sand by hand if you don't own a sander.)
Follow Woodshop32.com on Pinterest!
I did not waste time sanding off the original stain color because it will be covered with paint and fresh wood stain.
Step Two: Chair Seat
A damp cloth is used wipe off the all sanding dust on the entire chair.
Painters tape is used to cover parts of the chair frame around the seat. The seat planks are brushed with wood stain and wiped off. Once the stain is dry, I brushed on a lacquered finish and let it dry 24 hours before next step.
Step Three: Paint Chair Frame
The plank seat is taped and covered with old newspaper to protect it when painting.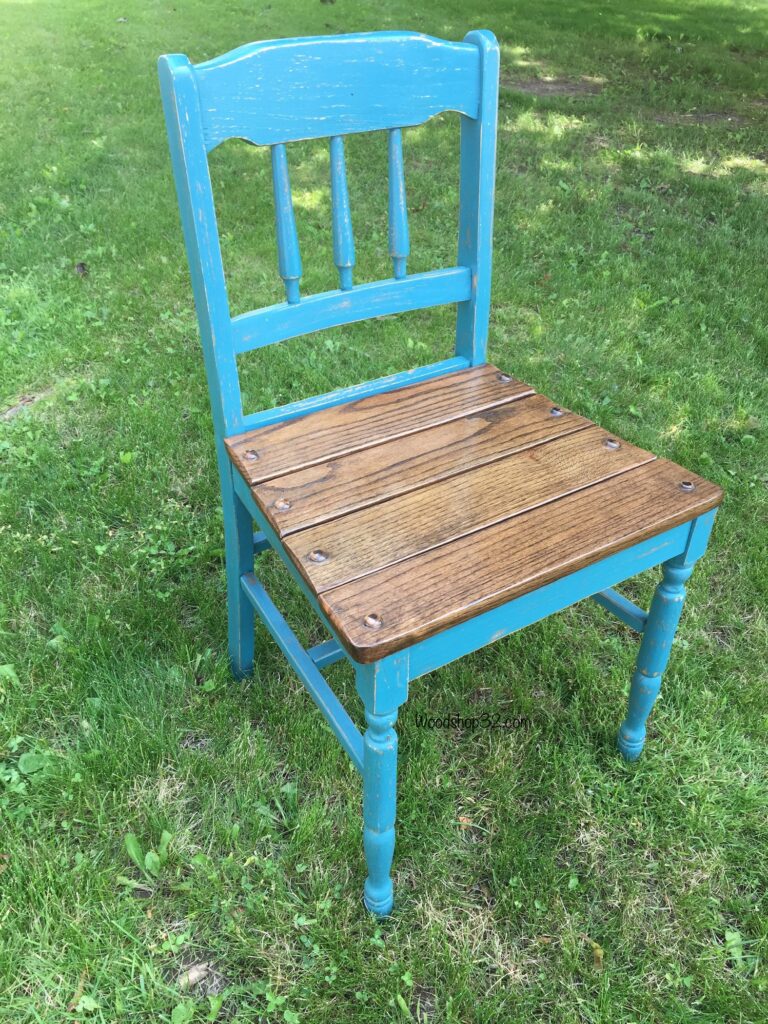 Want to save this post for later?  Make sure to Pin It!
The great thing about a DIY chair makeover is using up leftover supplies. This fabulous blue color is leftover from my DIY Bench Seat project. I applied two light coats of blue paint to the wood chair frame.
Looking for more DIY Makeovers?  Click on my other DIY projects:  Rocking Chair Upholstery, DIY Makeover Bedroom Sliding Closet Doors, Upright Piano Makeover
Step Four: Chair Frame Distress Sanding
By reusing the same 100 grit sandpaper for distressing, you save money on supplies. Once the paint is dry, the chair is lightly distressed by hand sanding areas on the chair frame. When done, I wiped off the paint dust. The painters tape and newspaper are removed from the plank seat.
The little wooden chair has a new farmhouse design with this quick furniture flip.
Get creative with your chair makeover ideas!
Thank you for visiting Woodshop32.com