Ladder Back Chair Makeover
If you want to start repurposing furniture, it's always a good idea to practice on cheap thrift items first. I decided to use a ladder back chair for this furniture makeover. I wanted to try a DIY homemade chalk paint method and needed a cheap chair to practice on.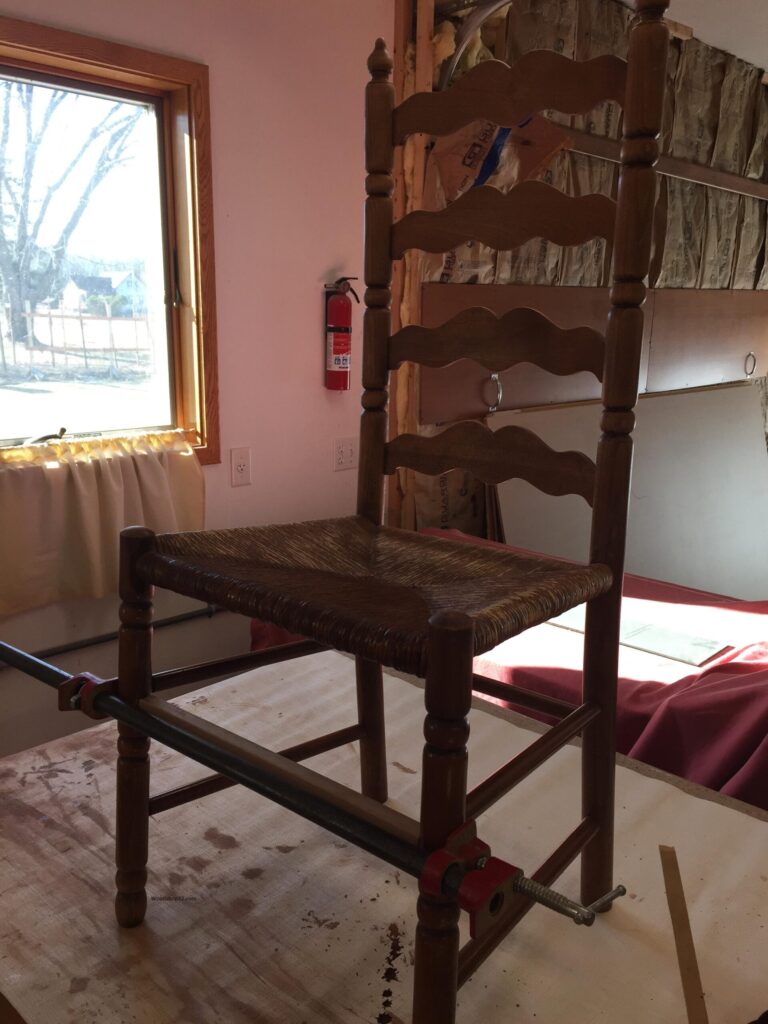 When I purchased the chair, I knew the front rail was broke. A little glue would fix that! But after further inspection, part of the end peg is missing. Darn. A little bit of glue will not fix this. I need to create a brand new rail. Bummer. I might be regretting my decision on buying this ladder back chair. Argh!
Disclosure:  If you make a purchase from some links in this post, I may earn a referral fee at no cost to you.
After taking off the old rail, it is placed onto a scrap piece of wood and traced with a pencil to get the pattern. I used a band-saw to cut the pattern and the peg ends.
The peg ends are sanded by hand to round the edges to fit in the existing holes. Easy fix! I decided to keep the new rail straight on the top. Less work!
The replacement piece was wood glued into the existing leg peg holes and pipe clamped until dried.
I wasn't sure if the wicker seat would absorb wood stain but to my surprise it did. Another easy fix! Ok, this ladder back chair makeover is working out so far.
Want to save this post for later?  Make sure to Pin It!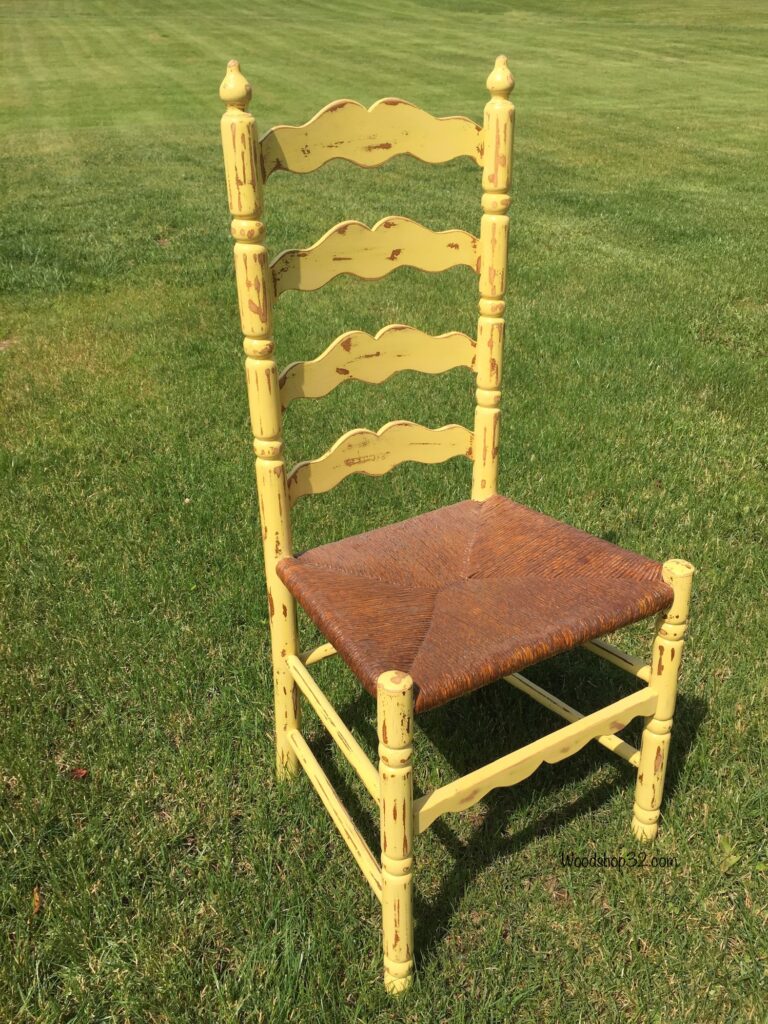 After researching various homemade chalk paint methods online, I picked one using plaster of paris and paint combination.
After mixing them together (more like guessing), I painted it on but the consistency was odd. It went on thick and took awhile to dry. I think it's because I used old yellow paint. After the paint dried, I overly distressed the chair with my palm sander and 100 grit sandpaper.
Follow Woodshop32.com on Pinterest!
The homemade caulk paint method is not my thing but at least I tried it. This DIY project cost more than the cheap ladder back chair. Bummer again!
The chair looks good with yellow distressed paint and a refreshed wicker seat. But, I'll stick to my usual way of spray painting next time. It will save me time and money!
My DIY ladder back chair makeover is a great example to practice new painting methods on a cheap furniture item first.
Thank you for visiting the Woodshop32.com blog!