Upholstered Chair & Ottoman DIY
How to reupholster mid-century modern chair and ottoman seats on a tight budget? Easy! Paint the frames and update the cushion covers for an easy furniture makeover. Retro chair and ottoman upholstery fabric DIY idea.
I decided to pair up a chair and ottoman for a unique look. By making the furniture a set, it will keep my costs down by using the same materials for both pieces.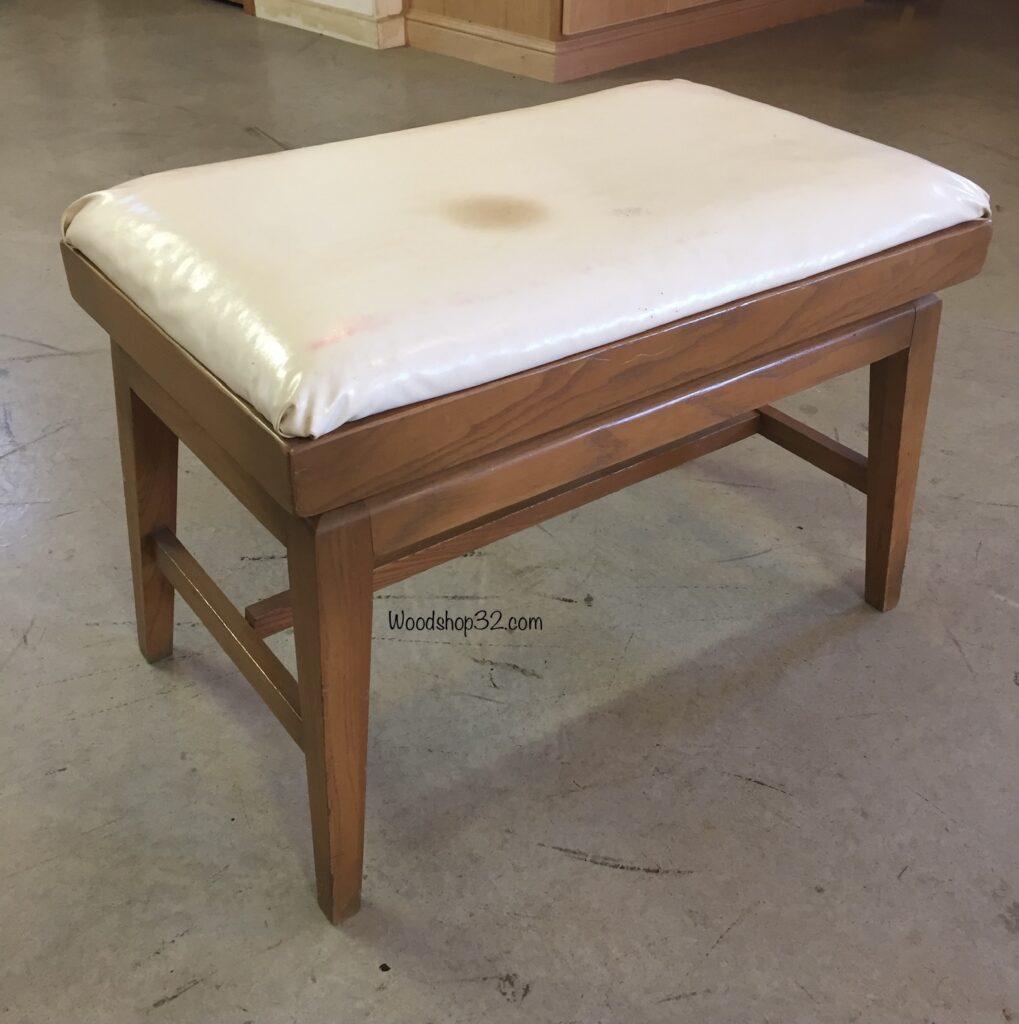 Ready to start my DIY ottoman and DIY chair makeover furniture project!
Want to save this post for later? Make sure to Pin It!
Remove Seat Cushions
The seat cushions are removed from the chair and ottoman frames. After taking off the old vinyl fabric, I noticed the original seat padding is in good condition. Luckily, neither one had any odor or stains. I can reuse both of them and save money on reupholstered seats!
Sanding and Painting
The chair and ottoman wood frames are lightly sanded with 100 grit sandpaper using my Dewault palm sander. The curved areas are sanded by hand. The sanding dust was wiped off with a damp cloth.
Two coats of black spray paint is applied to the frames. Once dry, I lightly distressed them using the same sand paper. This is an easy chair paint idea!
Disclosure: If you make a purchase from some links in this post, I may earn a referral fee at no cost to you.
Upholstery and Re-attach Seats
Faux black and white cow print fabric is stapled nice and tight over the original seat cushion materials. I had to make sure the fabric design was placed in the same direction for both pieces of furniture so they match. The seat cushions are re-attached by using the original screws.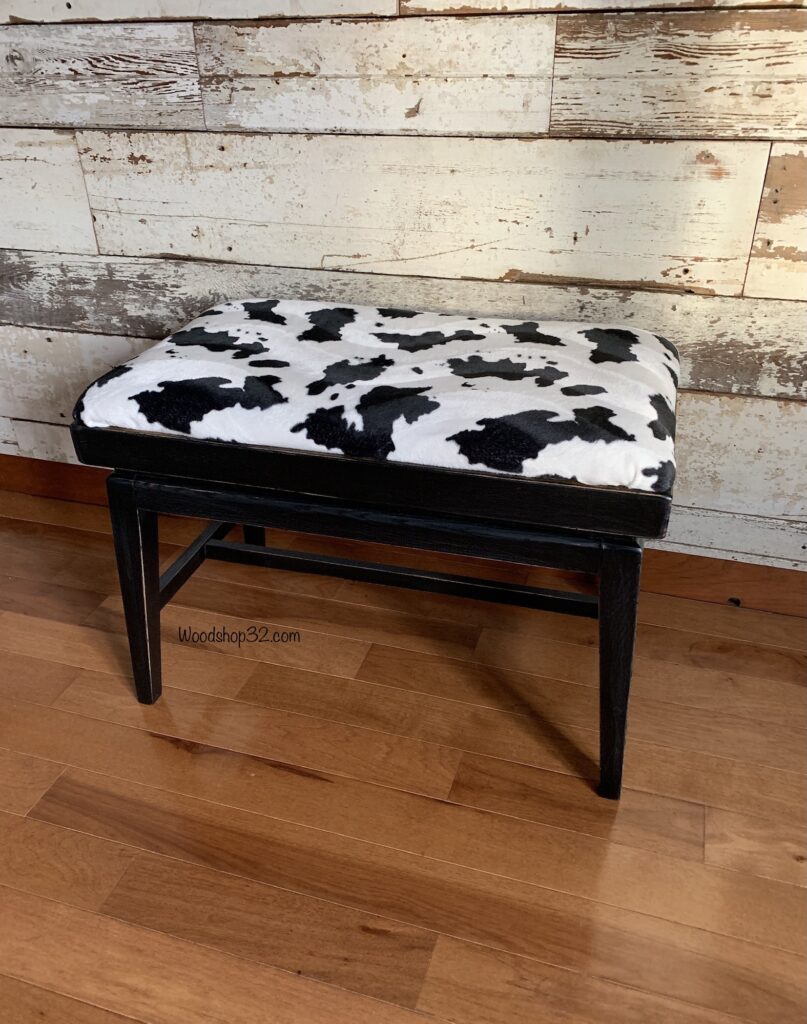 The chair and ottoman had natural imperfections due to age and wear which helped with the slightly distressed look.
Follow Woodshop32.com on Pinterest!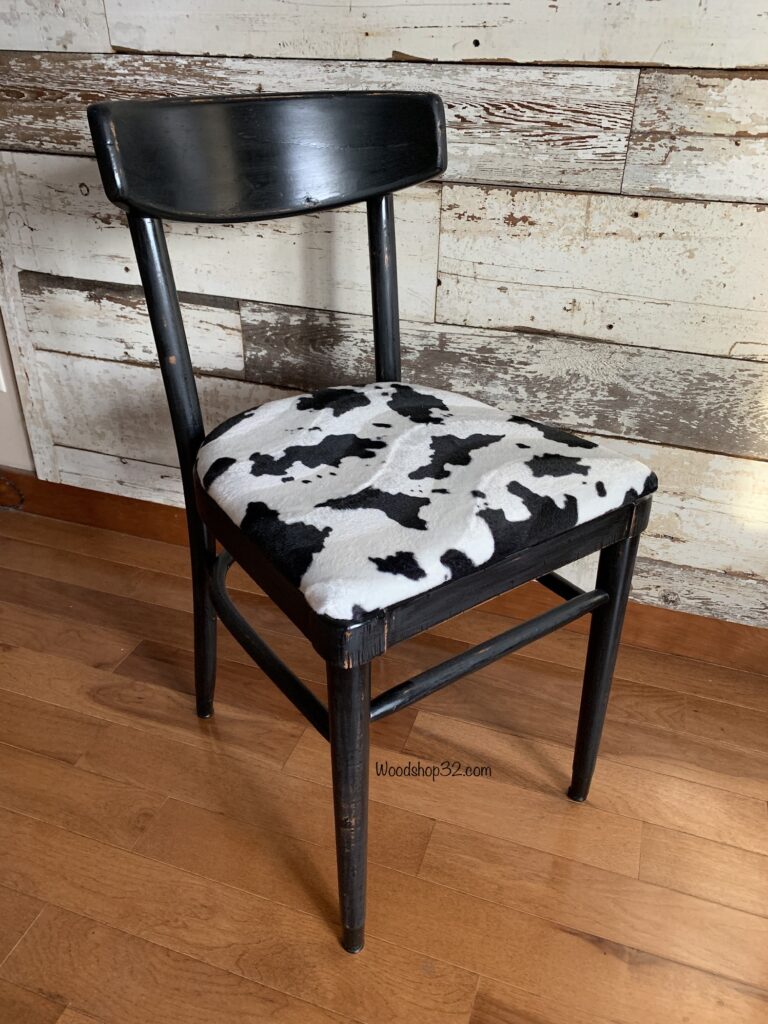 Looking for more DIY? Click on the menu to see my other makeover projects.
Once individual pieces are now a new modern farmhouse set! A fresh coat of paint and new upholstery fabric update a retro mid-century modern chair and ottoman!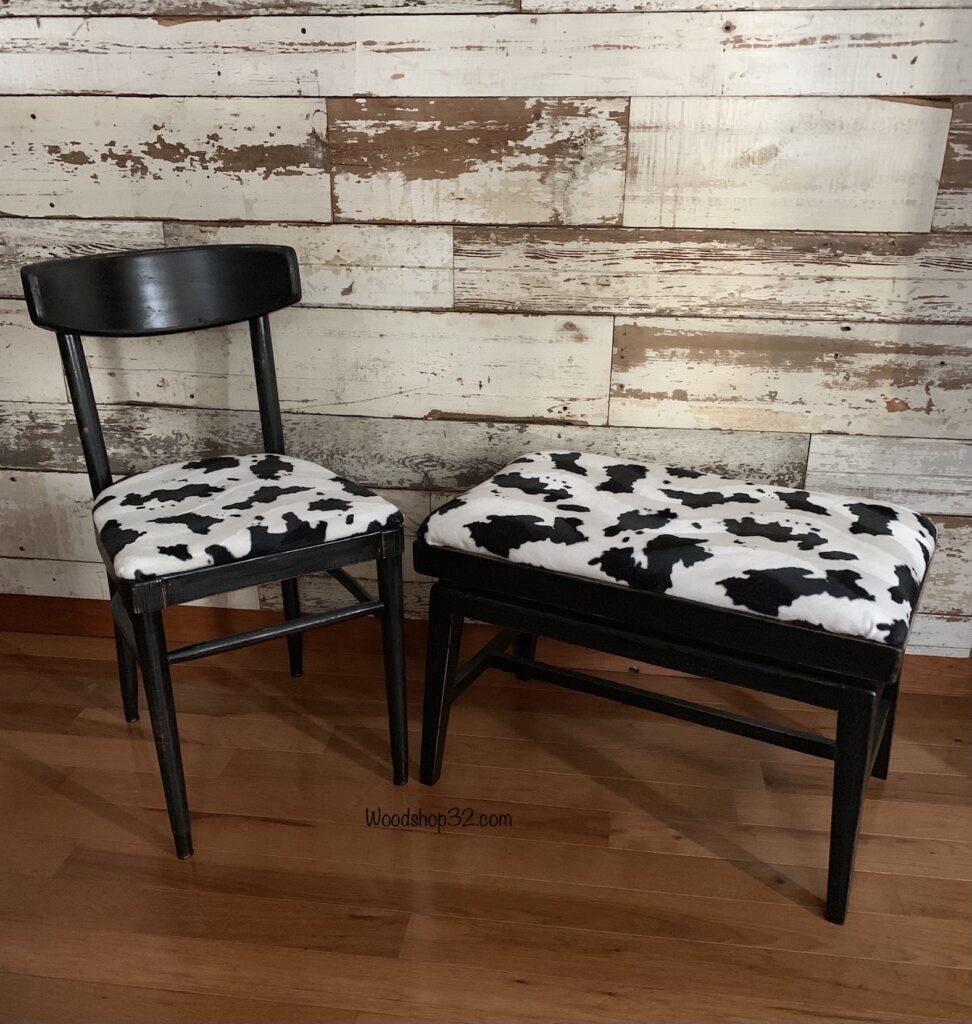 This is a simple idea for 'how to reupholster a chair and ottoman seat' in a farmhouse style for beginners.
An easy DIY upholstery fabric design idea for a mid-century modern furniture set!
Thank you for visiting Woodshop32.com