Chair Upholstery DIY
How to reupholster wood chairs into a farmhouse style?
Create a DIY chair design by simply adding a seat cushion, upholstery fabric, and paint! Repurposing furniture is an easy way to freshen up old chairs into a style you like and save money.
I found two chairs that are quite different but my makeover design will have them match as a set.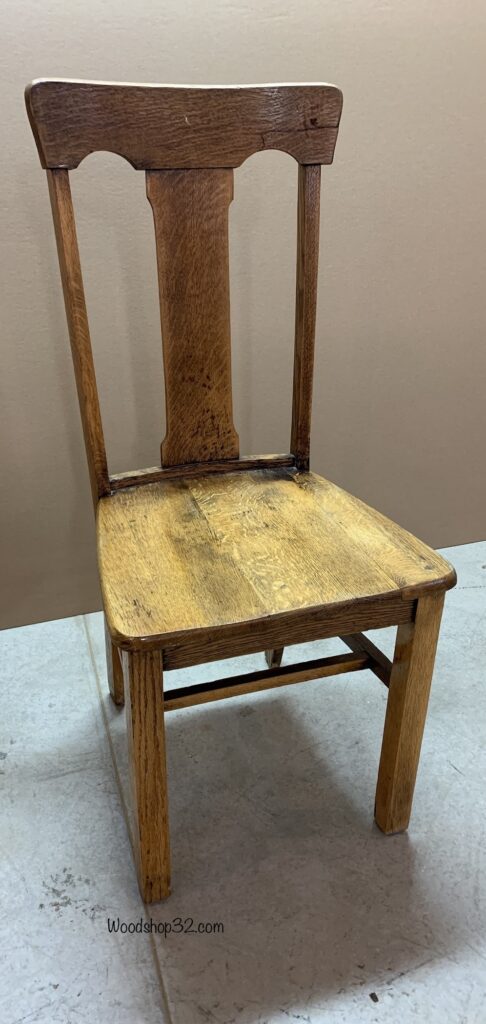 Remove Chair Seats
The original wood screws from the seats are taken off and labeled for each chair. By reusing the old screws, it will save money and preserve the vintage quality. The wood seat boards are removed from the chair frames.
Disclosure:  If you make a purchase from some links in this post, I may earn a referral fee at no cost to you.
Gluing Chairs
Wood glue is applied to the chair frames to reinforce the joints. No more squeaky chairs!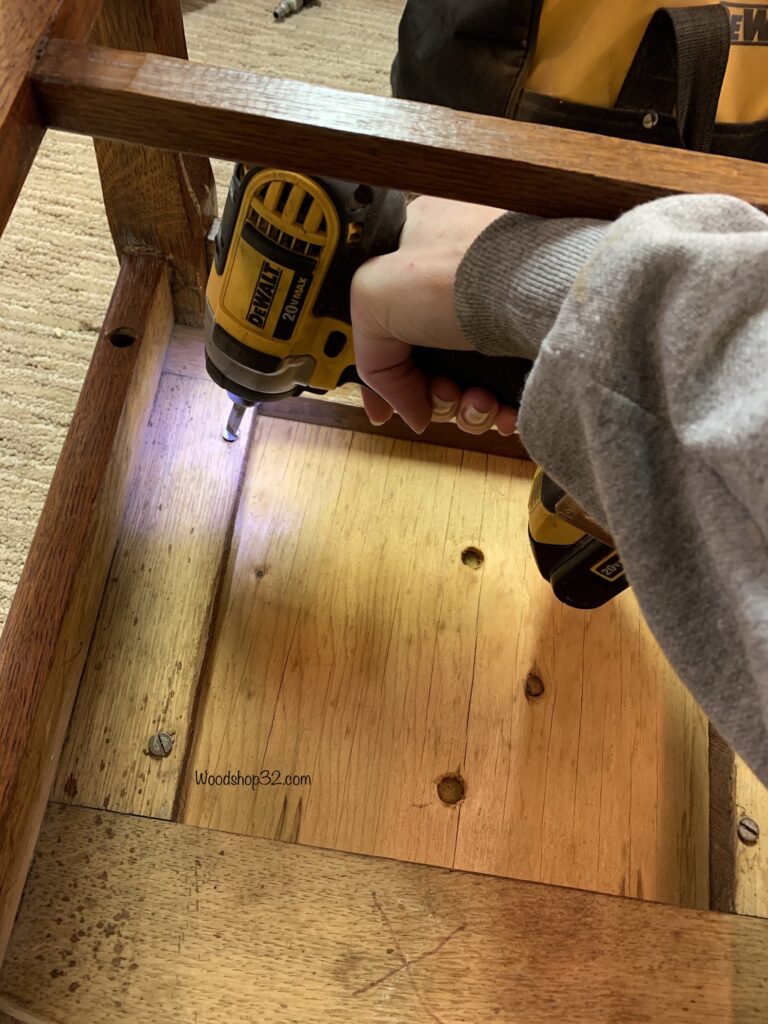 The pipe clamps are attached and tightened to squeeze the chair frame joints together. I leave the pipe clamps on for 24 hours while the glue dries.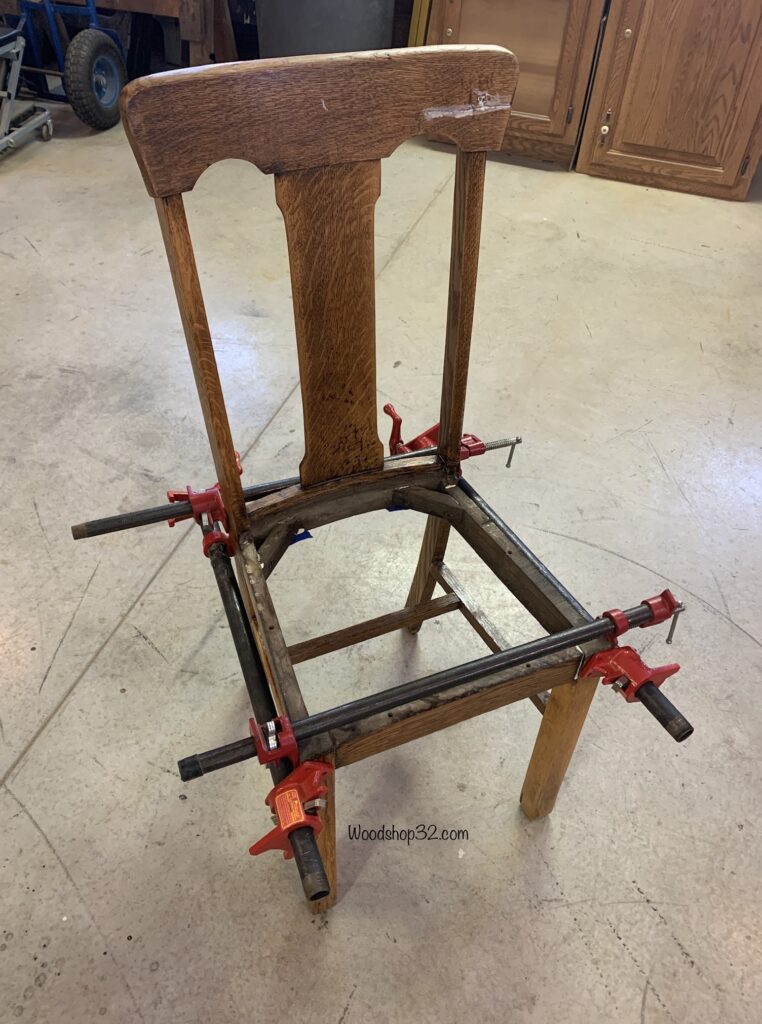 Sanding
My palm sander tackles the larger areas of the chairs and hand sanding for the areas it doesn't fit. I used 60 grit sandpaper first to remove the thick varnish layer. (Be careful using rougher grit with a palm sander because it can severely scratch the wood if you push down to hard.) I switched to 100 grit then 120 grit sandpaper.
Most furniture makeovers require sanding but the extra work is worth it!
A paint/varnish remover product can be used on a chair makeover project. I prefer sanding to avoid the product removal mess and odor.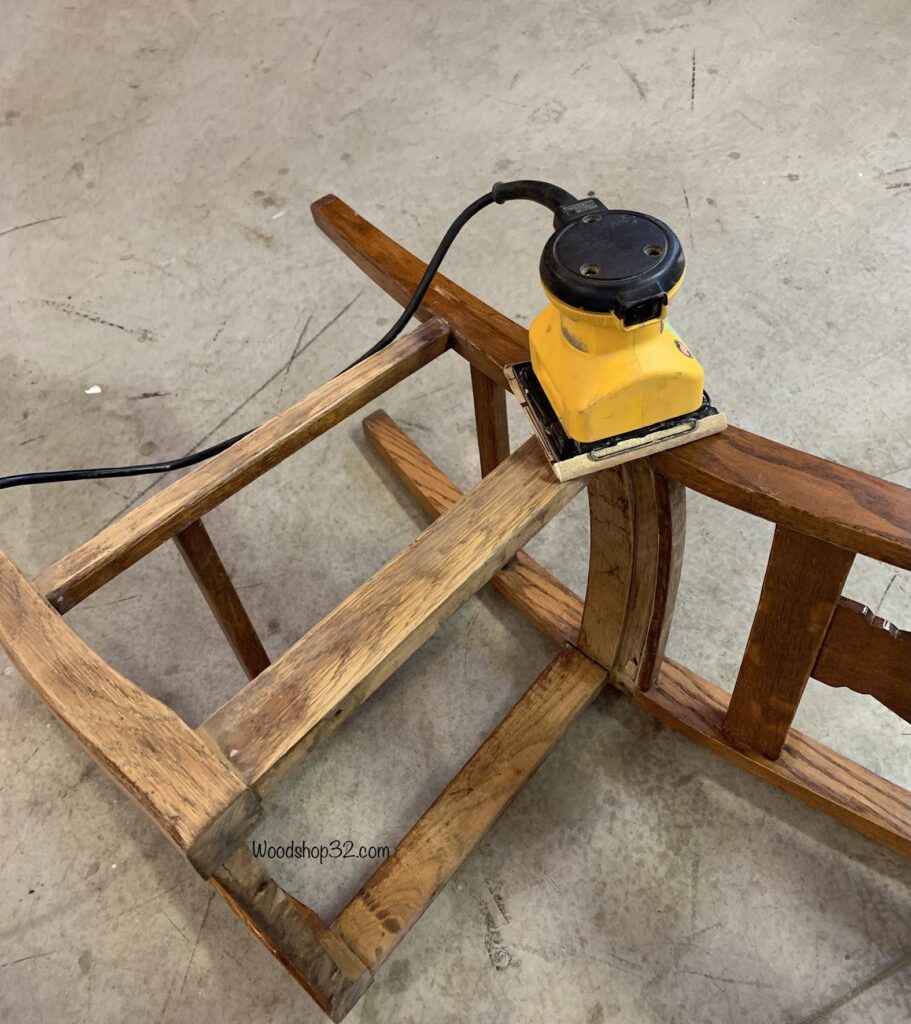 After taking the green seat cushion off the one chair, it left a hole in the seat. Scrap wood is used to fill in the seat gap. It is attached by using pocket screw holes and wood screws. Easy chair repair!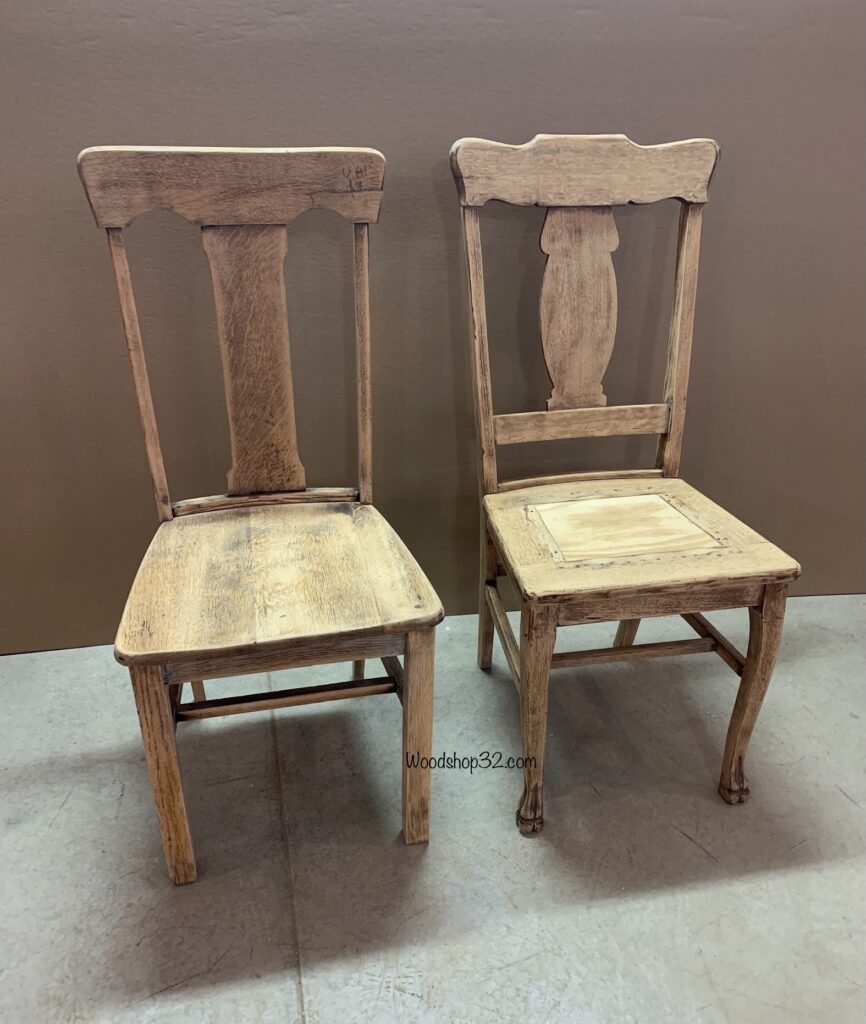 The chairs and seats are wiped down with a damp cloth to remove all sanding dust.
Painting
Two coats of blossom white spray paint is used for my painted chair idea. I love my spray paint attachment handle!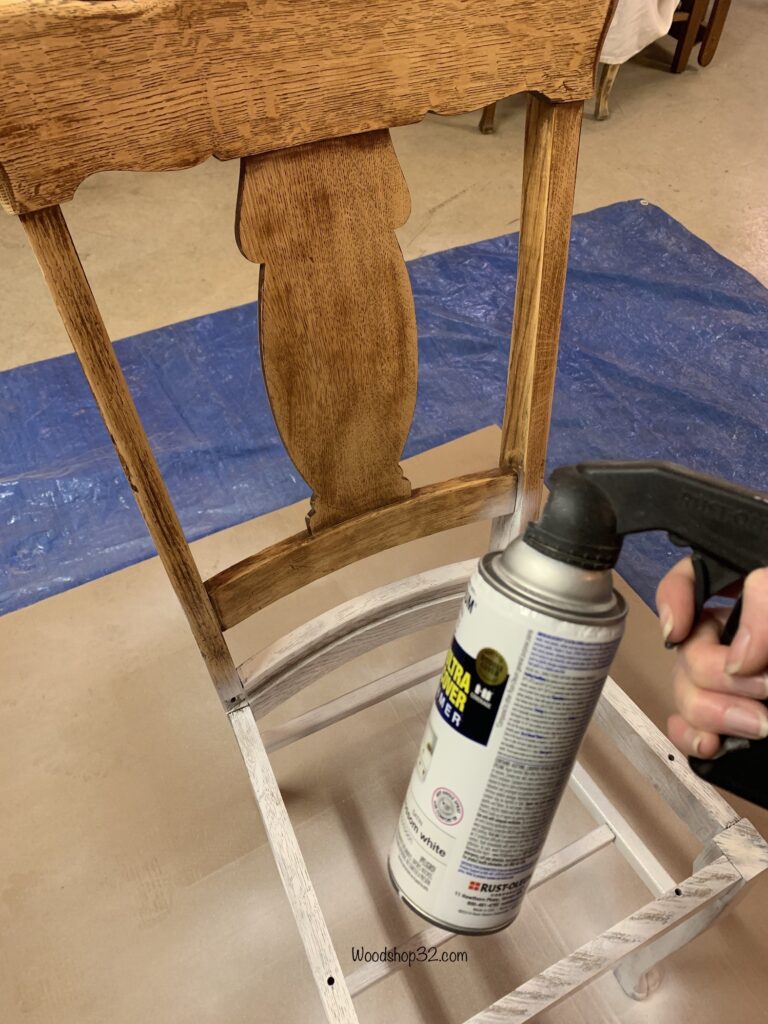 I usually let the paint dry for 24 hours before distressing the chairs with 150 grit sandpaper.
Follow Woodshop32.com on Pinterest!
My painted farmhouse chairs are starting to look like a matching pair!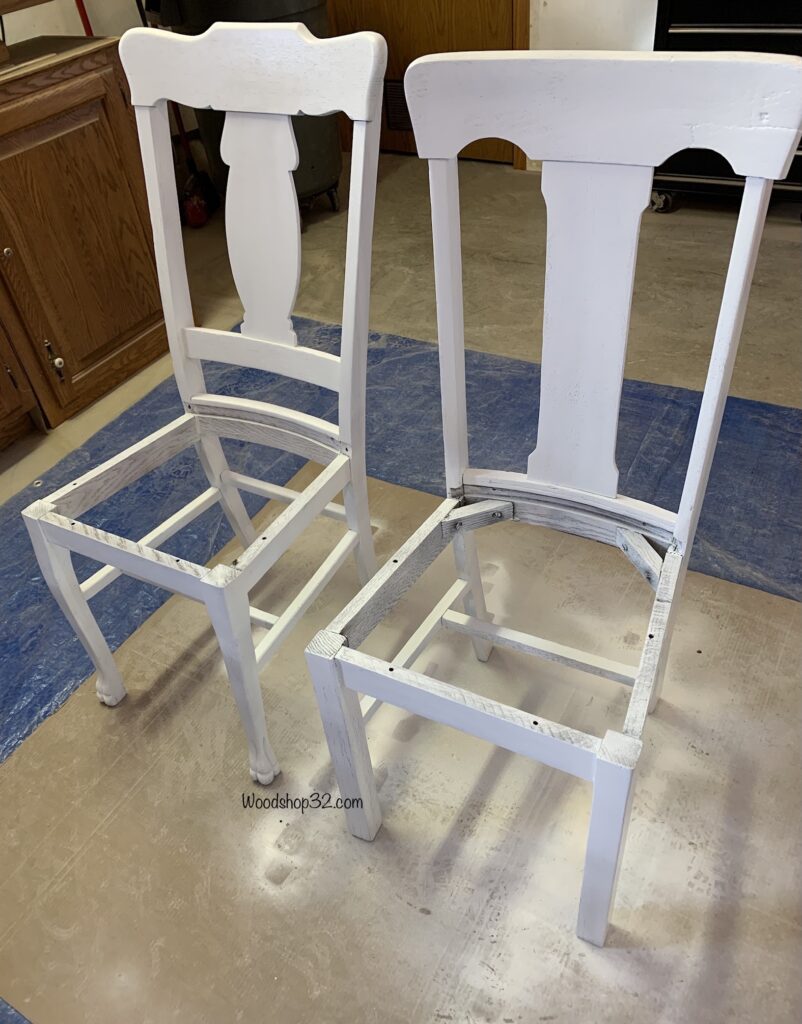 How to DIY Upholstered Chairs
The cushions (poly foam) are cut to size by placing the wooden seat onto the foam and trace around it with a marker. The seat sizes are slightly different for each chair.
Spray adhesive is used to attach the poly foam and wooden seat together. This helps eliminate frustration – in which past experience has taught me! Otherwise, the wooden seat will slide off the poly foam when applying the fabric.
Looking for more DIY Makeovers?  Click on the menu to see my other DIY projects.
The upholstery fabric is placed face down on a flat surface. Next, place the cushion side of seat on fabric and fold fabric up over edge. I used my electric stapler to staple the fabric onto the bottom side of the wooden seat. I continued stapling all the way around the seat while pulling the fabric snug. (The old stapler in the pictures broke before I finished the second seat. Argh!)
I got a new electric stapler and love it! If your staple doesn't go in correctly, hammer it down or remove it and staple again.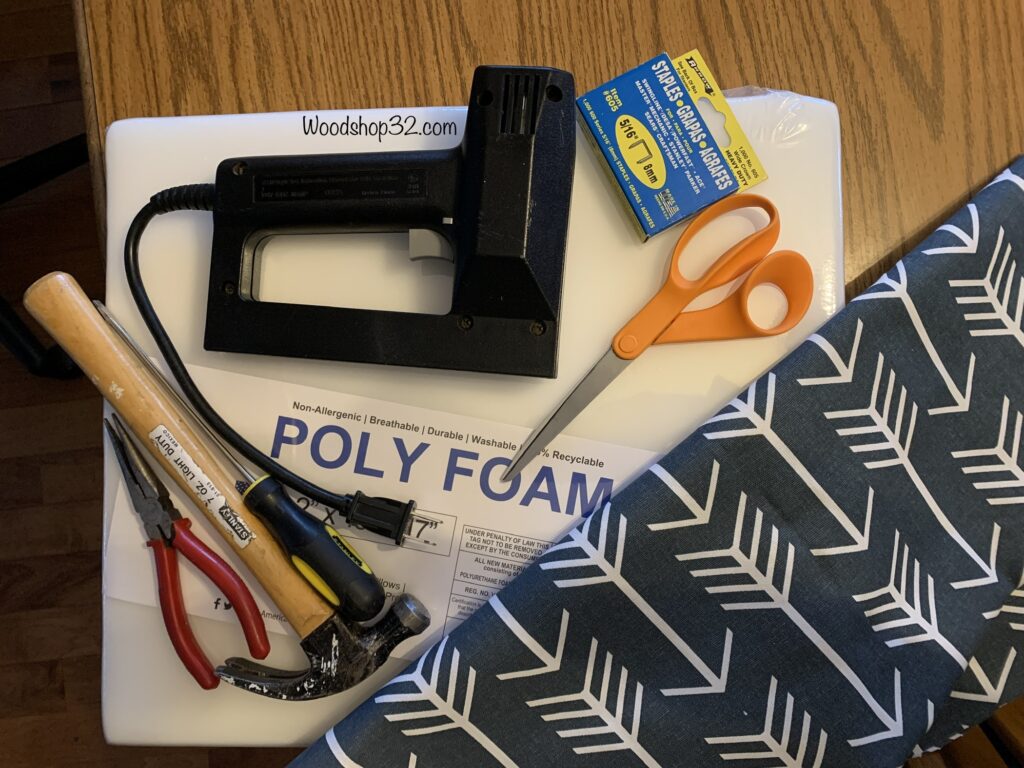 Luckily, one yard of upholstery fabric covered both chairs. Just enough!
Tip: It is best to wash, dry, and iron fabric before using for shrinkage. (Follow fabric manufacturer guidelines for care instructions.)
Attach Upholstered Chair Seats
The seats are reattached using my cordless screwdriver and the original wood screws.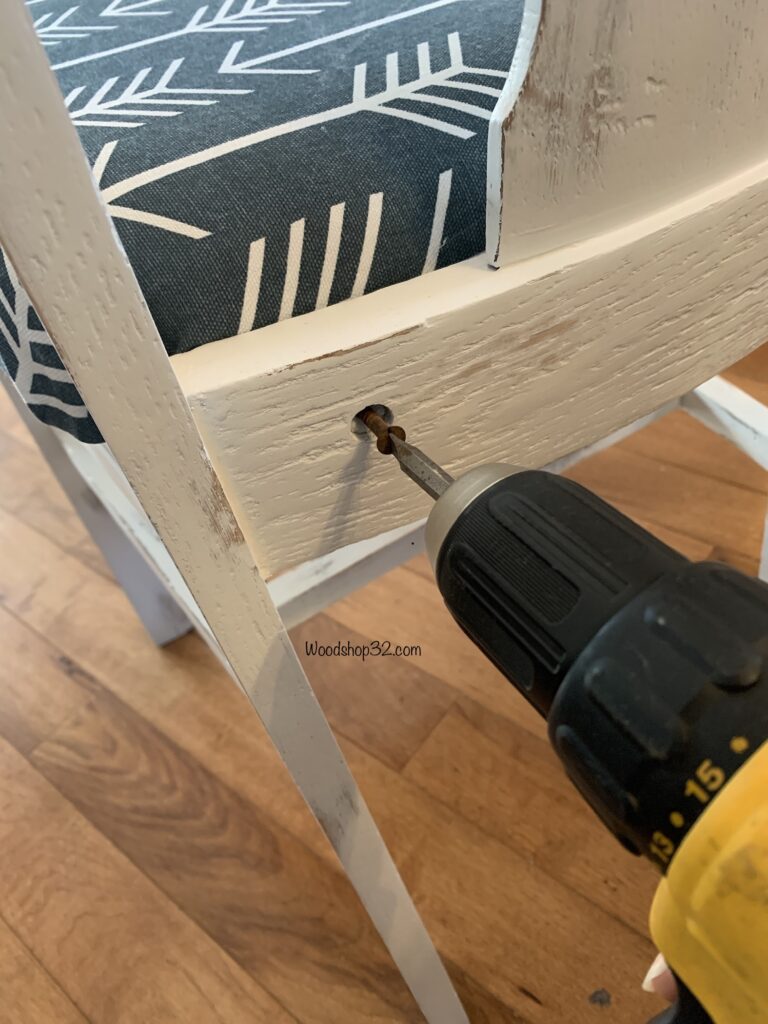 Want to save this post for later?  Make sure to Pin It!
The DIY upholstered chairs are repurposed into farmhouse design. Even though the chairs are different, they now match to provide a unique look for any table or room.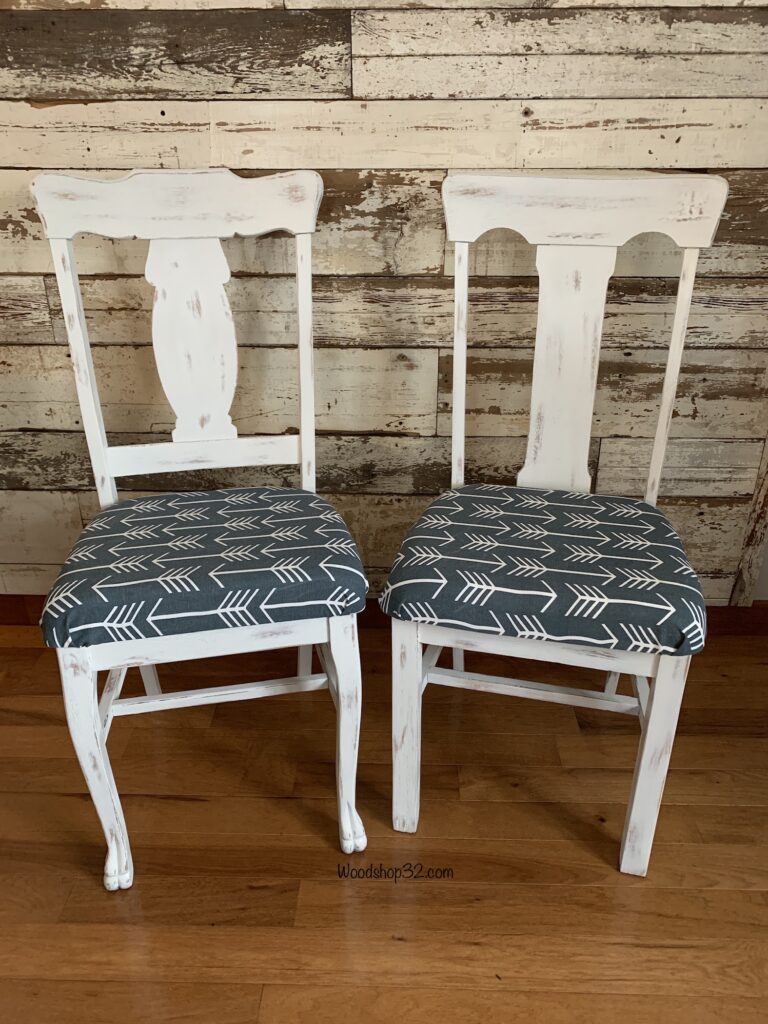 You can be creative with paint colors and upholstery fabric for cushion covers.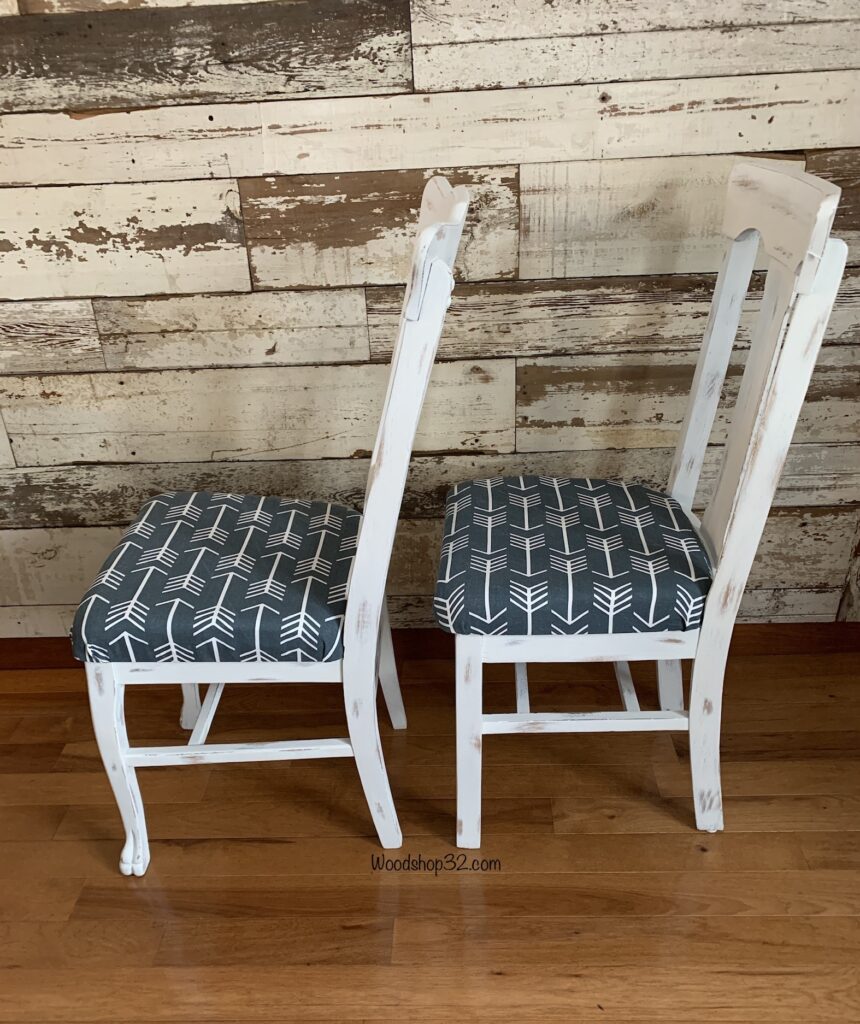 I love how these DIY farmhouse upholstered chairs turned out!
Thanks for visiting the Woodshop32.com
Start your own do-it-yourself chair makeover upholstery idea!
Tip: If your state has a Habitat for Humanity ReStore, go check out the donated furniture they sell. This is a wonderful non-profit housing organization helping people. habitat.org