Vintage Display Cabinet with Glass Doors
A vintage display cabinet with glass doors is a unique repurposed furniture project for me. Using my DIY furniture flipping skills to help others, that is my super power! Where did I put my cape?
The Habitat for Humanity Restore fundraiser is called 'Repurpose for a Reason'. In order to participate, a DIY designer can choose a furniture item from the Restore to repurpose. I picked out a vintage display cabinet with glass doors.
I am super excited to volunteer my repurposed furniture DIY skills for an organization that helps people build affordable housing! Let the designing begin!
Disclosure: If you make a purchase from some links in this post, I may earn a referral fee at no cost to you.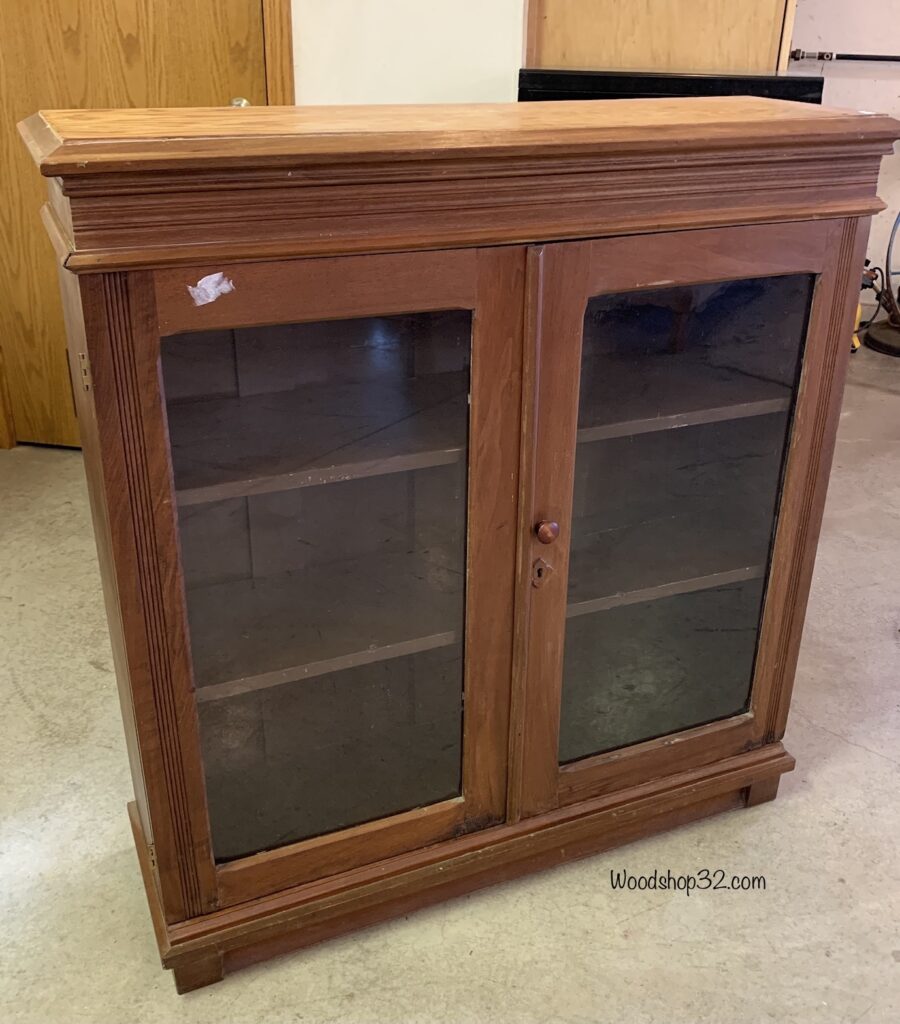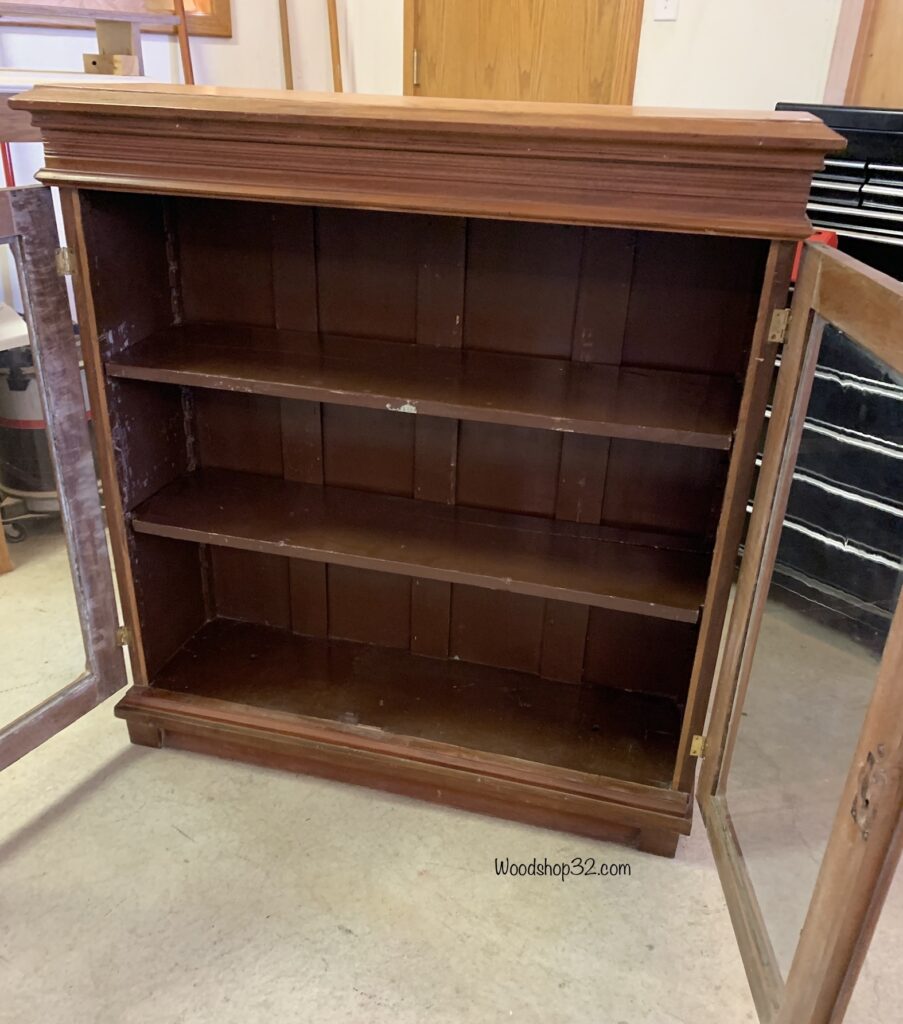 The vintage display cabinet with glass doors is in a little rough shape but looks an be deceiving.
Check out my other DIY makeover auction project: Repurposed Vanity Dresser
The doors are taken off the cabinet and the vintage glass panels removed. I'm really surprised the panels didn't fall out because they only had a couple of small support wedges holding them in.
Using my Dewalt palm sander, the display cabinet is sanded by using 100 grit and 120 grit sandpaper. The decorative areas are sanded by hand.
Follow Woodshop32.com on Pinterest!
All of the original nicks, scratches, and dents on the display cabinet is kept to retain the character of the furniture.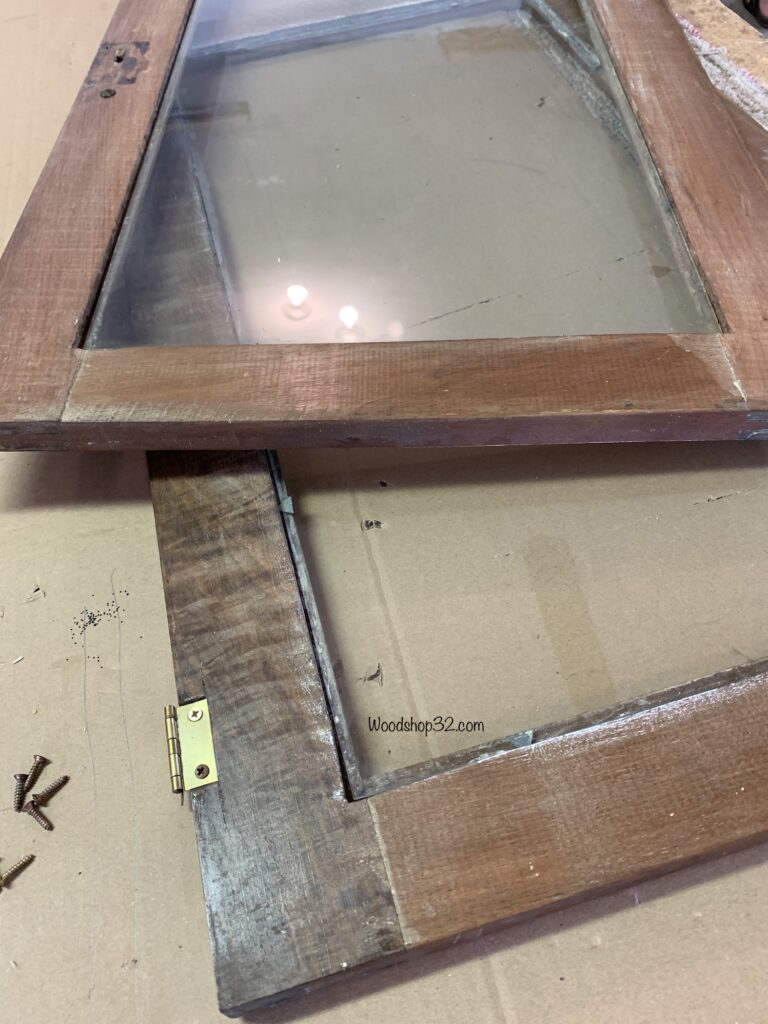 For added strength, wood glue is used in areas where the dried up glue once was. Wood clamps are attached to help the glue set for 24 hours.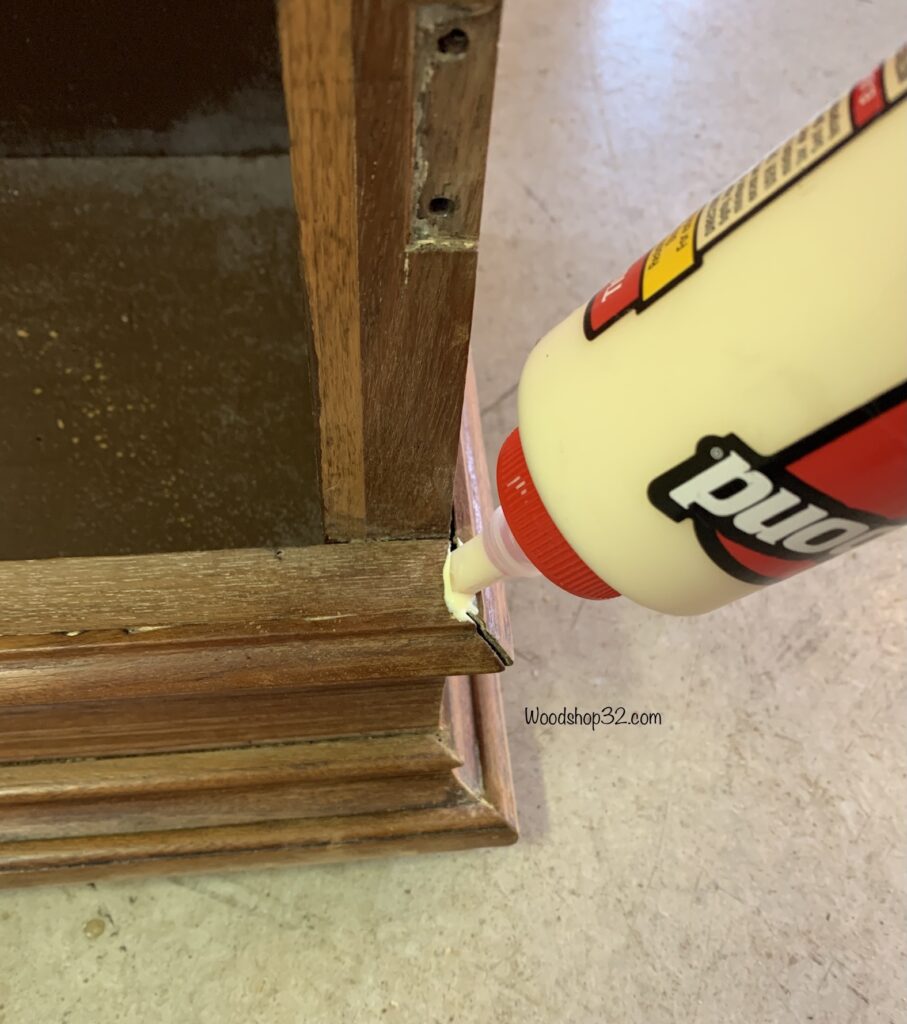 Wood glue is also applied to a major crack on the shelf board. Pipe clamps are used to apply stronger pressure to close the gap in the board while the glue dries. After 24 hours, the two shelf boards are ran through the wood joiner machine to clean up the edges for a better fit in the side cabinet.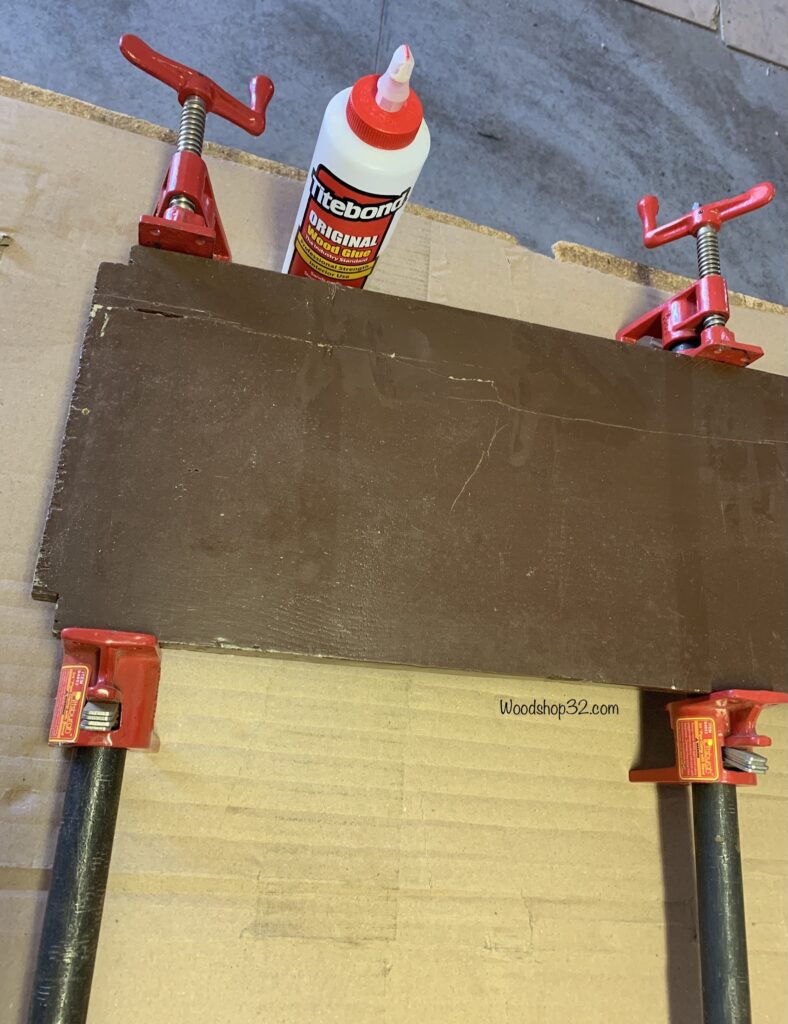 Bin Primer with Shellac is applied to the whole cabinet to seal in any stains and prevent the old brown paint from bleeding through.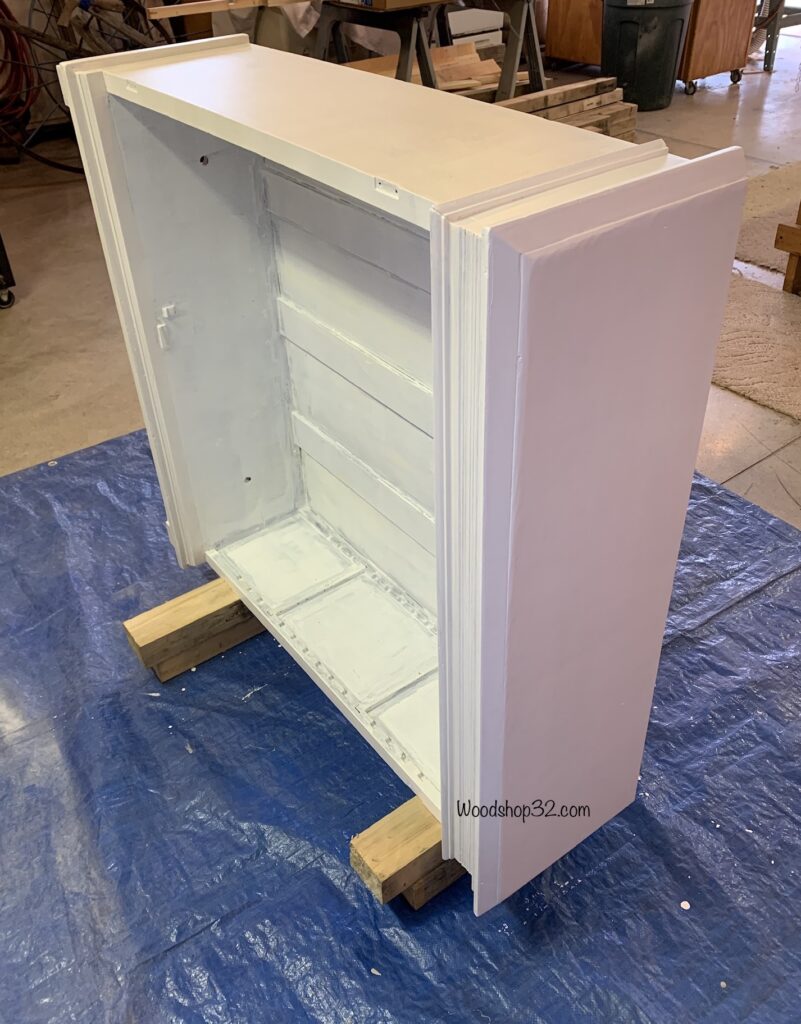 For the paint, I choose a navy paint color for a more dramatic look. The side cabinet with storage makeover is an easy painted furniture idea.
Painting supplies used: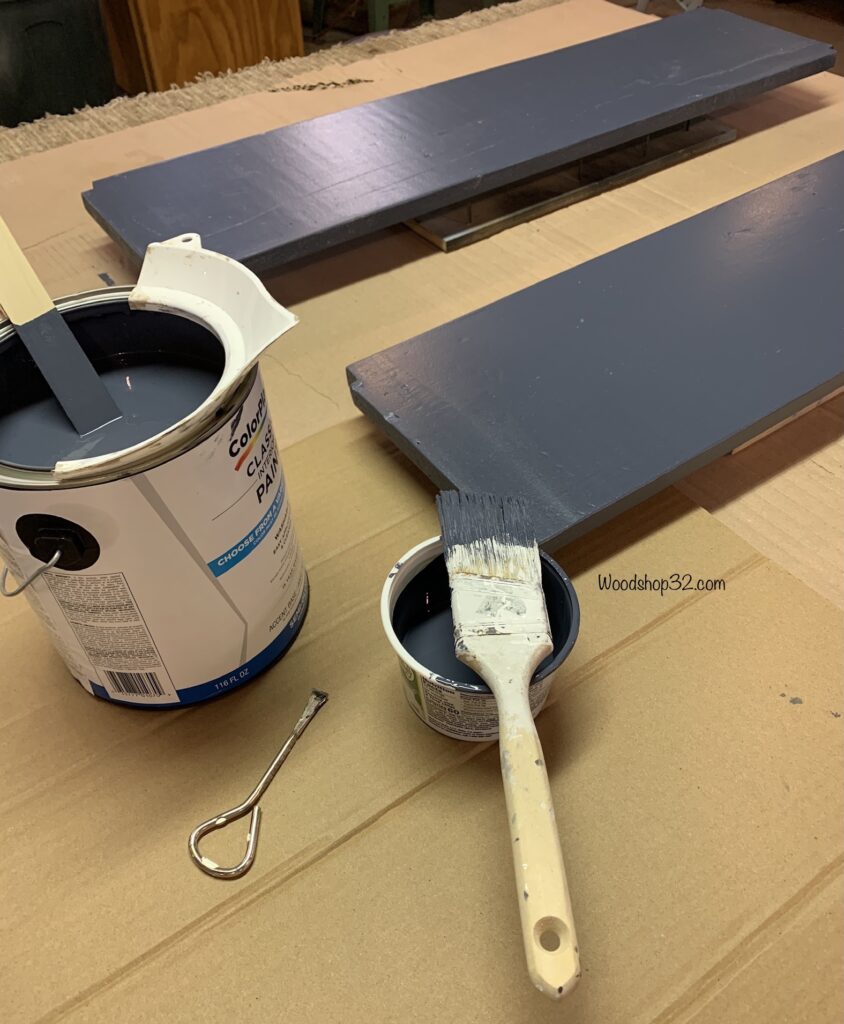 New glass panel clips are added to the cabinet doors. The vintage glass panels are nice and secure now!
For the interior cabinet back, I applied contact paper in between the wood panels. The beautiful grey and blue branches match the display cabinet new paint color perfectly! Life is good!
Want to save this post for later? Make sure to Pin It!
The contact paper is cut along the edges of the wood strips while using a utility knife to achieve a clean, professional look. The contact paper brightens up the inside of the cabinet with a fresh new furniture design.
The side cabinet makeover with shelving provides extra storage for displaying items.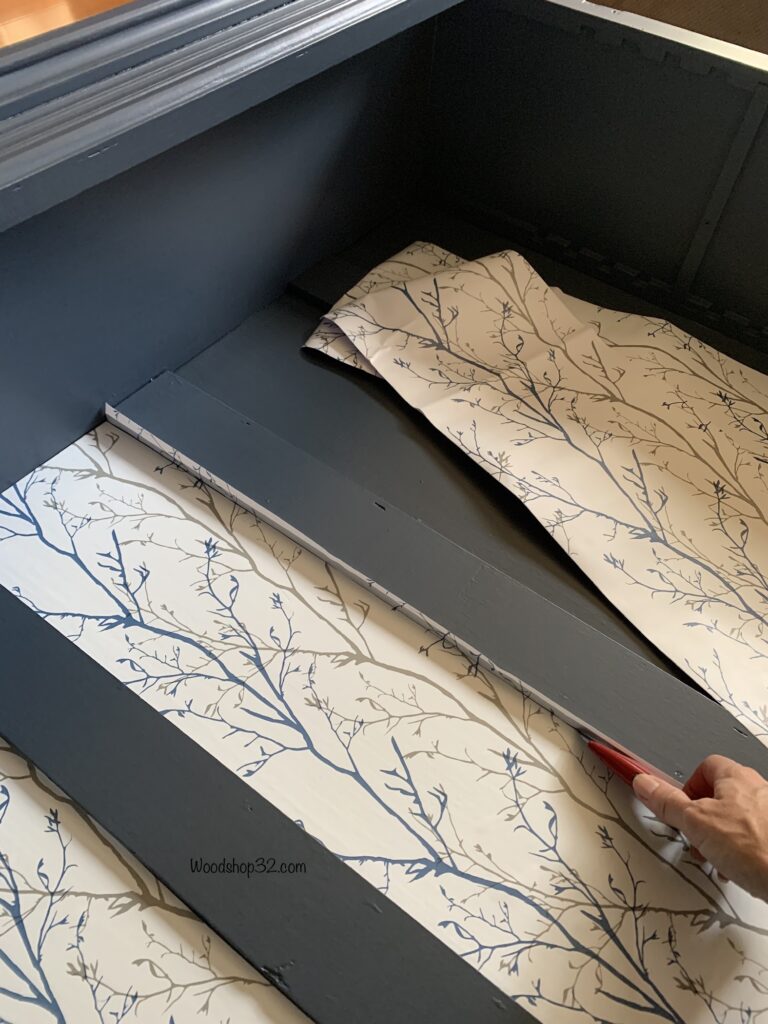 I added a new cabinet knob to match the existing gold hinges. Caster wheels are also added to the bottom of the display cabinet for easy moving.
A display cabinet is also called a side board, side cabinet, or curio cabinet. But me personally, I'll call this one simply BEAUTIFUL!
Now, I just have to wait for a great bid at the auction! This will definitely help towards a further home for a family in need!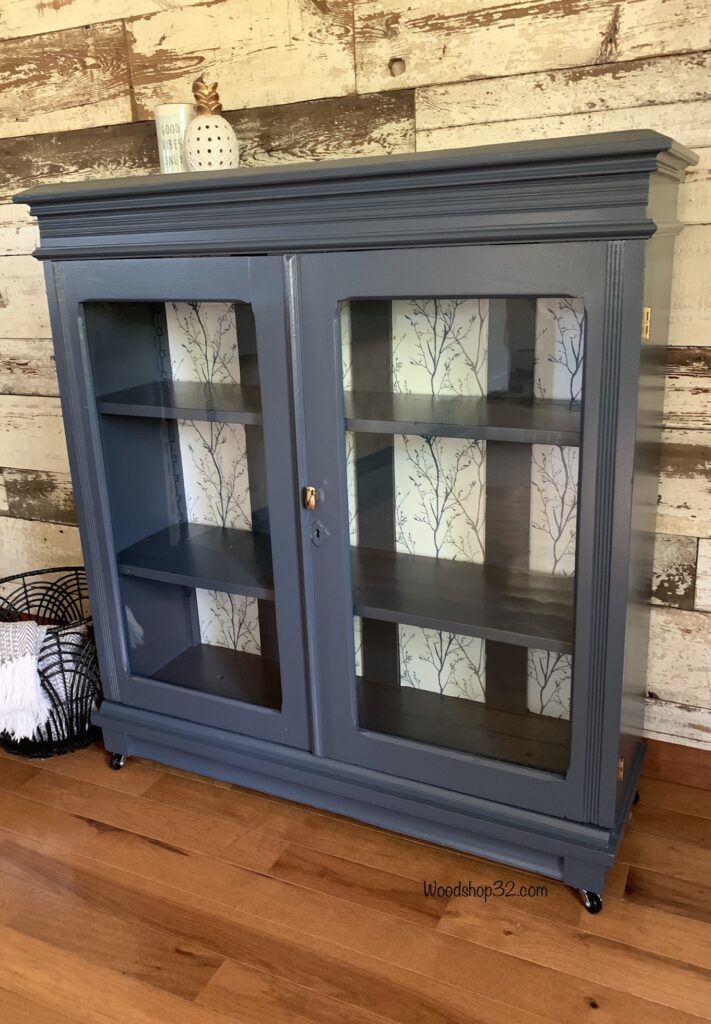 A vintage display cabinet with glass doors is repurposed into a beautiful piece of furniture. A blue painted side cabinet makeover with shelving for extra storage!
DIY farmhouse idea for your display cabinet!
Have you repurposed old furniture? If so, I would love to hear about it in my comment section! Happy Repurposing!
Thank your for visiting the Woodshop32.com blog!